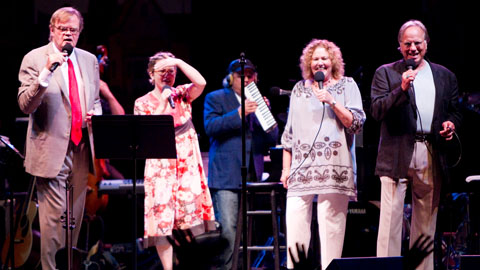 Story by Hal Goodtree. Photos by Joshua Steadman.
Cary, NC – Guy Noir needed a raincoat Saturday night as Garrison Keillor brought A Prairie Home Companion to Booth Amphitheatre.
The sky drizzled all evening with umbrellas periodically opening and closing across the great lawn like a field full of moths. But the weather couldn't dampen the fun for the packed house, there to hear Keillor's witty and nostalgic show.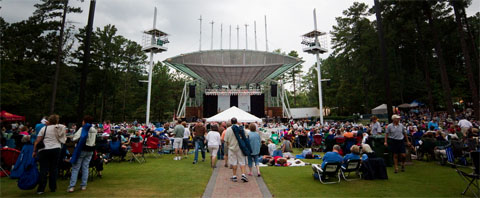 Remembering 9/11
The evening began with a remembrance of 9/11. Cary Town Councilman Jack Smith MC'd a presentation including a moving rendition of America the Beautiful from Larry Speakman of the Concert Singers of Cary and some heartfelt words from Mayor Harold Weinbrecht.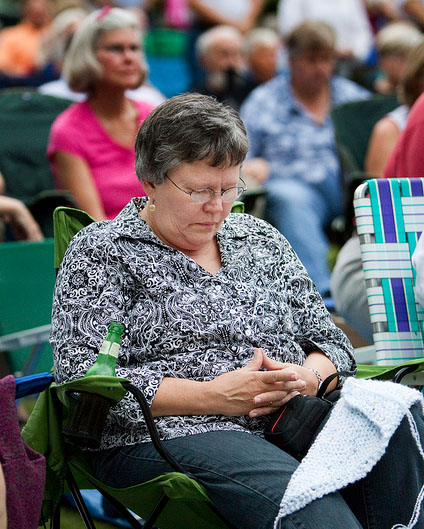 Hello Cary
A Prairie Home Companion, broadcast weekly on NPR, is modeled after an old-time, small town radio show. There's always plenty of music and sketch comedy as well as the news from Lake Wobegon, Keillor's fictional home town in Minnesota.
Keillor and company do their research and bake in a few local items about the place where they're doing the show. Saturday night was no different.
Backed by the The Guy's All-Star Shoe Band, an amazingly versatile quintet of pickers, pluckers and bangers, Keillor opened with a lyrical riff on Cary:
Hello Cary
On US 1
That God created
When he was having fun
Hello Cary
Under these tall pines
Lots of Baptists here
Gonna have to drink moonshine
Hello Cary
Wave your hankies
It's the Containment Area For
Retired Yankees
The crowd roared its approval.
Let the Music Play
More than half of Keillor's show is always musical, with the aforementioned Shoe Band and various musical guests.
Sara Watkins, a youthful bluegrass prodigy with a clear, sweet voice, shared the stage with Keillor. Robin and Linda Williams, down from West Virginia, also contributed to the evening with several tangy and melodic country songs.
Fred Newman, the Sound Effects Guy
One of the most popular parts of the show is a bit of crazy sketch comedy between Keillor and Fred Newman, the sound effects guy.
Keillor plays the straight man, rambling on about some topic or another while Newman punctuates the narrative with seemingly spontaneous explosions of sound. One moment he's a helicopter and the next a baby being born.
Keillor's radio show is strictly G-rated, but his live act is (slightly) more blue. He and Newman had the crowd at Booth Amphitheatre in stitches with Newman's impersonation of a sperm.
It was all good fun, barely PG, but in keeping with the evening's theme, Summer Love.
Keillor and Ashworth
After Newman's cameo, the band whipped into a medley including Under the Boardwalk and Going to the Chapel followed by some crazy bluegrass picking from Pat Donohue. While the band played, Keillor sat by the piano, occasionally singing harmony and incessantly tapping his trademark red-sneakered feet.
The band worked the crowd into a lather, and then Keillor returned to the front of the stage with some more observations about Cary.
He riffed on Koka Booth ("we thought it was a small place where you chewed narcotic leaves"), mentioned the flavor of the day at Goodberry's and said he enjoyed enjoyed the orangeade at Ashworth's.
"If you're tired of the hot dogs at Ashworth's, you're tired of life." – Garrison Keillor
Right there is the genius of Keillor's show, turning a small, homey detail into a larger existential truth.
Keillor also called Cary "a gorgeous town" and said he'd like to "come back and do a broadcast here."
At CaryCitizen, we second that emotion.
Intermission at the Pine Needle Pub
After a couple of more musical tunes and comedy bits, Keillor announced intermission. He said it would be a "musical intermission," so the crowd got up to wander around while various members of the troupe played a medley including a country version of She Was Just Seventeen by the Beatles.
I got up to enjoy the pleasures of Booth Amphitheatre. It's like a private park under the stars with 7,000 of your friends and neighbors. I wandered over to the Pine Needle Pub, an open air bar and just about the only spot you can grab a smoke.
It's a convivial place for tobacco-lepers. I had a cocktail and talked with Virgil Collins, a musician and college professor from Greensboro who also happens to be the nephew of Parks & Rec boss Lyman Collins. I also chatted with Deborah, a dental hygienist from Raleigh who had apparently been enjoying the fine selection of wines available by the bottle at Booth Amphitheatre.
I love the Pine Needle Pub.
Stand and Represent
Midway through the intermission, Keillor asked the crowd to stand in remembrance of 9/11, now known as Patriot Day. With the Shoe Band playing mild and sweet underneath, Keillor led the crowd in singing a few American classics.
I walked through the dark night from the Pine Needle Pub up to the Crescent, passing through the softly-singing crowd as they joined Garrison for God Bless America and Amazing Grace.
Keillor Swims Into the Crowd
The second half started with Keillor telling a story about how his family once accidentally left him at a Pure Oil gas station. For four days.
Other performers occasionally wade into the crowd. But Keillor doesn't just wade – he swims out to the deep end.
As he told his story of childhood abandonment, Keillor walked slowly through the VIP section and out to the soundboard. I'd never seen a performer come this far out into the audience.
But he kept walking, up the central aisle, almost all the way to the Crescent.  The big tower spotlights followed him through the plum-dark night as he detoured down an aisle and then made his way slowly back down toward the stage.
Needless to say, a thousand cell phones were raised for the capture of blurry pictures (mine included). But the whole thing was so casual, so leisurely, that it really was the signature moment of the evening.
Just a guy, talking about stuff. A little sad, a little funny, but from the heart.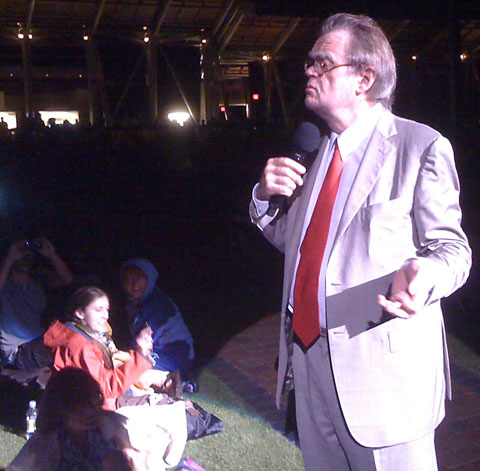 Sara Watkins
Keillor then turned the show over to Sara Watkins. She has a fine set of country pipes, strong and straightforward, harking back to a time when the Carter Family ruled the Southern airwaves.
Fred Newman sang a song called Lazy Afternoon and then Sara came back for a smoking fiddle duel with Richard Preen of the Shoe Band.
Getting Soggy
The drizzle continued, washing over the crowd in a fine mist, then abating for a few minutes.  Keillor prefaced some of his remarks by looking around the amphitheater and saying "it was a night just like this, except for the rain."
I was starting to feel a little soggy.
Fortunately, Fred Newman came back for Guy Noir, Private Eye. It's the ongoing saga of a down-and-out gumshoe who makes his living in a city "that knows how to keep its secrets."
This episode took place in a coffee shop where Noir tries to get a cup of coffee without steamed milk. Newman punctuated the sketch with non-stop sound, hissing and frothing like an espresso machine set to explode.
News From Lake Wobegon
Keillor always winds up his shows with The News From Lake Wobegon, a place where "the women are strong, the men good looking and all the children are above average."
As Keillor riffed on Minnesotans ("He's a Lutheran. He's not going to tell you what he thinks"), I packed up my lawn chair and started edging toward the exit. I really was feeling like a soaked prairie dog.
In keeping with the Summer Love theme, Keillor left us with a few thoughts about wedded bliss –
"Marriage is a beautiful road to set out on, but you see so many cars in the ditch."
The evening was wet, but his advice about matrimony was fittingly dry –
"No sudden moves. Allow the other person plenty of space."
Sensible advice from the above-average voice of the upper Midwest.
Here's hoping Keillor brings A Prairie Home Companion back to Booth Amphitheatre sometime soon. There will be a hot dog and an orangeade waiting for him at Ashworth's.
Cary on NPR
Read Ella Schovanec's notes about the Cary show on NPR.
APHC Pictures
Josh Steadman filed this slide show of A Prairie Home Companion at Booth Amphitheatre in Cary:
https://carycitizenarchive.com/wp-content/uploads/2010/09/prairie_home_companion_cary.jpg
270
480
Hal Goodtree
https://carycitizenarchive.com/wp-content/uploads/2020/03/cc-archive-logo-450-v3.png
Hal Goodtree
2010-09-15 19:05:14
2015-12-29 22:52:20
Garrison Keillor Likes Ashworths