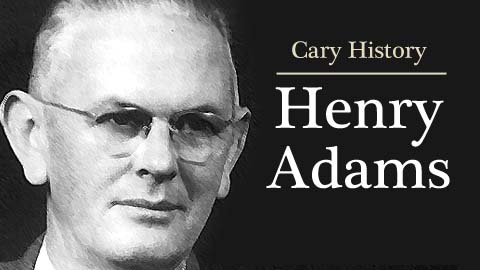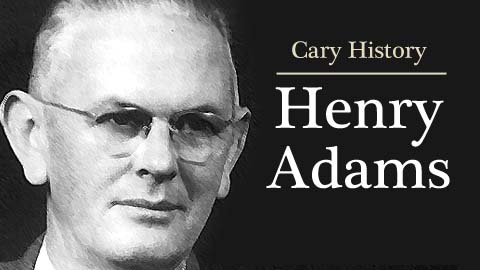 Cary, NC – With thanks to Peggy Van Scoyoc and her book, Desegregating Cary, which is on sale at the Page-Walker History Center in downtown Cary. The book is a collection of oral history interviews conducted between local citizens and Friends of the Page-Walker. Proceeds from the sale of this book support the preservation of Cary's history.
What follows is from Henry's son, Charlie:
Making a Mark in Education and Local Business
Henry Adams was born and raised in Cary. He left Cary to go to college at Trinity Park, which is now Duke University. He had a sister who had a drugstore in Durham and she heavily influenced him to go to pharmacy school in Massachusetts. When he came back, he opened a drugstore in Cary. He ran Adams Rexall Drugs until he tired of that and found out that I was not going to be a pharmacist after college. So he sold the store to Ralph Ashworth and opened an appliance store on Chatham Street. He had that store until he died. Later, an elementary school was named after him – The Henry R. Adams Elementary School.
Impact on Cary Education
My dad had such a passion for education. I don't know that he had all the advantages when he was growing up, so he wanted every boy and girl in Cary to have better opportunities and a better school system. Early on, he was involved with the local politics and became the chairman of the Cary School Advisory Board. He wanted to make sure that Cary had the best school in Wake County.
After he had done what he needed to do for Cary, he ran for the Wake County Board of Education, and he was elected by a landslide. He was on the Board of Education on two levels. At the local level, he saw the black schools and the white schools, and he knew we had the haves and the have-nots. Then at the Wake County level, he saw that it was even worse than that, and all those things bothered him greatly. One of his goals was to do everything he could to start the integration process and get the black kids going to Cary white schools. So he gathered a group of people together to develop a comprehensive plan to desegregate Cary High School.
My dad told the principal, "We can't integrate Wake County until somebody is willing to step forward and do it locally. As a member of the school board, if I'm trying to integrate Wake County, I can't give it lip service and not do it in my own hometown."
He felt very strongly that Cary should be the first, and that, in Cary, desegregation could go smoothly. And then the rest of the county could follow suit.
Desegregating Cary Schools: "He knew he was right"
Desegregating the schools was not a popular thing back in those days. There weren't many people who believed that blacks were equal, or that blacks should have equal opportunity. I can remember overhearing phone calls and hearing my dad's response, and realizing somebody on the other end was really unhappy about him pushing to integrate the schools. But it never bothered him. Deep down, he knew he was right, and he was willing to take the flack that came from a primarily white community, because he felt so strongly that it was wrong. He had tremendous vision. He was a very wise man who looked down that road, which most of us are not capable of doing, and realized that this was coming eventually, but somebody had to begin to do something about it. So he did.
My dad, Mr. Cooper, two or three of the local advisory people, a couple of the Wake County people, and the Evans family, and the principal of the black school sat down and developed a game plan of how many students would come the first year, who they would be, and where they would come from. Obviously the black community put some of their best kids forward. And then each year there were supposed to be a geometric progression of the black kids coming to our school. They just didn't send the entire black community over and say, we're integrated.
There was a great deal of rhyme and reason given to this plan by the black community and the white community so it wouldn't backfire and it wouldn't fail. It was overseen by the Wake County Board of Education, the Cary Advisory Board, and all the key players were involved.
Dot Every "i" and Cross Every "t"
I remember meetings being held in our house with key players in Cary, black and white. They knew they were going to have to address a game plan with the Department of Health, Education and Welfare. I remember them working night after night putting this thing together, reviewing it, laying it aside, coming back and looking at it again. The H.E.W. in Atlanta had to bless the plan before it could be put into practice, because it was just the beginning of desegregation and they didn't want to see it fall on its face. I remember hearing to my dad say, "We've got to dot every "i" and cross every "t" because we don't want anything to happen to set us back or to unravel this thing or destroy it." So they were very meticulous in putting together what now would be looked at as a model plan for integrating schools.
Because they were voluntarily desegregating the school, they were never dictated any guidelines or ultimatums from Atlanta or from Washington like many other cities and counties operated under later when they were being forced to integrate. Here it was voluntary progression. And then when they submitted it, I remember how delighted they were when they got the word back that the plan was totally acceptable. They were just told, "What you're doing is good, we applaud you, proceed." And that doused some of the fuel to the flames in Cary. When it came out of Atlanta that this plan was thoroughly approved and supported, then things really started to move.
Cary First to Integrate in Wake County
There were two school systems at that time, the Raleigh city schools and the Wake County schools. In Wake County, Cary was the first school to officially integrate and have the first black students. Cary was absolutely being watched by other communities. I remember all the articles in the News and Observer and the Raleigh Times that were both pro and con about Cary getting out front and integrating first.
There were those who thought Cary was progressive and then there were those who thought Cary had sold out.
But other communities all over the county were looking at Cary to see what was going to happen here when they brought those black kids to school. Are they going to have a race riot, or have a war, or are they going to burn down the school? What's going to happen? And then it went so smoothly. Cary was a leader. They had the first boarding school, the first public school, the first school to integrate.
What follows is from Henry's nephew, Billy Rogers:
My Uncle: A Powerful Politician Who Got Things Done
When I was in high school, my uncle, Henry Adams, was on the school board. He and Mr. Cooper, Cary High's principal, were so close. The things that he could do for the Cary schools were phenomenal. They really tried to keep him quiet.
Before the Wake County School Board was consolidated with the Raleigh City School Board, Henry Adams was a powerful politician who got things done. So when they had Wake County School Board meetings, they had them right here in Roger's Restaurant in Cary. These people had to drive from Wendell and Fuquay, from all over the county, but Henry Adams had to walk across the street. That always was impressive to me. Henry Adams could call these people, and they would drive twenty-five miles, and all he had to do was walk across the street. In those times the local school board members had a lot of power to be able to have the influence that Henry Adams had.  He was a behind-the-scenes type person. He could get right up to you and talk to you eyeball to eyeball.
He was a strong-arm type fellow, very convincing and plenty smart. And he got it done, integrating the Wake County schools.
Peggy's books capture Cary's rich oral history. Her first book, Just a Horse-Stopping Place, tells many fascinating stories about life in a bygone time in a small, southern agricultural town in North Carolina. The second book, Desegregating Cary, North Carolina tells about the struggles to desegregate the schools and the town itself. Books can be ordered online or at Page-Walker History Center. For more on Peggy and her books, here is a past article on CaryCitizen.
https://carycitizenarchive.com/wp-content/uploads/2010/12/henry-adams.jpg
270
480
Peggy Van Scoyoc
https://carycitizenarchive.com/wp-content/uploads/2020/03/cc-archive-logo-450-v3.png
Peggy Van Scoyoc
2010-12-07 20:00:08
2015-12-29 22:54:33
Cary History: Henry Adams