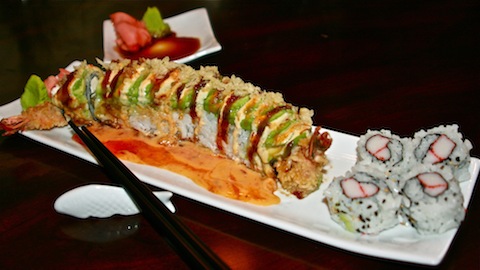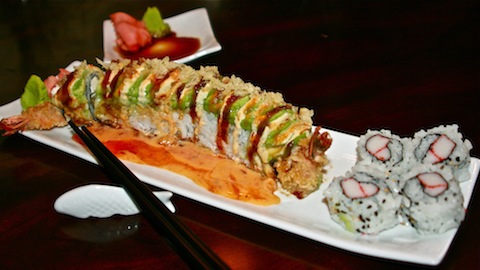 Story and photos by Leslie Huffman
Cary, NC – Sushi could be considered a trendy food, but I can't seem to get enough. I find sushi to be a delectable delight both visually and to the pallet. My gal pals and I try to visit different sushi restaurants around Cary at least every two weeks for lunch and it is a favorite date night event with my hubby.
The wonderful thing about eating sushi is the meld of flavors, ingredients, sauces and presentation. Exceptional sushi depends on the quality and selection of fish used, and talent of the sushi chef. A great sushi restaurant offers top quality fishes pared with a display that is a masterpiece of art, taste and texture.
If your experience is picking up a few rolls at the grocery store, then you need to get out and enjoy some of Cary's fantastic Asian food. There certainly are plenty of choices and many of these restaurants don't just serve sushi but other Asian delights such as Thai, Korean, Japanese, and vegetarian dishes.
In my quest for the best sushi in Cary I can certainly give you my opinion on my favorite places to try. Some of these places have specialty sushi rolls so ask your wait staff for their favorite picks and make sure to share some new experiences with friends.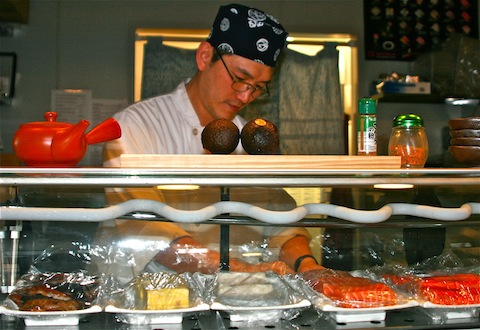 My Favorite Sushi picks:
Little Tokyo – This is one of my favorite sushi picks. What this place lacks in atmosphere, it makes up with fantastically fresh food, a unique twist and talented sushi chefs. The best part is the reasonable prices.
Thai Spices – I am a regular here, mostly because it is close to home and has a wonderful atmosphere. The sushi is great and they also have excellent Thai dishes. The lunch bento box special here is one of my favorites.
Sushi Thai – A town hot spot and always busy. They have a huge menu and a talented staff. This place is a must for sushi fans.
Wasabi – I have only been to here a few times. They have a great menu, but the prices are high and I have not made the effort to go back. Let me know what you think about this restaurant.
DOMO Sushi – Very good food with a great menu and a large selection of Sake. The sushi chef offers some unique combinations and a beautiful presentation. Prices here are high, but you leave full and satisfied.
Ginza – This restaurant is better for their Habachi. The sushi is good but expensive.
an – Is a fantastic date night restaurant with amazing food and a wonderful chef. The sushi menu is limited but always fresh and delicious. To experience the talent of the chef here, I would order off of the sushi menu just at lunch and the dinner menu in the evening.
Yuri – This restaurant is new and I have only been twice. They have a great menu, good quality, great portions and reasonably priced. The service was excellent and I will be back (plus it is right near Trader Joes, so it's a great place to go before my grocery shopping).
Genki – I have not been here yet, but by the look of the menu choices, I will be going soon! The menu here is full of wonderful temptations and I can't wait to go try their specialties.
There are also many more restaurants that have sushi "on the menu", but I wouldn't consider those the best spots for a great sushi experience. If you have not been to any of these Cary restaurants, go and try something new. Sit at the sushi bar and watch the chef arrange your edible art.
I would love to hear about your experiences. Tell me your favorite sushi restaurants in the comment box below.
https://carycitizenarchive.com/wp-content/uploads/2011/01/sushi1.jpg
270
480
Leslie Huffman
https://carycitizenarchive.com/wp-content/uploads/2020/03/cc-archive-logo-450-v3.png
Leslie Huffman
2011-01-03 20:00:19
2016-10-25 16:22:59
Food: Roundup of Sushi in Cary