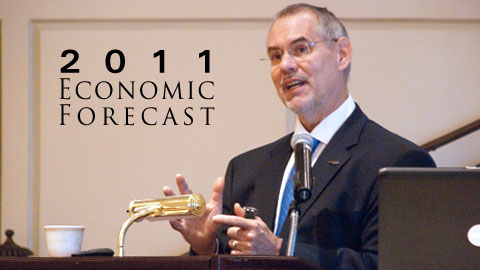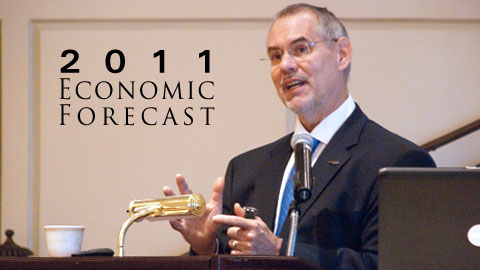 Story by Matt Young. Charts from 2011 Economic Forecast by Michael Walden. Photo by Hal Goodtree.
Cary, N.C. – Wednesday, the Cary Chamber hosted the 2011 Economic Forecast at Prestonwood Country Club. The featured speaker was Dr. Michael Walden, Wm Neal Reynolds Distinguished Professor, N.C. State University.
The breakfast event drew about 200 people – a robust turnout. Dr. Walden remarked that the strong attendance in Cary was a positive economic sign.
The annual Cary Chamber event was sponsored by Burns and Bynum, CPA, Progress Energy, RBC Bank and Rex Healthcare.
The American Recession
Dr. Walden explained the true definition of a recession (2 consecutive  quarters of GDP decline). Although unemployment remains an issue at around 9%  we exited the recession in mid-year 2009.  The big job losses have abated, but with the 8 million jobs lost nationally, it will take a while to recover – probably 2 to 4 years from now.  An "acceptable" unemployment rate is 5%.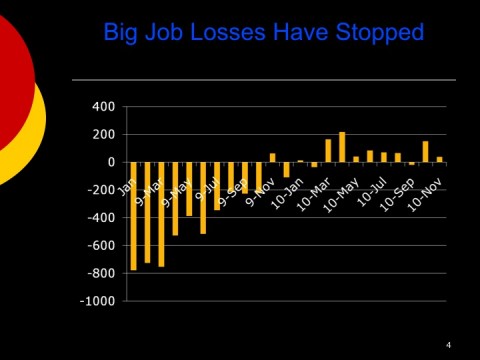 As a nation we have an issue, he told the audience, with a "skill mismatch" between the unemployed and industry's employment needs.
Good news – the NC Triangle is positioned better than most local economies to recover with its well educated, highly skilled population.
The "Most Important Message"
Dr. Walden went on to say the key to understanding current conditions to know what is happening with individuals and families from an economic point of view.
In the 1990's, the stock market and housing market were in extreme positive territory. People saw their net worth increase. When people see they have money, even if it is "on paper", they spend money. And they borrow against their "wealth".
The opposite is happening now. People are wary. They want to pay down their debt. They are watching what they purchase.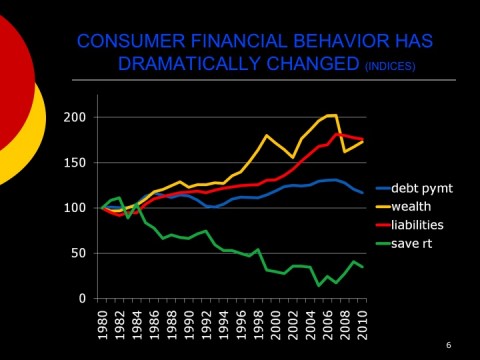 The economic casualty toll for the early 21st century? A cool $15 trillion in lost wealth. That looks like this:
$ 15,000,000,000,000
Dr. Walden estimated it will be 2-5 years before the average person gets comfortable with their spending versus wealth ratio again.
Cause of the Crash

According to Dr. Walden, the real culprit of the financial pain we now feel was real estate. Not Realtors mind you, but rather, our own desire for larger homes coupled with optimism about the future. To quote Alan Greenspan, "irrational exuberance."
The recession began with housing devaluation. Home values have always trended up. It was always a solid and safe investment – gaining ground at 3% a year on average for the last 100 years. In the '90's it went to 12%. A virtual explosion. Then it crashed, with negative numbers not seen since the 1930's.
His prediction – flat in 2011, or possibly down slightly.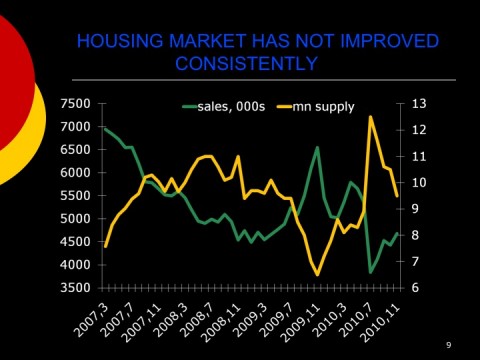 The Triangle and Cary

Dr. Walden believes that through 2011, unemployment in the Triangle will still be around 7% and trend down slightly. His chart of leading economic indicators for the Triangle predicts positive economic growth for the future, but slow growth.  By 2012, he believe we will have gained back the jobs we lost.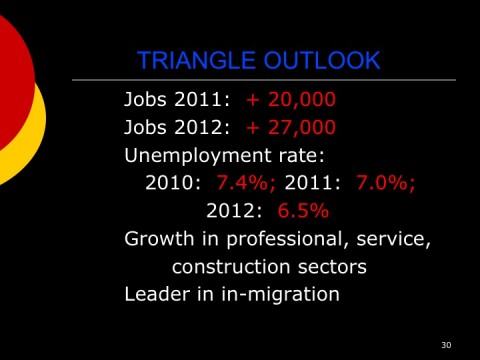 His conclusions: "we are in a great region." We have an educated workforce, we have good public/private collaboration, low cost of living, space and amenities. We will continue to attract businesses and "in-migration". The hottest businesses he predicts will be professional, services and construction.
Bottom line: Cary is be positioned well to take advantage of the economic recovery.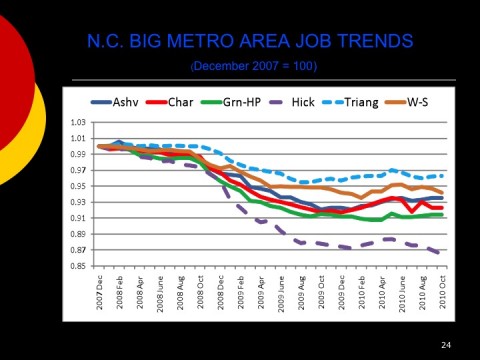 Another Great Chamber Event
Thanks to the Cary Chamber and their generous sponsors for once again hosting this important and informative annual event.
Sponsor
Sponsor the Business channel on CaryCitizen. Find out more.
https://carycitizenarchive.com/wp-content/uploads/2011/01/michael-walden.jpg
270
480
Matt Young
https://carycitizenarchive.com/wp-content/uploads/2020/03/cc-archive-logo-450-v3.png
Matt Young
2011-01-06 21:43:29
2015-12-29 22:55:18
2011 Economic Forecast for Cary