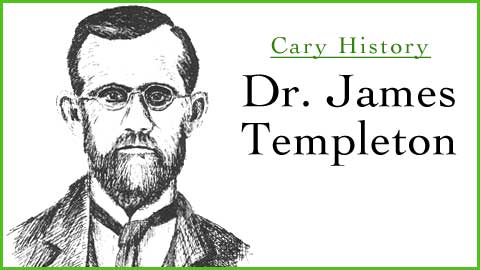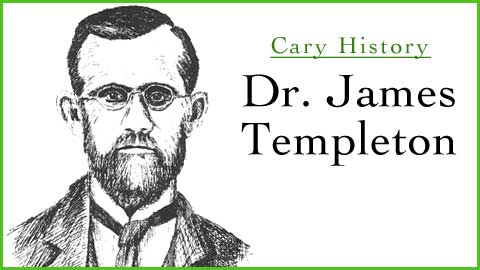 Story by Peggy Von Scoyoc. Illustrations by Jerry Miller.
James Templeton was born in 1855 in Lincolnton, North Carolina. He was chairman of the school board for thirty years, founder of the Wake County Medical Society, began a newspaper in Cary which he edited, and was in demand as a public speaker. He was a candidate for governor on the prohibitionist ticket and a soldier in the Great War.
But most of all, Dr. James Templeton was a pillar of Cary society. He ministered to the sick and tended to the growth and well-being of the community in equal measure.
Dr. Templeton at Home
Templeton started out as an apprentice to a blacksmith, and then he worked in a drugstore where he became interested in medicine. He went to Baltimore Medical College to "read" medicine. Doctors then interned by working with an older, established doctor for a time to gain experience.
In 1885, he moved to Cary to marry Rachel Jones. He started his medical practice and also built a sawmill. By the 1890s, he had added farming to his activities.
Dr. Templeton built a home in the first block of Kildare Farm Road on land that is now the playground at Cary Elementary School. He and Rachel had four children, but two of them died in childhood. Rachel died of tuberculosis in 1891.
While attending a medical convention in Seattle, he met Edyth Burns and married her in 1895. She was a Canadian with considerable talent for painting. She was also a devoted horsewoman. He and Edyth had four children but only one, Elva, lived to adulthood.
$1.50 a House Call
Dr. Templeton did not have an office for many years. Instead, he made house calls to see all his patients. When he did build an office adjacent to his home, he still mostly made house calls.
He had two horses and a buggy to drive around the community. He typically charged $1.50 per visit. Those who could not pay him in money often paid with vegetables or meat. They brought him the best of whatever they had.
Eventually he bought a car. Toward the end of his life he took on a young intern, Dr. Frank Yarborough.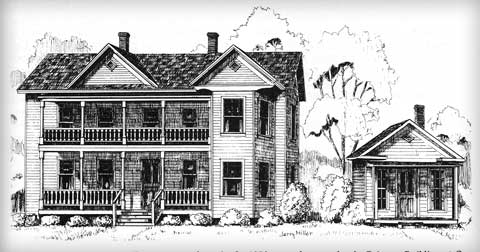 Above: James Templeton's home and office on Kildare Farm Road in Cary. It was torn down in the 1950's to make room for the Elementary school.
WWI and the Great Flu Epidemic
At the age of 61, Dr. Templeton enlisted in the army just two months after the United States entered World War I. He served at Camp Oglethorpe in Georgia and Camp Severe in Florida. Then he was sent to Durham and examined soldiers there.
One of the hardest times Dr. Templeton faced was the great flu epidemic of 1917-1918. He was on the road night and day for weeks. Many people died. Later, during the Great Depression, most people couldn't pay for his services. He often didn't have enough money for gas for his car. But he took care of everyone without hesitation, regardless of their ability to pay him.
Candidate for Governor
He was a strong prohibitionist who did not believe in consuming alcohol unless it was for medicinal purposes. He joined the Prohibitionist Party and was its candidate for Congress in 1888 and 1890, and its candidate for governor in 1892. He supported local farmers and served as the Farmer's Union state vice president. He also served for thirty years as a member of the Cary School Committee which ran the local schools.
So Much More than a Country Doctor
Dr. Templeton died on May 1, 1932 at the age of 76. The inscription on his tombstone reads:
"A country doctor who served his nation in the time of war, his community in the time of peace, the rich and poor alike."
His daughter Elva donated his papers to the North Carolina Department of Archives and History in 1989, and his trunk full of instruments and his World War I uniform to the Friends of the Page-Walker Hotel. They are on display at the Cary Heritage Museum which is on the third floor of the Page-Walker Hotel.
https://carycitizenarchive.com/wp-content/uploads/2011/01/james-templeton-cary-nc1.jpg
270
480
Peggy Van Scoyoc
https://carycitizenarchive.com/wp-content/uploads/2020/03/cc-archive-logo-450-v3.png
Peggy Van Scoyoc
2011-01-13 18:55:09
2013-11-05 16:28:08
Cary History: Dr. James Templeton