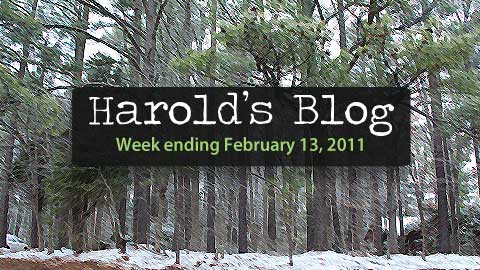 From the blog of Cary Mayor Harold Weinbrecht, covering the week through February 13, 2011. Photo by Hal Goodtree.
Business Meetings
This week was busy with two Chatham County meetings, a join meeting in Morrisville, and a council meeting.
Monday started with a call to all council members regarding the agenda for Thursday's council meeting. I was able to contact all council members and there were no issues or concerns. I believe the main reason for this is because our agenda is light and because the legislative agendas had not been posted at the time of my calls. My meeting with staff regarding the agenda only lasted a few minutes. I questioned and discussed a consent item to renumber the town charter. In addition, I asked about another consent item in which the town received a $1 million grant from NCDOT rail for Walker Street. I wanted to know if it had any restrictions tied to it which it did not.
Water Pipeline and Chatham County
Monday night I attended a public hearing at the Moncure School in Chatham County on the proposed effluent pipeline from the Western Wake Wastewater Management Facility that is planned to go through Chatham County. I was the first speaker and here are a few of my points:
• The discharge into the Cape Fear was mandated by the state
• The project will provide additional water and wastewater for new and expanding businesses in eastern Chatham County, RTP south, and western Wake creating jobs.
• Pipeline is mostly underground so property owners are often able to use land as they are now using.
• Cary is already the third largest municipality in Chatham County.
• No part of Cary that is in Chatham County has ever been through forced annexation. All were from requests of the property owners.
• We continue to work on a join land use plan with Chatham County.
There were various business leaders, municipal and county officials, and environmental specialists that spoke in favor of the pipeline. All but a few Chatham County residents spoke against the pipeline. Many of their comments focused on that Chatham gets nothing from this deal and that Cary is invading Chatham through annexation.
Tuesday was supposed to begin with a meeting that included the Chatham County commissioners that represent Cary. Unfortunately, one of them could not make it and so they both decided to reschedule. The reschedule date will probably be sometime in early March. The good news about the cancellation is that it allowed me to have dinner with my family.
Cub Scouts Q's and A's in Town Hall
Later Tuesday evening I spoke with a dozen or more scouts from Pack 232 in the council chambers. I answered questions and then gave them a tour of the building. They were a very inquisitive bunch especially when we got into the mayor council office. They wanted to know the story behind all the items in the display case. I was surprised about their knowledge when I talked about a glass globe presented to me by Jean Eisenhower (President's Eisenhower's daughter) in 2008. They knew about President Eisenhower and understood how special that was. As I recall that was a very special visit by Ms. Eisenhower as she talked about growing up in the White House. After the scouts and I finished the tour we went back into the council chambers for pictures. It was a lot of fun and based on the comments and faces of the parents, they may have had just as much fun as the scouts.
Cary-Morrisville Meeting and Development
Wednesday evening I participated in the Cary-Morrisville Joint Issues Committee meeting. Cary was represented by council member Adcock and me and Morrisville was represented by Mayor Holcombe, Mayor Pro-Tem Martin, and council member Johnson. Also in attendance were both town managers and several directors and staff from both towns. We discussed a variety of topics and the meeting lasted about 1 ½ hours. Here are some of the important points I noted:
• The 50 foot greenway link between Morrisville and Cary in the Twin Lakes area will soon be connected.
• Cary and Morrisville are currently working on plans to expand C-Tran into Morrisville. Expansion into Morrisville will take place with our without the ½ cents sales tax from the county for transportation. It is important to know that Morrisville currently has one transit and that is a Triangle Transit stop at the outlet mall.
• At recent meeting on the Wake County Transit Plan it was decided that a possible referendum for a ½ cents sales tax for transit would be no earlier than May of 2012. Other options being considered are November 2012 and May or 2013.
• Cary and Morrisville will continue to share Land Use Plans and will start making some of that information about coordination available to the public on the towns' websites.
• The Park West and Highway 54 project will see several road improvements around the site. The first anchor is Target which is not expected to add significantly to traffic problems in peak hours. It is important to know that Cary's section of Highway 54 between Maynard and Cary Parkway is not planned to be widened in the foreseeable future. Staff estimates that widening to cost as much as $10 million. Currently, the town is spending roughly $6 million per year on roads, mostly on maintenance.
• The next meeting of the Cary-Morrisville Joint Issues Committee will be in Cary on May 19th.
Renewable Energy, Taxes, Schools, Land Use, Fiscal Health  and other Town Priorities
Thursday night was a regularly scheduled council meeting. I expected the open session to go rather quickly but anticipated the closed session to take a while. Unfortunately, I was wrong. Both took a significant amount of time. The open session was dominated about our legislative agenda. There were three parts to consider supporting; the Cary agenda, the Mayors Association agenda, and the League of Municipalities agenda. Cary's item was:
"Providing Cary (and other Wake County municipalities) with the authority to enter into long-term leases (up to 20 years) without treating those leases as sales will allow the Town to enter into a public-private partnership for the generation of renewable energy on Town property."
This item was approved unanimously. The Mayors Association had the following items:
1.Protect our local government revenue stream including sales tax.
2.We do not support takeover of road maintenance from the state.
3.Lift cap on Charter Schools.
4.Do not increase any tax rates.
5.Eliminate the quasi-judicial process but all municipalities to maintain the ability to attach conditions of special use permits.
6.Give all Wake municipalities the same authority to collect impact fees. We are all growing municipalities and face many of the same growing issues.
7.Support Dix as a state park but give financial support for a mental facility in Wake County. Allow some of Dix property to be used for mental health.
8.Allow Wake municipalities to join Raleigh, Chapel Hill, Carrboro, Asheville and Winston-Salem to enter into leases for the siting and operation of a renewable energy facility for 20 years instead of 10 years.
9.Allow farmland to be taken into municipalities to not have permitting requirements for changes (contact Mayor Killen for details).
10.Allow liens to be placed on properties if stormwater fees are not paid (contact Mayor Matheny for details).
11.Give all Wake municipalities the authority for enterprise fees (see chapter 608 house bill 840, Session Law 2005-441 House Bill 1029 – contact Mayor Matheny for details).
The council approved items 1 through 10 and wanted more information about item 11.
The League of Municipalities agenda created the most discussion. We tried to address each category of their agenda but got bogged down in the "Enhance the Fiscal Health of Municipalities". There were a lot of objections to the vague wording and some outright disagreement with some of the points. This resulted in several motions, most of which were denied, that seem to put the council in deadlock. Since the Cary Council does not strictly follow Roberts Rules of Order, I voted to reconsider a motion that would basically state Cary has received the Leagues' agenda and would not take action. So after all was said and done, that is what we did. Next year, if I am still mayor, we will definitely consider a better process for handling this. Our closed session was less unorganized and we tackled a lot of issues in a short amount of time. It lasted a little over an hour and we were finally done a little after 9 PM.
Greenwood Forest Baptist Church
Saturday morning I spoke with Deacons from Greenwood Forest Baptist Church. I thanked them for their many missions in the community and we talked about other opportunities where they could serve.
The Hostage Incident at Wachovia – Cary Park Concerns
Saturday afternoon I went on camera with WRAL to talk about the steps the town is taking in the Cary Park area as a result of the hostage situation that occurred on Thursday. Speaking of which…
I found out about the hostage situation before I left work for the town hall meeting on Thursday. My prayers go out to the people involved and for the officers. While the outcome was not what they or I had hoped, we were glad no more lives were lost other than the gunman. Although the emotional trauma for those involved will be ongoing for some time, I am thankful that there were no other physical injuries. Those of us who serve in public office do so with the purest of intentions: to protect and serve all citizens to the best of our abilities. When circumstances beyond our control interfere with those intentions, it is a hard thing to deal with. It is what keeps me awake at nights.
The people in the Cary Park area have contacted town management, the police, and council about this tragedy. We realize that they have a heightened concern their safety and we take these concerns very seriously. Here are the actions taken so far:
• Chief Bazemore and her staff have been asked to bring recommendations to the town manager on how to reduce problems in that part of our community.
• Starting Friday, police patrols were increased in the area.
• The District 2 Commander for that area has begun implementation of a new effort called DDACTS (Data Drive Approaches to Crime and Traffic Safety). This is a national based model that uses high visibility patrols and law enforcement presence to reduce social harm and improve quality of life.
• The town is following up with the Grove apartment complex to encourage them to be a part of next month's launch of Project Phoenix. This is a new crime prevention program that is being designed especially for multi-family communities.
• The town manager will meet with the police chief and the command team on Monday to evaluate additional steps. They will brief me immediately after the meeting.
• The police chief, town manager, I, and others will meet with the homeowners of Cary Park at their homeowners meeting on February 23rd at Panther Creek High School at 6:30.
Mailbag: Hopewell Academy, Motiva Expansion, CORRAL: Horses Help With At-risk Teens
In addition to the emails from folks in the Cary Park area I also received emails about permits for Hopewell Academy, the Motiva expansion in Apex, and an email about CORRAL Riding Academy. CORRAL is a non-profit group dedicated to bettering the lives of troubled teens and rescued horses. They offer at-risk girls riding lessons, therapy, mentoring, tutoring and a chance to bond with horses, which provides them with the tools necessary to overcome the challenges they face. If you would like to help their cause please visit their site at http://www.corralriding.org.
Mail from Staff : Quarterly Report
Emails this week also included the quarterly report from staff. Some interesting points from that report include:
• The Downtown manager is expected to be hired in March.
• Construction of the Western Wake Regional Wastewater Facility is expected to begin this spring.
• The installation of Aquastar, the new automated meter reading system, is underway and 649 meters had been installed as of February 4th.
• Staff is currently working on at least a half dozen sustainability initiatives.
• Traffic signals are soon to be installed at Penny Road at Ederlee Drive, W. Chatham Street at Dixon Avenue, and Regency Parkway at Regency Forest Drive.
• Traffic signals are currently being designed for Kildaire Farms and Loch Highland Drive.
• The Triangle Parkway segment of the 18.8 mile Triangle Expressway is scheduled to be substantially complete and opened to traffic on December 31, 2011.
• For calendar year 2010, 1,083 SFD permits were issued which was down 7.9 percent from 2009.
• 276 multi-family permits were issued in 2010.
• For calendar year 2010, 18 new nonresidential construction projects were permitted. Total square footage in 2010 (222,028 sq. ft.) was down 64% from 2009.
• 2010 comparisons show Cary's position as a leader in single family permits issued.
• The estimate presented at the Council meeting in December showed that Cary expected to improve our general fund adopted budget operating margin to about $4.1 million which represents margin of about 3.5%.
• Cary continues to experience the lowest unemployment rate of surrounding jurisdictions, currently at 5.4%.
• Cary Community Arts Center – Construction is 75% complete. At this time, the project is scheduled to be substantially complete in May 2011.
Heading to Washington
Next week I will be in Washington with the town manager and our legislative assistant presenting our federal legislative agenda to our congressman.
Well that is all for this week. My next post will be on Sunday, February 20th. Please feel free to email me with a comment. Email all Town of Cary questions or comments to Harold.Weinbrecht@townofcary.org. Email personal comments to augustanat@mindspring.com.
Harold Weinbrecht
https://carycitizenarchive.com/wp-content/uploads/2020/03/cc-archive-logo-450-v3.png
Harold Weinbrecht
2011-02-14 11:28:17
2016-01-09 11:43:30
Harold's Blog: The Incident at Wachovia, Town Planning Priorities