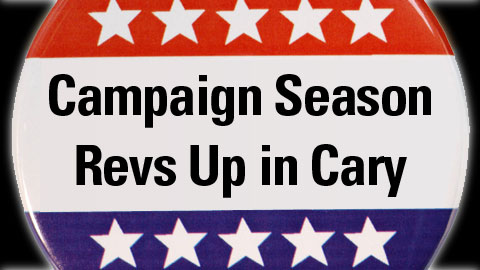 Cary, NC – There's no denying it: campaign season is revving up in Cary.
Town Council Seats in Play
At the top of the list, Mayor Harold Weinbrecht has declared for a second term. His official campaign kick-off is this Sunday, May 22 from 2-4 PM at the Davis Drive Park picnic shelter.
Facing off against the incumbent for Cary Mayor is Michelle Muir, who launched her campaign a couple of weeks ago.
District B
District B encompasses the center of town and north up to I-40. Don Frantz, the incumbent, has declared his intention to run for a second term.
District D
District stretches west from Kildare Farm Road to Davis Drive. Incumbent Gale Adcock also has her campaign kick-off this weekend, on Saturday May 21 from 4-6 PM at Cary Jazzercise, 1070 W. Chatham Street.
At-Large
One At-Large Council seat is up for grabs in this election cycle. That's the seat held by incumbent Erv Portman.
Erv Portman is on the short list for appointment as a Wake County Commissioner to fill the seat vacated by Stan Norwalk. Commissioner Norwalk announced his retirement last week for health and family reasons. The decision on the empty seat is scheduled for May 26.
If Portman is appointed to the Wake County Board of Commissioners, the Cary Town Council would appoint a replacement for the remainder of his term (through Dec 2011).
Elections
Municipal elections in Cary are scheduled for Tuesday October 11, 2011. Wake County Board of Ed also has elections on that date.
Mark your calendars.
Staff
https://carycitizenarchive.com/wp-content/uploads/2020/03/cc-archive-logo-450-v3.png
Staff
2011-05-18 19:30:15
2016-01-01 18:35:20
Campaign Season Revs Up in Cary