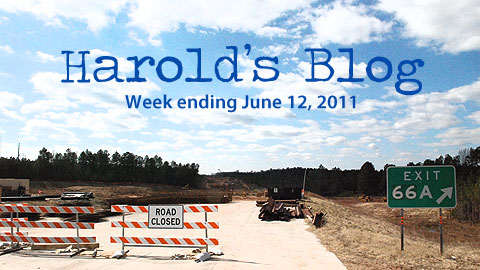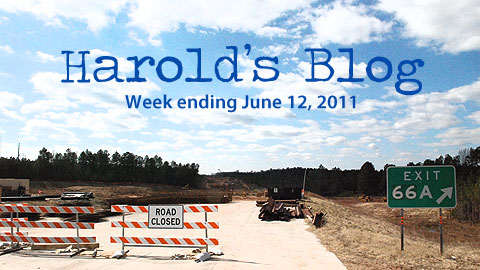 From the blog of Cary Mayor Harold Weinbrecht, covering the week through June 12, 2011.
Because I was on vacation, this is the first post in two weeks. The last couple of weeks have included a lot of high school graduation activity in addition to some national media involvement.
While I was on vacation I was notified of Mr. Bowden's death. He was the gentleman on Maynard Road who painted the sign on the side of his house. My thoughts and prayers continue to be with Mr. Bowden's family as they go through this difficult time. Despite his death, the Town's appeal of the court's decision will continue because it involves a matter of significant public concern. This case is not about Mr. Bowden or the dispute he had with the town. It is about the government's ability to regulate signs and whether the constitution requires a city to regulate holiday decorations along with what people normally think of as signs.
Now for this week…
Monday of this week my family hosted a graduation party for my daughter. She invited her school buddies and they had a nice quiet evening of fun and hanging out. Luckily for me I was still able to get to bed at a good hour.
Tuesday it was back to work on town issues. I talked with the town manager about several topics including economic development, Cameron Park, and speed limits.
Replacement for Erv Portman?
Wednesday I met with an individual that is interested in being appointed to the Cary Town council.
Now a little background on the appointment to the potentially vacant seat… Council member Portman has been nominated for a seat on the county commission. It is anticipated that he will resign his seat on council at our June 30th meeting and be sworn in as a county commissioner in the first week of July.
The town charter, in section 3.5, states "Vacancies in the Town Council shall be filled by the Council for the remainder of the unexpired terms." However, the town charter does not specify a time period for appointing.
The at-large seat that Portman occupies was vacant for six months before he was appointed. If that process is used again then Cary citizens will have elected a replacement before the process could be completed.
So it is not clear whether the council would be interested in making an appointment to fill this seat. If the council decides to do anything the first discussion would be at our July meeting. In the meantime I am being contacted by folks that are interested in being appointed.
If we decide to appoint, I am not interested in considering someone that would use the appointment as a political platform. My meeting Wednesday night was with an individual not interested in running for office. We talked about several topics including why they wanted to only be appointed for just a few months.
NBC Dateline on Nancy Cooper
Thursday was a busy day for me. It started with an interview by NBC Dateline on the Nancy Cooper story.
This was my first national interview unless you count the Golf Channel. I expected tough questions but instead got "soft" questions. That is, they asked about the town, what the people were like, how they felt after the murder, etc. I didn't get asked anything about the case or our police department.
We'll see if all of that ends up on the cutting room floor or I actually have an appearance on the future Dateline show. I was told that this taping would not air before August.
Water Treatment
After the Dateline interview, I met with the Western Wake Wastewater Treatment Facilities Partners.
The only decision was to use biosolids for the sludge instead of the typical process of spreading it. The benefit is that the biosolids process creates pellets which can be used for fuel.
This is a cheaper and more environmentally friendly solution.
Protecting Streams
Following the meeting with the Partners I met with a representative of the Triangle Land Conservancy.
The Triangle Land Conservancy is interested in a dedicated funding source from all the cities and towns. This funding would be used to purchase land to protect streams that feed into our water supply.
Cary has had an open space fund, which includes this purpose, since the early 2000s. We talked about the potential of dedicating a portion of that funding to Triangle Land Conservancy for this purpose. He will work with the town staff to come back with a proposal for us to consider.
To Cree with the President
About midday Friday I received an invitation from the White House to attend President Obama's visit to Cree on Monday. The only information I was given was the time and place to show up.
I am not sure what to expect or how big the group will be. It will be interesting if I have the chance to interact with the President but I suspect our group will be large enough where that is unlikely.
Graduations: Similar But Special
Later Friday I attended the first of three high school graduations of schools located in Cary. All ceremonies are different in some way but are all special. The expression on the faces of the kids as the graduate is priceless. I am so very fortunate to have the opportunity to participate. It is a shame that previous mayors missed out on this great opportunity.
The Cary High School held their commencement ceremony Friday afternoon. By my count, there were 429 graduates that accepted their diplomas. Six of these were students from my Sunday school class so it was very special for me to witness their graduation from close proximity. I was extremely impressed by the address to the seniors from Valedictorian Safiyah Munzer Ismail which I had previously met at other town functions. After graduation I congratulated her and asked her for a copy of the speech which she said she would send.
Saturday I attended the graduation of 494 seniors from Green Hope High School. This was a very quick ceremony and was over in about an hour and fifteen minutes. It was heartwarming to see how many seniors hugged their principal as they went across the stage.
Later Saturday I attended the graduation of 550 seniors from Panther Creek High School. This was another great ceremony and I thoroughly enjoyed it. It is amazing to see such a large class from such a new school. And if you have been involved in Panther Creek events you know that they have significant parental involvement as good as or better than the older schools.
Email: I-540 Noise
Emails this week included a LOT of complaints about the construction noise throughout the night from I540. In addition, I received a few requests for meetings.
——————————————————————–
Next week will be another busy week. In addition to attending an event with the President, there is a work session, a council meeting, an economic development meeting, and a free Health Fair by the Hindu Society.
Well that is all for this week. My next post will be on Sunday, June 19th. Please feel free to email me with a comment. Email all Town of Cary questions or comments to Harold.Weinbrecht@townofcary.org. Email personal comments to augustanat@mindspring.com.
https://carycitizenarchive.com/wp-content/uploads/2011/06/harolds-blog-0612.jpg
270
480
Harold Weinbrecht
https://carycitizenarchive.com/wp-content/uploads/2020/03/cc-archive-logo-450-v3.png
Harold Weinbrecht
2011-06-13 12:36:39
2016-01-09 11:58:25
Harold's Blog: Replacing Erv Portman, Dateline, the President and More