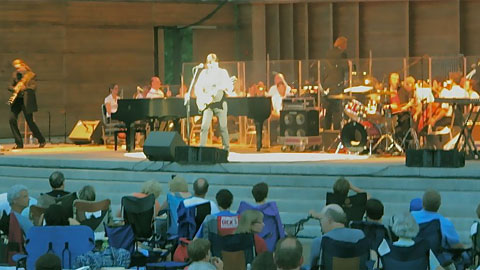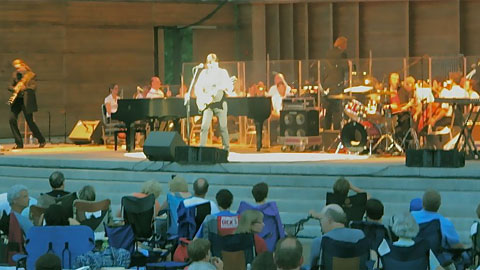 Tony Kishman (center) performs Paul McCartney songs at the Live & Let Die concert at Booth Amphitheatre June 18
Cary, NC – Who knew June 18th was Paul McCartney's 69th birthday? The NC Symphony's Live and Let Die program at Booth Amphitheatre in Cary was a fitting tribute.
As part of Booth Amphitheatre's Summerfest Series, the symphony partnered with conductor Martin Harmon and singer/recording artist Tony Kishman to perform many of Sir Paul's best known hits.
Just as  the crowd was comfortably enjoying their picnics, the skies opened up for about 15 minutes. Our bottoms were damp, but not the crowd's spirit. The packed audience settled in to enjoy 2 ten song sets of some of Paul McCartney's greatest hits from a career spanning over 50 years.
One can't deny the remarkable likeness that lead vocalist Tony Kishman has to McCartney, and he plays it up with the addition of a studied Liverpudlian accent between songs. Kishman's repertoire includes six years in the Broadway hit Beatlemania and his own Beatle's tribute tour of Twist and Shout.
When We're 64

The first set began with a quick medley and jumped right into Hello Goodbye. The greying Cary audience appreciated When I'm 64 winks all around.
Sprinkled throughout the set were a few Wings hits (Listen to What the Man Said, Uncle Albert), and a rousing rendition of Live and Let Die. Even my 17-year-old knew that one – although she's familiar with the Guns and Roses version, I'm afraid.
The pairing of the rock guitars and  Paul McCartney songs with the NC Symphony was brilliant. I had forgotten how many Beatles songs actually have symphony musicians playing back-up. The Long and Winding Road, always featured Phil Spector's love of violins, and here it was superb. And who can forget the haunting quality of Eleanor Rigby and the use of strings there?
The second set opened with Jet, and the audience "ooo-ing" along in all the right places. I Saw Her Standing There had the oldsters and young-ins alike getting up to dance.
Kishman began Ob-La-Di, Ob-La-Da- by asking everyone to "put your hands together" and the audience felt the groove of 1968. A rousing Get Back followed and I couldn't help but envision the Beatles atop the old Apple recording studio in the filming of Let It Be.
The balance of the set was more subdued with the Beatles' Yesterday, and then Baby I'm Amazed and My Love from Paul's solo days after the Beatles broke up. A few songs later, the mega-hit  Let It Be. Here the audience obviously knew all the words.
Like a Rock Show
For a bit of humor Kishman began Rhinestone Cowboy with a few chuckles before breaking into the closing song, Hey Jude.
And like any good rock show – the crowd encouraged an encore with raised phones and lighters. The band came running back out, and launched into Can't Buy Me Love and closed with Birthday in honor of Sir Paul's 69th.
Its been years since the Beatles broke up, but the music is timeless. You hear them in the grocery store, the elevator, a commercial. For the Baby Boomers, there seemingly does not exist a time when we did not intimately know their entire song catalog. A band, mind you, that only existed for less than a decade. In fact McCartney has made far more hits and music as a post Beatle, but will forever remain that cherubic Paul for most of us.
Booth Amphitheatre  picked a winner with this show.  It was more than a pops concert, it was a pops event. Parents, grandparents and kids young and old all enjoyed the entire evening.
https://carycitizenarchive.com/wp-content/uploads/2011/06/live-and-let-die.jpg
270
480
Lindsey Chester
https://carycitizenarchive.com/wp-content/uploads/2020/03/cc-archive-logo-450-v3.png
Lindsey Chester
2011-06-21 09:00:41
2011-06-20 17:42:10
Concert Review: Live and Let Die