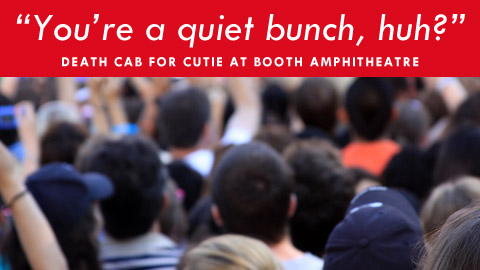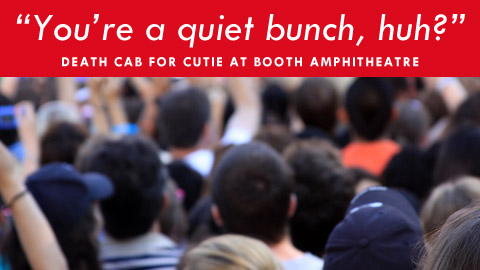 Brennin Cummings is CaryCitizen's Journalism Intern this summer. She heads back to Ithaca College in just a few days. Photo by Ashley.
Cary, NC – "You're a quiet bunch, huh?" asked Death Cab For Cutie's front man Ben Gibbard to a lackluster crowd at Koka Booth Amphitheatre in Cary.
Unfortunately, he was 100% right. The crowd stood stiffly in the general admission pit section, barely moving at all, let alone jamming out or dancing.
Sound of Settling
I started listening to the band in 8th grade and fell in love with their earlier albums but haven't kept up with their later albums as much. I was a little afraid I wouldn't know any of the set list, but I was pleasantly surprised.
They played a great mix of songs from their newest CD, Codes and Keys, as well as some older jams that I remembered from 8th grade, like "Sound of Settling", "Soul Meets Body" and "I Will Follow You Into the Dark". Ben Gibbard's voice also sounded spot on, just like the CD.
Hey, Down in Front!
The audience however, wasn't really responding at all. Most people were just standing with their arms crossed, barely even bobbing their legs. This was especially upsetting to me because I'm 4'10" and concerts are pretty difficult for me.
Usually when the crowd is dancing, it's easy to either move closer to the stage or see through people's heads, but with the crowd acting like a brick wall, either of those things was impossible. I eventually got to a point where I could stand on my tippy toes and make out Ben Gibbard's head. Even setting aside my height problems, the lack of energy from the crowd brought down the entire atmosphere of the show.
Admittedly Death Cab For Cutie isn't club music, but it's definitely groovable, so I was disappointed in the almost bored crowd.
Out of Place
The venue also left something to be desired. The distinction between General Admission Lawn seating and General Admission Pit Seating was way too rigid, and there were people sitting in the Pit when there were people in the lawn who wanted to get up close and dance.
I'm sure the different sections were implemented for a reason, but as far as I could see, the restrictions kept people from really getting into the music.
There were also complaints about the restrictions the amphitheater had on noise. The band sounded slightly muffled and had to stop playing right at 10pm, leaving me wanting more.
"I almost want to get punched in the face"
For the most part, the show was enjoyable. I love Death Cab and the music sounded great. However, the overall concert just wasn't memorable.
My older brother, who came with me, probably had the funniest quote from the evening: "I almost want to get punched in the face or get in trouble just so I can have SOME story from tonight." Sure, he was exaggerating, but he was right.
Nothing was exciting enough to take away from the whole experience as an awesome story or memory, not the concert nor the crowd. And isn't that why people go to concerts in the first place? They go for a personal connection with the band or to bond with other people who share the same passion, but Monday night's concert didn't really offer either of that.
https://carycitizenarchive.com/wp-content/uploads/2011/08/death-cab.jpg
270
480
Community Contributor
https://carycitizenarchive.com/wp-content/uploads/2020/03/cc-archive-logo-450-v3.png
Community Contributor
2011-08-10 16:01:35
2013-06-18 10:48:24
Crowd at Death Cab For Cutie a "Quiet Bunch"