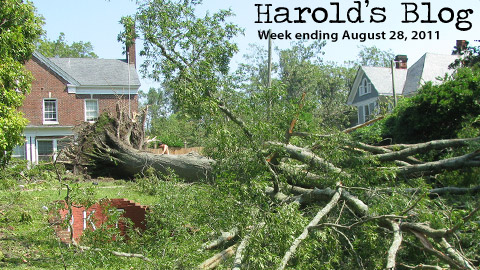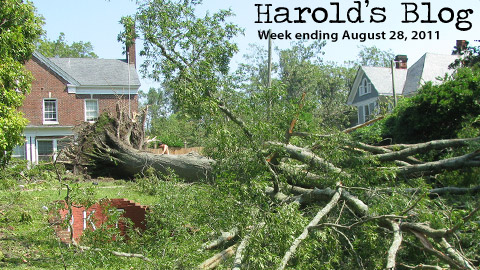 From the blog of Cary Mayor Harold Weinbrecht, covering the week through August 28, 2011. Harold's Blog is edited for CaryCitizen by Matthew Young. Photo of Hurricane Irene damage at ECU by Jenn.
This week was a busy one with a long council work session, a council meeting, and an unwelcome visit from Hurricane Irene.
Monday
Monday started with an interview by Kim Genardo from NBC17 on campaign issues.
Later Monday I called council members to see if they had any concerns or issues with the agenda for Thursday's regularly scheduled council meeting. No one had issues and the agenda meeting later in the day with management and directors lasted only a few minutes.
Tuesday: Shaking All Over
Tuesday I, along with most people on the east coast, experienced an earthquake with the epicenter in Virginia. I was at work at the time and the floor was going up and down. It was the sensation that a large person was running down the hall shaking the floor. I have never been in an earthquake before. I am glad this one did little damage.
Contamination Site
Tuesday afternoon I met with the town manager and assistant town manager to discuss a variety of issues.
One of the issues was the notification we received from the state about a contamination site at 1207 Kildaire Farm Road which was the former site of a Medlin-Davis Cleaners. Apparently the contamination is from a dry-cleaning solvent. Based on the information provided, the contamination is isolated on the site and is being monitored by the state.
There is a public comment period ongoing until September 13, 2011. All public comments should be sent to Al Chapman, DSCA Remediation Unit, Division of Waste Management, NC DENR, 1646 Mail Service Center, Raleigh, NC, 27699-1646.
More with the Town Managers
In other conversations with the managers we discussed the earthquake and the possibility of any damages. There were none reported in this area. In addition, we discussed potential retreat topics. Since there will be a new council member regardless of what happens in the October election (with the filling of council member Portman's seat), it will be crucial that we all spend time together and with staff to develop a good working relationship.
Tuesday Work Session
Later Tuesday I attended a council work session that had four topics.
First the council was given an update on the Western Wake Regional Wastewater Management Facilities. Construction is expected to begin next week and will take three years to complete. Cary, Morrisville, and Apex utility customers will be paying for these new facility with their utility payments. This will result in Cary and Morrisville seeing a 6% increase in utility rates for the next couple of years. The new wastewater facility, in addition to existing facilities, will serve about 230,000 Cary customers.
Corps of Engineers Assessment of Jordan Lake
Our second work session was to decide if we wanted to enter into a Memorandum of Agreement with the US Army Corps of Engineers for the environmental assessment of Jordan Lake which is our drinking water source. The council unanimously agreed to proceed with the assessment. The project would include an aeration system to gently move oxygen rich water from the surface of the lake to the poor lower lake depths. The aeration system will have a floating platform that will be located near the Cary/Apex Water Treatment Plant's intakes in the area of the US 64 bridge and Farrington Road.
Cell Towers
Our third work session was to make decisions on recommendations from a focus group on cell towers. The council went with recommendations that will provide positive incentives for stealth towers and negative ones for non-stealth towers. The incentives would be in the form of lighter regulations, a quicker process, and less council involvement.
Advisory Boards and Commission
The final work session was the appointments for our advisory boards and commissions. Liaisons presented their recommendations to council and all were approved.
For economic development, I recommended that we have a council task force to evaluate our approach. The committee will be chaired by Jack Smith and include Mayor Pro-Tem Robison and council member Robinson. They will look at a variety of issues including our advisory board, our governing board, and other potential additions and changes. Because of this task force I made a motion to suspend the Economic Development Commission appointments and board meetings. This motion was passed unanimously.
Wednesday – Outreach on New Water Treatment Plant
Wednesday's only meeting was with the Western Wake Regional Wastewater Management Facilities partners which includes the mayors of Apex, Cary, and Holly Springs along with their managers.In this meeting we reviewed recommendations for an outreach consultant. Through the review process we saved the partners over $20,000.
Outreach will be critical as the construction begins next week. We need to be responsive and helpful to those that are impacted by the construction. They need to know that we care and are listening to their concerns.
The outreach consultant has experience in this area and will help us achieve this goal.
Thursday – Lazy Daze First Cancellation Ever
Thursday I was contacted by the town manager about cancelling Lazy Daze due to the predicted bad weather from Hurricane Irene. Lazy Daze is one of the town's premiere events and brings thousands of people downtown. Up until this year it has never been cancelled (it has been postponed before).
But the thought of a large number of people in a small area with the potential of projectiles hitting them was way too risky. Therefore, I agreed with the town experts to cancel the event. The town staff unanimously agreed.
The feedback from the vendors was that they were grateful and especially appreciative that we refunded their money (not normal for most events in which they participate).
Personal Day
Friday was a busy personal day. I was celebrating my wife's birthday and at the same time contacting my two daughters that were in risky areas due to Hurricane Irene.
My youngest in Greenville, NC had to adhere to an 8 PM curfew and was fine. My oldest in New York City's lower Manhattan was told to stay in her building and fill up her tub as the storm approached. There were some predictions of 7 feet of flooding in lower Manhattan. Fortunately that did not come to pass.
Weekend
Saturday was spent indoors away from the rain and wind gusts.
Sunday I taught a Sunday school lesson on acceptance. I had lunch with a close friend in Glenaire. Later in the afternoon I attended a fundraiser. I was very well received and it was a good event.
Mailbag: Geese, Chickens & Water Meter Radio Waves
Emails this week included a complaint about the lack of cell tower coverage, a complaint about future campaign signs in the media, a complaint about radio waves from the automated water meters, a complaint about Canadian Geese, a request to allow backyard hens everywhere in Cary (they are allowed in R40 lots and larger), and a complaint about potential power outages in Cary (this is handled by Progress Energy).
Next week is a light week because of the Labor Day holiday. It includes an Eagle Scout ceremony and a tour of the newly purchased theater property.
Well that is all for this week. My next post will be on Sunday, September 4th. Please feel free to email me with a comment. Email all Town of Cary questions or comments to Harold.Weinbrecht@townofcary.org. Email personal comments to augustanat@mindspring.com.
https://carycitizenarchive.com/wp-content/uploads/2011/08/harolds-blog-0828.jpg
270
480
Harold Weinbrecht
https://carycitizenarchive.com/wp-content/uploads/2020/03/cc-archive-logo-450-v3.png
Harold Weinbrecht
2011-08-29 12:47:07
2019-12-10 15:54:51
Harold's Blog: Earth Shaking and Trees Blowing