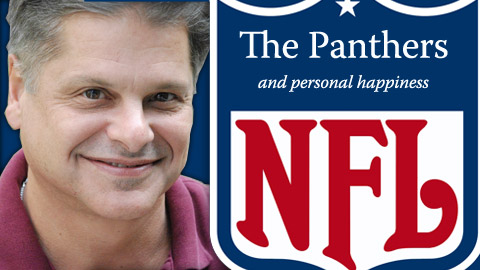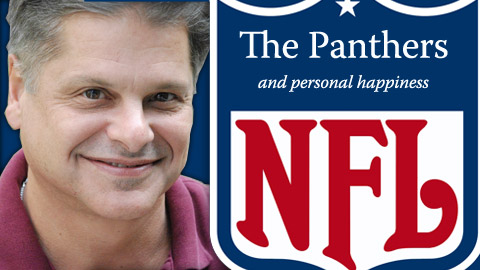 Story by Matt Young.
Cary, NC – It's the annual "rolling of the eyes and making yourself scarce" time of year in my household.
Oh, my wife and daughters may walk through the "play room" and ask me what the score is. And I will answer "Really? Do you really care?" Or for fun I may say something absurd ("1 google to 3 trillion." or "They cancelled the games to show Swan Lake and IT'S GREAT!" etc.) to which I will get no response. Usually I just say "Hi, love. Get out of the way" or something sweet like that. Mostly they shop or nap.
Yes, on Sundays in the fall I don't see the family much at all after 1 pm. And also yes,  I watch all give-or-take 16 games in some part at least.
If neighborhood guys or my son-in-law Mark, show up to watch they know where my beer fridge is. Most of them know the code to get in my garage.  They willingly accept me ignoring or "shooshing" them. And I don't make them hors d'oeuvres. My wife, Chris, makes the occasional stromboli (note to self – "publish that recipe and claim as my own").
And there is the suburban legend about me being catcalled and booed by the neighborhood guys while my better half was out raking leaves at 6 months pregnant. Giants/Redskins, November 1985. Skins won. Whatever. It's not on Snopes. Therefore it is not true.
Visit me on Sunday, you get a couch, free beer and a remote control commander who can time stoppages of play to the nano-second to avoid commercials. That's enough.
And I do have some superstitions, prior to game time, that I am too embarrassed to write about. And there is one guy who does NOT know my garage pass code. I am sure you can figure out why (he's a jinx).
Anyway, to me, this is the most wonderful time of the year.
Panthers Fresh New Season
The Carolina Panthers kick off their season this Sunday at  4:15 p.m.against the up-and-coming Arizona Cardinals in Arizona. I don't give the Panthers much of a chance in 2011 for greatness, but I think the future (2-3 years out) is bright.
Their first pick in the draft this year has won the starting QB job. Here's what I said about Cam Newton in a previous column about possible draft picks while he was at Auburn.
QB / Cam Newton – Auburn: Gotta give him a little extra "sports column real estate". He's the media darling. GREAT athlete. Heisman Trophy. He passed for 20 touchdowns and rushed for 20 touchdowns in 2010. His father, Cecil, was in the NFL, and his bother Cecil Jr. plays for the Jags, so the pedigree is there. In Newton's first game this year against Arkansas State he was responsible for 5 total offensive touchdowns and 350 yards of total offense. Wow. VERY tempting, especially with the 2010 Panthers QB issues.

Fastforward:  He looked good (not great) in pre-season, albeit like a rookie. But he has a swagger, is very at-ease and is a great athlete.
If the Panthers win 6 or more games this year, the season will be considered a huge success. They play in the tough NFC South Division (Saints, Falcons, Bucs). Two of the other teams in the NFC South are good enough to make the playoffs this year.
With that, my (rather obvious) keys to success for the 2011 Panthers:
Running Backs. A running game will take the pressure off the new QB. This team could have a darn good running game. Said Coach Ron Rivera on Panthers.com :  We feel very good about that group. We think it's a pretty formidable group. We've got a bunch of guys that can carry the ball; we've got guys that understand the passing game; and they're learning our (pass) protections. So that's probably the best thing that we've got going as far as that group. It's a quality group. I do like our top two guys (DeAngelo Williams and Jonathan Stewart). If you mix in our younger guys back there, I think we have guys that can step in and make plays.
 O-Line. Minimize mistakes by the rookie QB by not letting him be rushed. Keep him healthy. Run block. That simple. Now, the Cats have a pretty good offensive line, especially if RT Jeff Otah stays healthy. That said, they looked shaky in preseason.
 QB. Minimize mistakes. Period. No heroism. See above. I think Cam gets this. In fact, in preseason, he threw no interceptions (horrible completion percentage, which is expected). Run the ball. See above again.
 Head Coaching. Ron Rivera's performance in prep and on game day will be watched. He's a rookie head coach. He'll be fine during this honeymoon period.
Defense. Did I mention they have a new defensive coordinator too? They got a good one with Sean McDermott. Hey, he survived a lot of years in Philly and studied under a legend there (Jimmy Johnson). Also head coach Rivera's resume includes being a defensive player and defensive coach. Their star middle linebacker, Jon Beason, is expected to be sidelinede this Sunday (bone bruise on his heel).  Linebackers and safeties are the strong units of the defense. Overall in 2010, they were in the middle of the pack as NFL defenses go.
Don't expect too much. Enjoy the growth of this team. We'll talk in two years.
Football quote of the week – Deion Sanders, on why he doesn't like the two-week break between the conference championship games and the Super Bowl: "Having two weeks off gives family, friends and the media more time to get on your nerves."
Go Panthers!
https://carycitizenarchive.com/wp-content/uploads/2011/09/carolina-panthers.jpg
270
480
Matt Young
https://carycitizenarchive.com/wp-content/uploads/2020/03/cc-archive-logo-450-v3.png
Matt Young
2011-09-07 15:36:49
2015-12-30 17:37:03
Panthers Beat: The Panthers and Personal Happiness