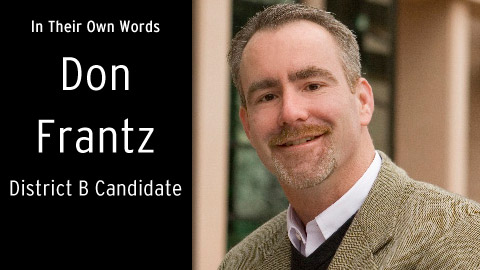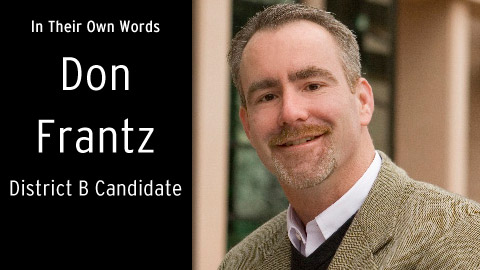 Cary, NC – Today, we begin a four-week series called "In Their Own Words," in which we let candidates for Cary Town Council tell you who they are and what they stand for. We begin this week with District B, pitting incumbent Don Frantz against Jeff Foxx. Mr. Foxx will have his say tomorrow.
All candidates have been asked the same three questions. We have not edited on word, vowel or comma of their responses. Decide for yourself how to vote on October 11, 2011.
1. Why are you running?
DF: We are truly blessed to live in one of the greatest communities in America. I am running for reelection to make Cary an even better place to live, work and raise a family. If reelected, I pledge to continue to work on the issues that matter to Cary citizens and businesses.
My record on the Cary Town Council is one of collaboration with colleagues on both sides of the aisle to address key issues in our community. Partisan politics and political bickering doesn't get things done. There isn't anything partisan about roads, water and public safety. I have an open-door policy and I have never refused a meeting with anyone. The best decisions are made when all stakeholders are involved in the process.
Through my work on the council, I have earned a reputation for consistency and honesty. I say what I mean and I mean what I say. I have gone to great lengths to better communicate with citizens via social media and my blog. Citizens deserve to know what it is I am working on as a member of the council and how I vote. We may not always agree, but you will always know where I stand.
I have had the privilege of meeting and listening to most of you during my first term and many of us have worked together to solve a number of issues in Cary. We have accomplished a lot in four years, but we still have work to do.
That's why I am running for reelection; to continue to serve the citizens of Cary and bring common sense solutions to town government. I hope that I have earned your trust and support and I ask for your vote on October 11.
2. What are your top 3 priorities and how will you get it done?
DF: My top 3 priorities are:
The economy and job creation
Keeping Cary's fiscal house in order
Infill development/downtown revitalization
Economy and Job Creation
As a successful businessman I know what it takes to create jobs in a tough economy. As a parent of six I know how much that matters. During my time on the council I have worked hard to create an environment that encourages business growth and creates jobs. Sound fiscal policy, low taxes, and reduced bureaucracies have resulted in increased business growth in Cary and one of the lowest unemployment rates in the nation.
Fiscal Management
As a member of the council I have worked hard to provide the highest quality of life at the lowest possible cost to the taxpayer. Cary has the lowest tax rate of any municipality in Wake County. This was not the case before I joined the council. Through conservative budgeting and a focus on priorities, Cary remains in good fiscal health and ended last year with a $5 million budget surplus. To cope with the economic recession I supported postponing or eliminating over $100 million in capital projects; created Cary's first ever debt ceiling, which we have not exceeded; a hiring freeze on new town government positions; and I voted against reducing the town's general fund reserves from six months to four.
Just as hard working families have had to tighten their belts and live within their means, so must the town. I have been a good steward of town resources and I pledge to continue to focus on priorities.
Infill Development/Downtown Revitalization
The majority of development projects in Cary over the last few years have been infill projects (development within an already developed area). Sometimes adjoining residents and property owners support the proposed project – often times they do not.
I have worked hard to balance the rights of folks to develop their property, while at the same time working to protect the rights of adjoining property owners from the negative impacts associated with the development.
Strong, principled leadership is key to working through contentious issues and compromise is a two-way street. I have a proven record of listening to and working with all stakeholders involved, and of bringing both sides together to craft a project that all parties can be satisfied with.
I am also very pleased with our efforts downtown. One of the reasons I ran for council in 2007 was out of frustration with Cary's inaction downtown. Sure, Cary talked a good game downtown, but nothing was happening.
That has changed.
Under my leadership Cary has gone from a town that talks downtown to a town that is doing downtown. Some examples of our efforts over the last four years include:
The Cary Arts Center – finished on time and under budget
We have acquired over 75% of the downtown park property
Hired Ed Gawf as Cary's Downtown Manager
Acquired Cary's Historic Downtown Theatre – renovations to begin soon
Partnered with NCDOT on downtown rail station improvements
Eliminated impact fees downtown to encourage private sector investment
Working with Wake County to site a new regional library downtown
Numerous neighborhood sidewalk, greenway and stream restoration/flood mitigation projects
New wayfinding signage
Historic Preservation Master Plan
We are making great progress downtown – but we still have work to do. I share our community's vision for downtown Cary; a vibrant, safe and prosperous community of residents and businesses that creates a destination for folks to live, work and play. A healthy downtown makes a healthier Cary.
3. Biography & Relevant Experience
Family:
Don and Lisa Frantz are the proud parents of six children; Reg, Jordan, Preston, Mercedes, Whittaker and Elizabeth. 
Professional Achievements:
Owner, Frantz Automotive Center
Owner, Rosedown Weddings
2010 NFIB Small Business Champion of the Year
Top 100 NC Small Business, Business Leader Media
Top 50 Entrepreneur of the Year, Business Leader Magazine
2008 Cary Chamber of Commerce Small Business of the Year
Top 10 Repair Shop in the Nation, MotorAge Magazine 2007, 2009
Voted "Best of Cary" Cary News, 2004, 2008, 2009
Public Service:
Member, Cary Town Council 2007 – current
Member, Town of Cary Planning and Zoning Board 2005-2007
Member, Town of Cary Citizen Budget Review Commission 2004-2005
Representative to the Triangle J Council of Governments Smart Growth Committee
Council liaison – Town Center Review Commission
Council liaison – Parks, Recreation, and Cultural Resources Committee
Wake County Growth Issues Task Force
Civic Involvement:
National Federation of Independent Business (NFIB) Leadership Council
Cary Chamber of Commerce
Heart of Cary Association, Past President and Current Member
Cary IMP Club
Cary Elementary PTA
Friends of the Page Walker
National Rifle Association
More Information
Website: www.frantzforcary.com
Campaign Email: don@frantzforcary.com
Phone: 919-612-6870

https://carycitizenarchive.com/wp-content/uploads/2011/09/candidates-don-frantz.jpg
270
480
Community Contributor
https://carycitizenarchive.com/wp-content/uploads/2020/03/cc-archive-logo-450-v3.png
Community Contributor
2011-09-13 18:00:42
2011-09-27 11:24:29
Cary Candidates: Don Frantz, District B