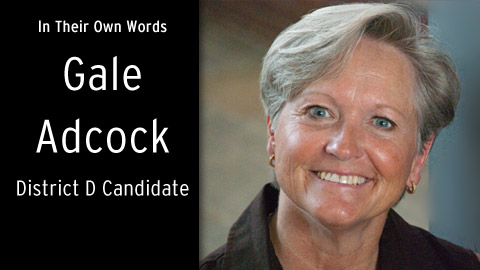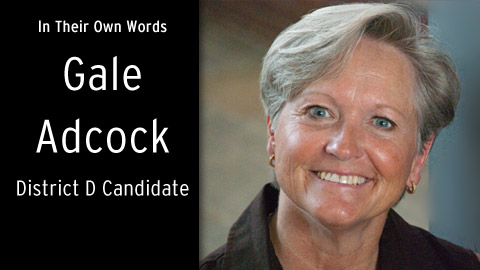 Cary, NC – We continue our Cary Candidate series with the District D race. Today, we hear from incumbent Gale Adcock. Tomorrow, challenger Don Hyatt.
All candidates have been asked the same three questions. We have not edited on word, vowel or comma of their responses. Decide for yourself how to vote on October 11, 2011.
1. Why are you running?
GA: It's been my honor to serve as the District D representative on the Cary Town Council since 2007.
Among the many important issues that require a Council member's focus, my top three priorities will continue to be fiscal responsibility, public safety and economic vitality and growth.
2. What are your top 3 priorities and how will you get it done?
Fiscal responsibility. I will continue to support Town budgets with conservative revenue estimates, staffing to meet citizen expectations for levels of service, and capital projects that are strategic and/or necessary to protect our infrastructure investments.  I voted to lower Cary's property tax rate from 42 to 33 cents. We now have the lowest rate in Wake County while maintaining a AAA bond rating. I see to it that my family lives within our means and I feel the same way about the Town's finances.
Public safety.  I will continue to support appropriate staffing for fire and police, deployment/location of these critical functions where most needed in Cary, and new methods of policing to address the root causes of crime, including gang activity.   I have consistently supported and voted to fund Cary Police Department initiatives including Geo-Policing, Project Phoenix, and the Gang Suppression Program.  Cary is one of the safest cities of its size in the US and I want to keep it that way.
Economic vitality & growth.  International business and technology leaders such as Deutsche Bank, Siemens and ABB choose to locate and expand their business operations in Cary because we plan for growth and we do it intelligently. Their employees want to live here for the same reasons.  I will continue to work to make Cary's business environment healthier and more attractive for current and prospective businesses.   A good example of this was my vote to waive impact fees for core downtown development for a limited time period.  I will continue to advocate for streamlined, coordinated Town processes required to start or expand a business; look for innovative opportunities to kick-start redevelopment; and pay close attention to infrastructure and amenity upkeep that enhance our quality of life.  I will always stand firmly behind development standards that protect our neighborhoods and sustain our reputation as one of the most desirable places in the country to live.
3. Biography & Relevant Experience
GA: I also have a track record as a business manager and executive.  I am the Director of Corporate Health Services at SAS Institute. Among my many job responsibilities are oversight of a $4.2 M budget, direction of a 55-member staff, management of day-to-day operations of a large corporate family practice, and establishment of sound operational and clinical policies.  I serve as a consultant and the corporate spokesperson on all matters concerning health and wellness. I am a Registered Nurse, a Family Nurse Practitioner and I have served as a past President of the North Carolina Nurse's Association.
I moved to NC from Virginia in 1976 and moved to Cary in 1993.  My husband Kevin is a native of Durham.  My family and I attend St. Michael's Episcopal Church where we have been members since 1995.  We have two sons; our oldest son Jay is a freshman at Appalachian State University and our youngest son Alex is a junior at Green Hope High School.   We are proud to call Cary our home and I would be honored to continue to serve as your District D representative.
More Information
Website: www.galeadcock.com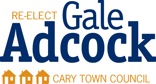 https://carycitizenarchive.com/wp-content/uploads/2011/09/candidates-gale-adcock.jpg
270
480
Community Contributor
https://carycitizenarchive.com/wp-content/uploads/2020/03/cc-archive-logo-450-v3.png
Community Contributor
2011-09-20 16:30:48
2015-12-29 22:58:45
Cary Candidates: Gale Adcock, District D