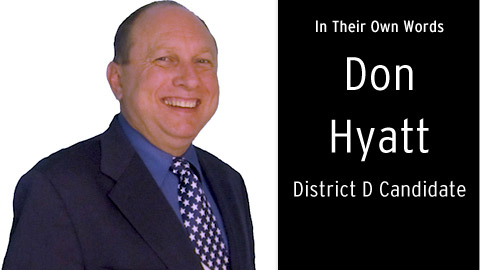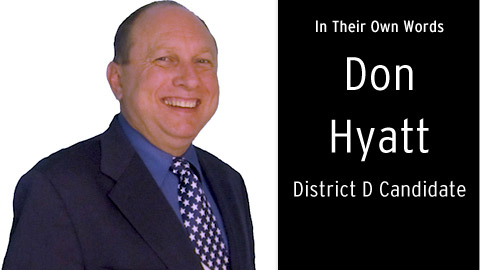 Cary, NC – We continue our Cary Candidate series with Don Hyatt, running for election to Cary Town Council in District D. Yesterday, we heard from incumbent Gale Adcock. Read the whole series under the Elections tab.
All candidates have been asked the same three questions. We have not edited one word, vowel or comma of their responses. Decide for yourself how to vote on October 11, 2011.
1. Why are you running?
Have you ever had to look a friend in the eye, a close friend that you've worked with for many years, a friend that you depended on and whom also depended on you, and tell them they were no longer wanted?  That the company you both work for no longer needs them?  Tried to wish them well even though you knew in your heart you were crushing them?
I have.
There is no easy way to tell someone they have been let go at a time when there are no guarantees of them finding another job.  A job search is almost always difficult but it becomes especially so during times of slow or no growth in a community.  And as insulated as Cary is, we are not immune to the vagaries of an economy that we cannot directly control.  Unemployment in Wake County has been over 8% for 2 1/2 years – twice historical averages – and  compared to many  areas, we are blessed that it's not higher.
Cary enjoys amenities and a quality of life that are somewhat unique.  Couple that with the low tax rate that we have all enjoyed and Cary stands out among all small cities as a place worthy of setting down roots for a family or retiring gracefully.
Here is the hard truth though.
We have all these things, this wonderful existence, not in spite of growth, but because of quality growth and the demand for excellence by Cary's citizens.  While some publicly disparage developers and castigate candidates and elected officials for raping and pillaging the countryside, others quietly work to ensure Cary's record of quality development at an affordable price lives on for the next generation.  Solid, quality growth has afforded us nearly all the amenities and low taxes we have come to enjoy but the future is not guaranteed.  Cary caught a real break when property was revalued in 2008, just before the recession hit.  For those of you currently trying to sell your home, maybe not so much.  Even with the lucky timing, Cary has had to postpone some $200M+ in capital improvements.  Property tax and sales tax revenues have dropped $6M and our growth rate has declined 3 years in a row.  Some reading this will think growth grinding to a halt is a good thing but they are wrong.  If current real market property values were used to calculate property taxes, each and every Cary property owner would be looking at a 25% increase in their property tax rate.  Cary faces some difficult choices ahead and we require new bold leadership to carefully navigate our way through an extended economic downturn.  Promises and platitudes won't get it done.  I have an actual plan.
2. What are your top 3 priorities and how will you get it done?
1. Changing the message
Ask almost anyone that has started a business or developed property in Cary and you will get story after story about what a difficult experience it is and about how the high development fees paid up front make it a difficult choice to locate here.  Cary has a reputation as both a desirable place to do business and a hostile place to establish a business.  We are on the whole, not very inviting.  This needs to change if we want to be a part of any economic recovery.  We need to immediately start doing a better job embracing companies that want to do business in Cary.  We need to let them know that they are welcome here.  We need to show them a 'Cary is open for business' sign and adopt policies and lessen restrictions to prove that Cary means Business.  We can no longer afford elected officials that claim to be pro-business while waving the flag of slow growth.  Cary needs continued quality growth and when that growth meets our standards, it should be embraced.  Growth rate, tax rate, unemployment rate – they are all connected and should be reflected in Cary's policies and in its vision.
2. Rewarding excellence
One the biggest changes I will push for is to start seriously rewarding innovation and outstanding design.  In a tight economy with investment money hard to come by, I think it is imperative that Cary provide reasons for businesses and new development to go above and beyond when it comes to design and construction.  Included with this concept is the idea that some of Cary's more stringent development rules be relaxed if a project is truly exceptional.  An example of this would be a project that perhaps builds a nice arch over a stream buffer, incorporating the water feature into the design, instead of having to abide by strict 100′ buffers.  Other examples would be the terrific renewal of Cary's Waverly Place and the recently opened Cary Arts Center.  Outstanding new architecture and the preservation of historical architecture while encompassing functional design are things we should actively support.  Streamlining approval, reducing development fees, and promoting such projects are all things we need to do a better job of.
3. Empowering freedom
Along with rewarding excellence, I would push for fewer town-wide, one size fits all, ordinances.  If your neighbors don't have an issue with your fence or the fact you have a couple of chickens in your backyard then neither should the town.  And there are other colors, perfectly good colors, that aren't beige.  They should be looked at in context, not just tossed aside as an unworthy palette for such a staid place as Cary.  Even beautiful can become boring if it's repeated often enough so I support breaking the mold – maybe just a little – and inviting new and bold ideas to Cary in order to help us flourish in an even brighter tomorrow.
3. Biography & Relevant Experience
Family:
Don has been married for 27 years to the very understanding Margaret and they have two grown children: Rachel and Camden.
Professional:
Software Development Manager for IBM (joined 1987)
Multiple Patents – all IT related
Webmaster CaryPolitics.org (created 2001)
Public Service:
Cary Planning & Zoning Board (2001-2004)
Cary School of Government (2005)
Cary Issues Advisory Task Force (2008)
North Carolina Center for Voter Education Board of Directors (2007-2009)
Professional Organizations:
MENSA
Triple-Nine Society
More Information
Website: donhyatt.org
Facebook: facebook.com/VoteHyatt
Twitter: @donhyatt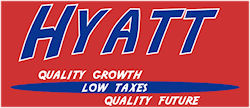 https://carycitizenarchive.com/wp-content/uploads/2011/09/candidates-don-hyatt.jpg
270
480
Community Contributor
https://carycitizenarchive.com/wp-content/uploads/2020/03/cc-archive-logo-450-v3.png
Community Contributor
2011-09-21 20:22:44
2016-10-25 16:25:04
Cary Candidates: Don Hyatt, District D