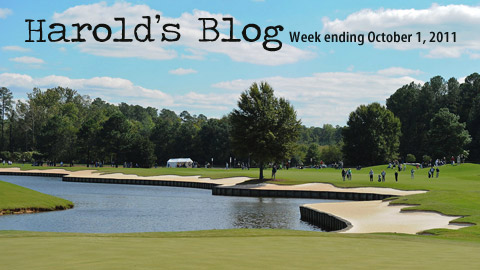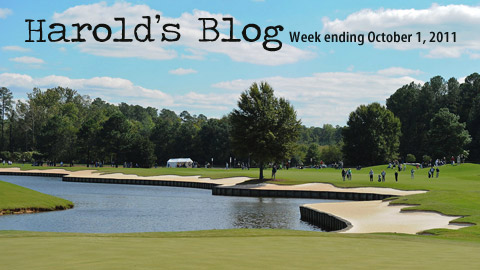 From the blog of Cary Mayor Harold Weinbrecht, covering the week through October 2, 2011. In compliance with North Carolina election law, CaryCitizen has edited Harold's Blog this week if necessary to omit any campaign-related references. You can read Harold's Blog in its complete form at http://haroldweinbrecht.com. Photo by Suzie Wolf.
Cary, NC – This week was probably the busiest week since I have been in office. It included a council meeting, three forums, participating in the SAS Championship and a few speaking engagements.
Return from Ireland
The week started about 1:30 AM on Monday which was the time I arrived home from the Ireland trip. Of course being on airplanes for hours, being around sick people, and being run down from lack of sleep, I got sick. Luckily it was just a cold. Nevertheless, I went ahead with events as planned.
I called all council members about the agenda for Thursday. It was a very short agenda and the only item for discussion was pulled by the applicant so council members didn't really have any concerns or questions. Later Monday I met with staff to go over the agenda. We believed it would be a short meeting was well.
Kirk of Kildaire Forum
Monday night I headed over to Kirk of Kildaire for a forum. It was a good forum with most questions having an emphasis on the environment and transportation.
Farmer's Markets
Tuesday started with a short meeting with town manager Ben Shivar and Mayor Pro-Tem Robison. We talked briefly about a proposed farmers market in west Cary and downtown.
I next joined a meeting with council member Robinson and several staff members to talk about the town's involvement in a Western Wake Farmers market. I told staff that I believed council supports the mission of the Western Wake Farmers market and we would like to help their efforts to relocate. It was pointed out that certain proposed sites would require site improvements. I let everyone know that I was told that the Western Wake Farmers Market could lose the ability to operate from their current location in March. Staff proposed several temporary sites that might work such as schools and parks within a 2 mile radius that would have parking and road access in place. One other interesting point of discussion was the council and staff's interest in locating a farmer's market downtown.
Council Biz
Our regularly scheduled council meeting was held Tuesday night. This was moved from our normal 4th Thursday to accommodate the Jewish holiday. The council meeting was very brief and only consisted of a few presentations. One decision of interest was the spire at the Veterans Freedom Park. Later in the week I happened to talk with Al Rager, who will be constructing this project. He plans to start construction in the next month or so with a goal of having it completed next year around this time.
The total time of the council meeting was 14 minutes which was NOT a record. I was part of a council meeting in the early 2000s that lasted less than five minutes. It was during a snow storm and we had to take action on an item that was time critical.
SAS Pro-Am
After the council meeting I headed over to the SAS conference center to participate in the Pro-Am selection event. I was able to connect with a few chamber folks and SAS folks.
Wednesday started with a morning candidate forum at the Umstead Hotel. This forum was attended by about a hundred or so and of course the focus was on business and economics.
After the forum I attended a few meetings at work before heading out to participate in the Wednesday SAS Pro-Am. Our pro for the day was Bobby Wadkins. My team consisted of Chamber President Howard Johnson, Chamber Vice President of Economic Development Sandy Jordan, and council member Jack Smith. We played close to our abilities and finished tied for third.
The second round of the SAS Pro-Am was bright and early Thursday morning. The pro for the day was David Peoples. My team was the same except Howard Johnson was replaced by Chamber Chairman Paul Ashworth. This was not a good day for the team as we seemed to have mental fatigue. Our team finished 4 strokes behind our score for the previous day and we were nowhere near the leaders.
After finishing the golf I had just enough time to shower put on a suit and head back over to the golf course to do a taping with the golf channel. It is always a thrill for me to do the welcome to the SAS Championship.
Adopt a Spot
Friday morning I headed over to Cary High School to launch Cary's Adopt a Spot program. I was joined by several members of the Cary High School Delta Club, teachers, mentors, and of course the principal. They did a litter sweep of the campus and then gathered for the unveiling of the first official sign of Adopt a Spot. I gave a few words and then did the unveiling. We then posed for dozens of pictures with the youth involved. It was a lot of fun and I am glad that our first location, of what I hope will be a hugely successful program, is located at Cary's first High School.
New Site for Dorcas Ministries and Habitat for Humanity
Saturday morning I headed over to Cary Plaza for the Grand opening of Dorcas Ministries thrift shop and Habitat for Humanity Wake County's Restore. Here is part of my comments which called for the community to help these ministries:
"…While these two stores are new, these organizations are not strangers to Cary. The work that Dorcas and Habitat Wake do in providing our citizens with crisis services and affordable housing is nothing short of remarkable. I doubt there is a person here who does not know someone that has been affected by the economic downturn: a neighbor, a person in your congregation or at your child's school, or maybe it's someone in your own family. With so many people out of work or underemployed, the outreach services provided by Dorcas and Habitat are needed more than ever, and it's wonderful to see these organizations stepping up to meet that need.

But it's not just up to them; we've all got a role to play in supporting our neighbors. One of the easiest things you can do is become a patron of these new Cary stores. The money you spend will be used to help others, and you'll some save money, too. Next, take a look around your house and see if you have any goods you can donate. Your donations are not only tax-deductible, but green too – by recycling clothing, furniture and household goods, you keep those items out of the landfill and into the hands of folks who can really use them. Being green and saving green speaks to two of our values at Town Hall, where we strive to be good stewards of our citizens' finances and of the environment. …"
After comments were made I cut the ribbon to official open the stores and then took a tour. I urge the community to continue to support these great services to our community.
Garba Night
Later Saturday I gave welcoming comments at the second Garba Night celebration of dance. This had a special meaning for me as I was scheduled to give welcoming comments on the first Garba Night celebration when I broke my back. So this year I was determined to be there and to dance. Here is an excerpt from my comments:
"… no matter how different our cultures may be, we're really not that different at all. We all want good government, safe communities, a clean environment, great educational opportunities and most of all, respect. It's only through mutual understanding and respect that we can reach our full potential as a community and truly have a reason to celebrate. …"
After my comments I lit the ceremonial candles and the beginning of several hours of dance began. I participated in the first two phases.
Sunday
Sunday I spent time catching up on emails and phone calls.
Information from staff this week included a lot of significant items.
ICE Facility Details
The location of a new ICE facility in the region is ongoing. Here is the latest information received based on information from the assistant town manager and questions asked by the Mayor Pro-Tem:
ORIGINAL REQUIREMENTS:

Minimum 19,841 sf
65 (Surface, on-site, secured parking spaces)
Full term of lease – 15 years
Minimum 5,000 sf ground floor space for detainee processing
Secured sally port for detainee transportation
Occupancy (Estimated) – June 13, 2012
TIMELINE and OTHER INFORMATION:

Buildings located within 3,000 linear square feet radius (measured from building center) of schools, daycare centers, residential zoning/concentrations, hotels, or other areas of civilian activity or vulnerability will not be considered.
Expressions of interest are due – October 3, 2011
Market survey is due – October 11-12, 2011
Offers are due – November 15, 2011
QUESTIONS:

1. How may expressions of interest did GSA receive in response to the FedBizOps Solicitation (1NC2136) for ICE office space in the Raleigh/Cary area?

No suitable sites were received by GSA in response to the referenced solicitation. GSA has already or intends to re-issue same notice with a seven business day turnaround time.

2. Who submitted expressions of interest (in case we get questions from them)?

Procurement regulations do not permit him to disclose. The way we find out is through contacts potential bidders make with the Town of Cary staff on zoning, permitted uses, etc. BTW, we discussed the need for some mechanism for communication between the GSA and the Town prior to finalising a site selection (more on that topic).
3. When can we get a copy of the more detailed Solicitation for Offers?

The SFO will be made available to us once the GSA determines it has received an acceptable number of responses proposing sites they wish to receive bids on and releases it to prospective bidders. They could for instance receive 10 responses to the pre-solicitation notice and determine that five are suitable. Those specific five bidders receive the SFO. At that time, we would also receive a copy.
Smoking Out Sewer Problems
In other staff information, Cary will "smoke out" sewer problems as it begins testing in a portion of town. The testing will focus on an area generally bordering Kildaire Farm Road, Walnut Street, East Chatham Street and Interstate 40 Highway. Cary's Public Works and Utilities Department will conduct the leak tests starting October 3, weather permitting, over about a six week period by introducing detection "smoke" into neighborhood sewer lines. The "smoke" will locate places where storm and other surface water can enter the Town's sewer collection system as well as help reveal sources of sewer odors.
Western Wake Freeway Project
The latest information on the Western Wake Freeway Project includes:
Work progressed this week as crews:
Continued grading between Old Holly Springs Apex Road and U.S. 1;
Completed the tie-in work at Jenks Road in preparation for its reopening;
Continued installation of storm drain pipe between U.S. 64 and Olive Chapel Road;
Hauled 460 dump truck loads of dirt from Jenks Road to south of U.S. 64 and south of U.S. 1;
Continued bridge work at Carpenter Fire Station Road, Morrisville Parkway, Jenks Road, Beaver Creek Commons, the CSX railroad crossing and U.S. 1;
Continued installation of a 30-inch waterline near Jenks Road; and
Continued installation of drainage network in the existing median on U.S. 1.
Next week crews are scheduled to:
Continue concrete paving between Roberts Road and Green Level Road West;
Continue asphalt paving of ramps and loops at the U.S. 64 interchange;
Continue to grade between Green Level Church Road and Jenks Road, Olive Chapel Road to Beaver Creek, south of U.S. 1, between Old Holly Springs Apex Road and N.C. 55 Bypass;
Continue bridge work at Carpenter Fire Station Road, Morrisville Parkway, Beaver Creek Commons, the CSX railroad crossing, U.S. 1 and Western Wake Freeway
over the fly over ramp south of U.S. 1; and
Re-open Jenks Road and Green Level Church Road to traffic.
For information about the Western Wake Freeway project visit www.westernwakeinfo.com.
Jenks and Green Level Church Roads in Apex
On a related note, Jenks and Green Level Church Roads in Apex will reopen to traffic Tuesday evening, Oct. 4, after 3 p.m., weather permitting. Both roads had sections closed due to work on the Western Wake Freeway.
Emails
Emails this week included comments on the Western Wake Farmers market, the Cary Children's museum, and the Pulte Homes waiver for the one year waiting period.
Next Week
Next week promises to be busy as well and includes the ribbon cutting for the train depot, international walk to school day, the chamber appreciation day, the EID festival, comments at a local church, and two forums.
Well that is all for this week. My next post will be on Sunday, October 9th. Please feel free to email me with a comment. Email all Town of Cary questions or comments to Harold.Weinbrecht@townofcary.org. Email personal comments to augustanat@mindspring.com.
https://carycitizenarchive.com/wp-content/uploads/2011/10/harolds-blog-1001.jpg
270
480
Harold Weinbrecht
https://carycitizenarchive.com/wp-content/uploads/2020/03/cc-archive-logo-450-v3.png
Harold Weinbrecht
2011-10-03 18:43:30
2016-01-09 11:58:27
Harold's Blog: The Scoop on the Farmer's Markets and More