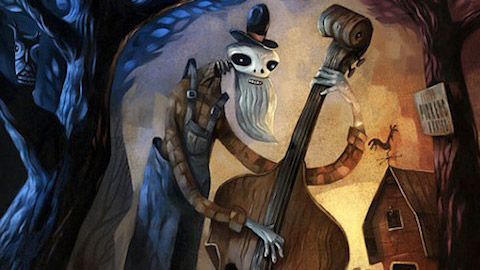 Story by Guest Columnist Cristina Virsida of Cary Visual Art.
Cary, NC – Today, in partnership with Cary Visual Art, we debut Artist of the Month. 
Tim Lee comes from a background in illustration. His work has been called surreal Americana and was recently featured at the Cary Art Ball.
Artist Tim Lee
Tim Lee moved to Cary in 2004, finding not only a home for him and his family, but an area rich with artists, musicians and fellow indie illustrators.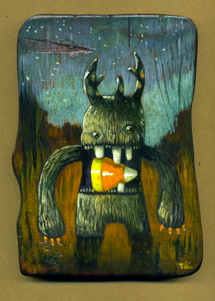 Tim's Background
Working as a staff artist and illustrator for over 20 years, Tim's artwork has been published by national and international magazines, newspapers, and  advertising firms, but it wasn't until 2009 that he began scribbling strange shapes and figures that grew into ideas for his first pieces of personal work.
 "Weird doodles I'd scribble during meetings would get stuck in my head." says Lee. "Those shapes grew a life of their own on canvas."

Influences and Muses
Influenced by a brew of vintage pop-culture, bluegrass music, NC Wyeth and a smattering of Tim Burton films, Tim's "surreal Americana" paintings create a world that's both dark and whimsical, with layers of luminous detail and an almost hand-carved quality that draws the viewer in.
A visit to his website, www.timleeartwork.com, offers a closer look at some of his more intricate works like "Done Gone", an homage to bluegrass bassist Keith Sikes and "Missing Ghosts", album cover art for musician Anthony Ihrig's latest release.

Style
Tim's love of texture and the accurate yet playful use of aged-looking musical instruments in his pieces has made him popular amongst bluegrass and folk musicians wanting his signature look for their album covers.
"It's strange how these bands keep finding my stuff on indie art sites and asking me to work on their covers." says Lee, seemingly surprised by the growing interest in his work.  "Sometimes they'll give me lyrics or songs to work from, or an idea they have from a piece of mine they've seen and we'll go from there.  It all seems to fit pretty well together."
That same mixture of musical influences and dark whimsy has crossed over into his latest and most popular creative experiment, "Woodies", original acrylic paintings on pine that were born one Halloween while coming up with better decorations for his kids.
"Really, that one's the most surprising of all." says Lee. "I can hardly keep up with all the orders."
Putting Down the Brush
When he's not painting, illustrating or spending time with his family, Tim plays mandolin in the local bluegrass band, "The Hey Brothers", to fill any left over creative holes in his life. You can catch their next gig December 2nd at the North Carolina Museum of Art's "NCMA After Dark".
Tim's artwork was on exhibit at Cary Visual Art's annual black tie ArtBall event on November 4th.
For an up close and personal look at Tim's original art, giclees and "Woodies", visit Davenport & Winkleperry's steampunk gallery and bar in Pittsboro now through December, the perfect venue for his particular brand of playfully sinister art.
https://carycitizenarchive.com/wp-content/uploads/2011/11/artist-tim-lee.jpg
270
480
Community Contributor
https://carycitizenarchive.com/wp-content/uploads/2020/03/cc-archive-logo-450-v3.png
Community Contributor
2011-11-06 10:44:27
2016-05-03 12:52:59
Artist Of The Month: Tim Lee