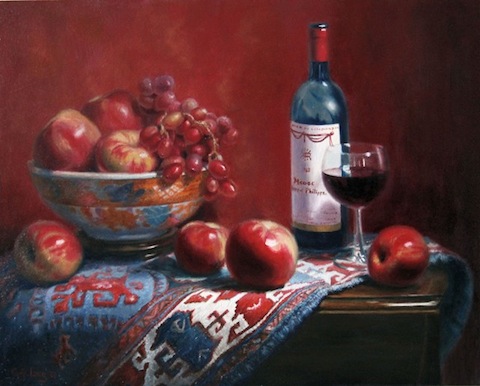 Story by Cristina Virsida of Cary Visual Art. Artist of the month is edited by Leslie Huffman.
Cary, NC – Like a great many local triangle artists, Christine Long's journey into art has been a winding one, with many stops and starts along the way.
About Artist Christine Long
Christine began a career in nursing in 1970, after moving to the triangle. Like most creative people, art had taken a back seat to the need to make a living, and nursing fit her methodical, caring nature well.
Christine worked as a critical care nurse in the Intensive Care Unit at Duke Medical Center, tending to sick and injured patients, imagining a day when she could once again return to painting.
After almost thirty years in nursing, Christine's need to paint resurfaced. With whatever free time she had, she spent the next eight years studying classical painting techniques with national artist Frank Covino.
Christine worked hard learning every facet of the craft from using marble dust in her gesso for better adherence, adding grey green oil underpainting to guide her application of colored paint and glazes, all the way to UV protection in her paints.

Style
The classical, Renaissance style of painting appealed to Christine and she worked tirelessly, always striving to improve her technique and brushwork.
"To the Old Masters, the construction of a composition was just as important as the esthetics. That really resonated with me," says Long.
Since retiring in 2007, Christine has devoted herself full-time to painting and restoring, creating museum-quality pieces that range from pure classical pieces to more figurative works.
Her latest work, "Autumn Paints the River II", is a real departure from her more classical pieces with its combination of contemporary art and Renaissance-style techniques.  With its frameless, first person view of swirling leaves on a river's surface, it is quite eerie in its realism, making the viewer feel as if there's a real danger of falling in.
The tangible depth she captures in her work is achieved from weeks of careful planning and expert execution, something Christine excels in.
"After so many years in nursing, with all those policies and procedures, I've developed this reasoned, technical approach to my painting," says Long, "an important ability to have if you're trying to paint in a true, Renaissance style."
Critical Care For Injured Paintings
This reasoned, technical approach is seen most prominently in her restoration work of 19th and 20th century paintings.  In the last four years, Christine has successfully restored over sixty original works of art, many of them so badly damaged that the owners themselves thought there was no hope.
Just like her years in ICU, Christine provides critical care to these injured and neglected paintings, expertly mimicking brushwork and technique in such a way that the end result is as if there were no damage at all.
"My goal is to create and restore pieces that will last for generations." says Long. "I don't just want to make it look the same way, I want to paint it the way they did."

Find Christine Long's Work
On December 15th, Christine's work will be on display in the much anticipated "12 by 12″ show at Golden Belt studios, where 35 participating artists will be selling 12″x12" sized works for $200 each.  A portion of the proceeds will be donated to the Center for Child and Family Health in Durham, a non-profit center providing trauma treatment and prevention services for children. Tickets to the preview party are on sale now.
Christine's unique, hand painted Renaissance-style Holiday ornaments and landscape paintings are on sale now at Cary Visual Art's online Holiday Art Auction, now through December 14th.
You can also pick up some of Christine's work at Golden Belt's Holiday Third Friday event, December 16th, from 6pm to 9pm.  Meet Christine in person and see her work up close at her "Millenaissance Studio", number 109, at Golden Belt studios, Durham.  Visitors are always welcome!
https://carycitizenarchive.com/wp-content/uploads/2011/12/Passion-for-Reds-r.jpg
386
480
Community Contributor
https://carycitizenarchive.com/wp-content/uploads/2020/03/cc-archive-logo-450-v3.png
Community Contributor
2011-12-06 18:30:16
2019-12-07 17:01:41
Artist Of The Month: Christine Long