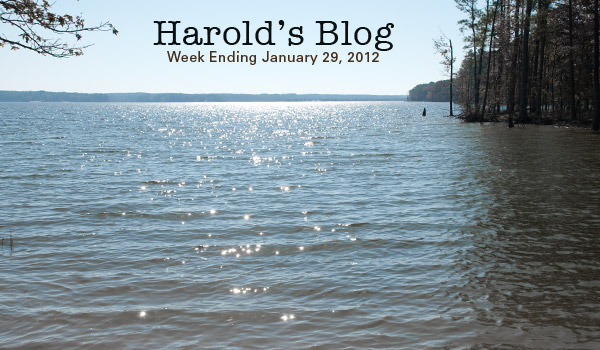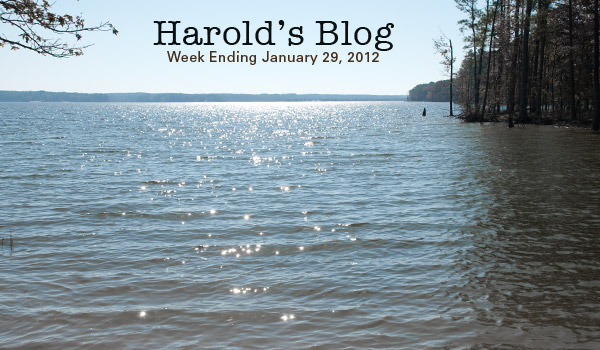 From the blog of Cary Mayor Harold Weinbrecht, covering the week through January 29, 2012. Photo of Jordan Lake by Hal Goodtree.
Cary, NC – This week was a tough week for me with a council meeting and two speaking engagements.
Good Bye Julie
Monday started with calls to council members about concerns or issues they had with the agenda. I contacted every council member and there were very few issues. In my phone call to Julie Robison she let me know of her intention to resign her council seat.
Julie's husband Dan has taken a position at West Virginia as a Dean. Congratulations Dan! Julie and her two girls will move sometime this summer when they are out of school. Somewhere in that timeframe Julie will give up her seat. While I am very excited for the new opportunities to Julie and her family, I will sorely miss her. She has dedicated and committed over 10 years of her life in service to the citizens of Cary and has done an outstanding job which included serving with three vastly different mayors. God bless Julie Robison!
Later Monday I met with town management, department directors, and administration to go over the agenda. Mayor Pro-Tem Adcock joined via telephone. Most of our discussion focused on the federal legislative agenda. I communicated that I believe some council members were interested in sending the Fryar property back to the Planning and Zoning board for another review since it had changed significantly since their last review. We also discussed the possibility of a long public hearing for the joint land use plan with Chatham County. At their public hearing speakers voiced opinions for over two hours. Based on all the information presented at this meeting my estimation for the meeting's conclusion was 9 PM.
Land in Chatham County
Tuesday began the weekly meeting with our town manager. We mostly discussed issues in confidence of a sensitive nature so I will not repeat them.
Tuesday was also a regularly scheduled town council meeting. Usually town council meetings are held the 2nd and 4th Thursdays of each month. So this date was an exception.
The main interest in the meeting seemed to be the Public Hearing on the joint land use plan with Cary and Chatham County. Unfortunately, many Chatham County residents see this as Cary aggression. It is important to understand that the Town of Cary isn't acquiring land in Chatham County.
Instead some property owners want to develop their land. For this to happen they need Cary water and sewer. For a property owner to get Cary water and sewer, you have to be annexed into Cary. It is our hope that density and intensity will decrease towards Jordan Lake which is our drinking source. So we believe it is important to have a plan. Development in this area is up to the property owners and not the Town of Cary. It may or may not develop in my lifetime which is again up to the property owners.
Another item that brought a great deal of discussion was the Fryar property at Highcroft Drive and Green Level Church Road. Since the proposal had changed significantly since it was denied by the Planning and Zoning board, Council decided it would be best to send this back to them for another review before taking action. The council meeting also included a closed session. We adjourned around 10 PM.
Eye Opener
Wednesday morning I gave the State of the Town address at the Chamber of Commerce's Eye Opening Breakfast. This is probably my biggest presentation of the year. I started writing the State of the Town around Thanksgiving and it was taped for Cary TV in December. I presented it with slides at Glenaire in early January.
For this presentation, I took the State of the Town address and made it into bullet points so I could elaborate on certain issues. This presentation included much more detail especially about trends, legislative concerns, and technology. I received many positive comments afterwards and my impression was that it was well received.
Wednesday evening I taped the February version of Cary Matters with our newest council member Lori Bush. She seemed like an old pro and had no problems being in front of the camera. Even with a few technical difficulties we were done in less than an hour. I believe the chemistry between Lori and I was good and I can't wait to see how it turned out. The main topic for February was the council/staff retreat that was held a couple of weeks ago.
Meet the Mayors
Thursday morning I participated in a "Meet the Mayors" panel discussion put on by the Triangle Community Coalition. The event was well attended by a few dozen people with developer, real estate, and business interest. I was joined by Mayor McFarlane of Raleigh and Mayor Weatherly of Apex.
We all gave a few opening comments and then opened the floor for questions from the audience. I received several good questions which included: What are we doing to become more business friendly? What are we doing with our sports venues to provide economic benefit? And when considering incentives to attract jobs how do you decide between a local business and out-of-town business? Almost all of this information is covered in my state of the town address. On the subject of deciding between a local and out-of-town business, we always want to help existing local business and incentives are considered on a case by case basis.
Thursday evening I attended a meeting of the Western Wake Policy Advisory Committee. This is the committee that gives direction on the Western Wake Wastewater Management Facility. I was joined by mayors and town managers from Apex and Morrisville. In this meeting we rejected all proposals for the bio-solids portion of the facility because the bids were higher than expected. The staff will redo requirements and rebid it later.
Saturday
Saturday I spent most of the day at a church retreat with my Confirmand. I have been honored to mentor a young man as he goes through the process of becoming a member of our church. One of the goals of a mentor is to hopefully create a friendship that will last a lifetime.
Emails: Billboards, Spying on People and More
Emails from staff this week included one about billboards. Bill 183 passed the legislature in 2011 and now sign companies can clear cut trees (380 ft. on either side of the sign on interstates, 340 on controlled access roads, and 250 ft. on other state roads). It does not apply to all state roads, but to primary and interstate highways.  The roads in Cary that are impacted include: I-40, I-540, Western Wake Freeway (existing and proposed – Southern Cary), US 1, US 64, Cary Town Boulevard, Portions of Jones Franklin, Aviation, and Airport Roads.
In another email from staff the Town of Cary's population is estimated to be 141,132 as of January 1, 2012.  This is an increase of 2,932 people, or 2.12%, compared to the January 01, 2011 estimate.  The population estimates are based on the reported number of Certificates of Occupancy issued in the Town.
Staff also sent email that introduced its newest K9 Team member Robby and his partner Cary Police Officer Phil Humphries.  Three-year-old Robby is a long hair, black and tan German shepherd from the Czech Republic.  Humphries was a K9 handler in the United States Air Force before coming to Cary. He also has experience as a K9 trainer and Kennel Master. K-9 Robby replaces K-9 Max, a German Shepherd that retired after serving the community for seven years.
Staff also notified citizens through email that they are invited to view conceptual design plans for the downtown theater at a public meeting scheduled for 6-8 p.m. Tuesday, January 31 in Council Chambers. This issue has been become controversial by the focus on neon by the local media. The conceptual plans will be presented by staff which includes three schematics illustrating a standard marquee, a marquee with a vertical element and a light enhanced marquee with a vertical element. The Town Council decided to move forward with the last option. Following input from the public meeting, staff will work with consultants and make final design recommendations for materials and color to the Town Council.
I received a lot of complaints through emails this week. They included complaints about the new façade on Hibernian Grill, a development proposal that will impact Highcroft Drive, our automated meters are spying on people, re-evaluation and tax increases, signs on a building at Highway 55 and Green Hope School Road, the length of yellow lights, sewer costs on East Green Forest Drive, a Costco in Cary, the Morrisville Parkway and Carpenter Upchurch intersection, our police are corrupt because Brad Cooper was convicted, sign ordinance too strict for businesses in Waverly Place, and Chapel Hill Road is not wide enough.
I also received many invitations to events during the week. I try as much as possible to attend events but sometimes I am not able. I do hope that people understand.
Next week's schedule is very light for me which will be refreshing. I have a couple of meetings and one event.
Well that is all for this week. My next post will be on Sunday, February 5th. Please feel free to email me with a comment. Email all Town of Cary questions or comments to Harold.Weinbrecht@townofcary.org. Email personal comments to augustanat@mindspring.com.
https://carycitizenarchive.com/wp-content/uploads/2012/01/harolds-blog-0129.jpg
350
600
Harold Weinbrecht
https://carycitizenarchive.com/wp-content/uploads/2020/03/cc-archive-logo-450-v3.png
Harold Weinbrecht
2012-01-30 16:05:22
2016-01-09 11:58:28
Harold's Blog: Land in Chatham County