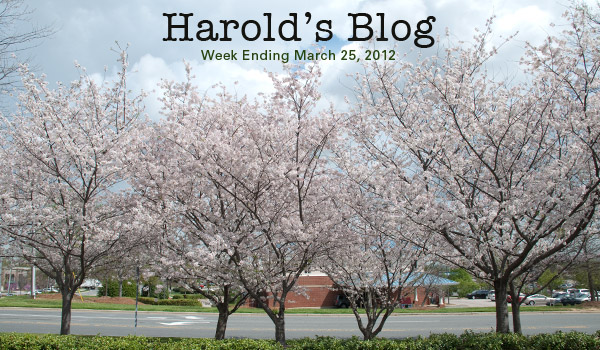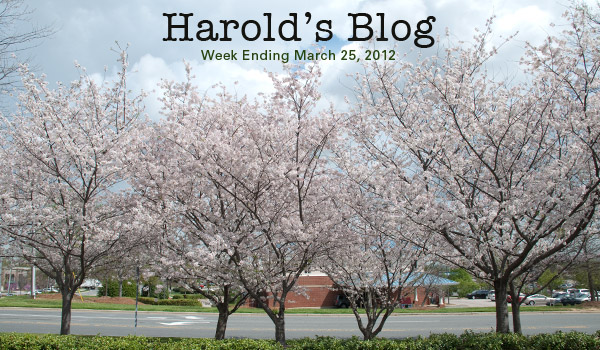 From the blog of Cary Mayor Harold Weinbrecht, covering the week through March 18, 2012. Photo by Hal Goodtree.
Cary, NC – This week was full of meetings and events with no rest for the weary.
Jam Packed Monday
Monday started with agenda calls to council members for any questions or concerns that staff needed to be prepared for the upcoming council meeting on Thursday. I was only able to get in touch with a couple of council members this week so I left messages with the rest.
Later Monday I met with management, directors, legal, and administration to go over the agenda. During this meeting it was decided that there would be a new procedure regarding consent agenda items. Consent items are items that have been reviewed by council committees or advisory boards and have a unanimous recommendation. Staff also places items on the consent agenda. Council members have the option to pull items off the consent agenda for discussion if they desire. The new procedure would have consent items read for the benefit of the TV audience as opposed to approving without comment or recognition. I think this is a great idea and one I started many years ago as chairman of one of the council subcommittees.
Also mentioned at the agenda meeting was a new decision point called "Statement of Consistency and Reasonableness". This decision used to be part of the rezoning approval. Now it has been mandated that council vote on this separately. This was a confusing topic to council members so I am sure it is confusing to the public. Staff also mentioned the likelihood of a large number of speakers for rezoning items that were listed under Public Hearings and had valid protest petitions. At the end of the agenda meeting my prediction was that the council meeting would end around 10 PM
Monday night I met with the Wake County Mayors' Association. The meeting began with a presentation from Sig Hutchinson on the available county funds for open space and greenways. The county has $5 million at this time and another $20 million of bonding capacity not yet sold. RFPs are currently being accepted by the county for municipalities willing to match funding of 50% or greater. Connectivity of greenways was noted a high priority in the decision making process.
The mayors also finalized a meeting with the Wake County School board to be held at 8 AM on April 11th at the Morrisville Chamber of Commerce. This will be the second time ever that these two bodies have been together. The first time was when I was chairman of the Mayors Association a couple of years ago.
The Mayors Association also decided on a single legislative agenda item, Retention of ETJ Authority.  The request will be presented in writing to the Wake County delegation within the week.
Other topics discussed by the mayors included transit which took up the remainder of the meeting. The focus was on a Mayors Association resolution requesting a referendum be placed on the Nov 6, 2012 ballot. A possible resolution will be considered at the April meeting.
Transportation, Parks and Fire Bonds
Tuesday the council held three consecutive work sessions that lasted close to four hours. The first work session was to consider the 2012 legislative agenda. The council approved the proposed agenda with only minor changes in wording. The entire NC Legislative agenda for Cary can be reviewed at http://www.townofcary.org/Town_Council/Agendas___Minutes/Staff_Reports/AD12-014/AD12-014_NC_Legislative_Agenda_DRAFT_doc.htm.
The second work session was to consider a General Obligation Bond Referendum for General Capital Projects. Council decided to hold a referendum during the November elections. There will be three questions for voters to decide. Whether or not to approve a transportation bond ($57.6), a parks bond ($15.8), and a fire bond ($6.5). The total of these three bonds will be approximately $80 million.
Included in the Transportation bond were:
Walnut Street Pedestrian and Traffic Improvements (US 1 Overpass)
Street Improvements (Resurfacing)
Reduce Congestion Through Intersection Improvements (Based on Level of Service)
Streetscape Improvements Along South Academy and Dry
Signal System Maintenance and upgrades
Sidewalks
Bike Facilities
Carpenter Fire Station Bridge and Intersection Improvements (No Widening)
Green Level West Road Widening (NC540 to NC55)
Included in the Parks bond were:
Carpenter Park
Mills Park – Phase II
Downtown Park (including Farmers Market support facility)
Greenways – White Oak Creek – All Remaining Segments
Panther Branch Greenway (Cameron Pond/540 Segment to Mills Park)
Bartley Park Phase I (Penny Road Park)
Sports Turf Fields (which get three times the play as a regular grass turf field)
There was only one item on the Fire bond:
Architectural Services – Land Acquisition and Construction – Fire Station #2 (Current building has structure issues with cement floor)
The work session material on the capital projects can be reviewed at: http://www.townofcary.org/Assets/Staff+Reports/AD12-015+General+Obligation+Bond+Presentation+Material.pdf.
Candidate Call to Replace Town Council Member Robison
The third work session was to decide on a replacement process for council member Robison who will be resigning to move to West Virginia. Ms. Robison had unofficially stated that she will resign on June 30th. Based on that intention the council agreed to create a process that included the following:
Eligibility would require 21 years of age, live in Cary town limits, be registered to vote, and have not been convicted of a felony.
Candidates will fill out a "Statement of Interests and Qualifications"
The work session material on the appointment process can be reviewed at:  http://www.townofcary.org/Town_Council/Agendas___Minutes/Staff_Reports/TC12-006.htm.
CAMPO: Rail Transit and Traffic
Wednesday I attended the Capital Area Metropolitan Planning Organizational (CAMPO) meeting on behalf of Cary. The most important item for Cary was the adoption of the Unified Planning Work Program (UPWP) outlining the tasks that will be performed by CAMPO staff in the coming fiscal year. Included in that were:
$535,276 for regional rail transit planning studies that will in part support the study to look at the Harrison Avenue Grade Separation ($80,000) and potentially TOD planning in Cary.
$65,000 for Swift Creek Area Traffic Study (Phase II) to address the impacts of removing the Cary Parkway-Gorman Street Extension from the CAMPO LRTP.
This item was approved without discussion.
Cary High School Accreditation Team
Thursday morning, I had breakfast with the Cary High School Accreditation Team. The Accreditation Team was responsible for evaluating various aspects of Cary High School and reporting back to their office in Atlanta.
I had a great conversation with two ladies on the team about Cary and how this high school plays an important role in our community.
Thursday Council Meeting
Thursday night was our second regularly scheduled council meeting of the month.
The items generating the most discussion were the related Public Hearings on the Wright and Oxford Hunt properties at the corner of Old Apex and West Chatham Street. The neighbors felt the proposal was too intense and had filed a valid protest petition. It will take six of seven council members to approve for it to pass. We sent these proposals to the Planning and Zoning Board for their recommendation.
The second item discussed in detail was the Fryar Tract at Green Hope School Road and Highcroft Drive. The council denied this request by a vote of four to three. After closed session the council meeting adjourned around 10:50.
Staff Emails: Dial the Area Code, New Traffic Lights
Emails this week included several announcements from staff.
Staff sent out a reminder that, beginning March 31st, citizens will need to dial the area code plus the seven digit telephone number to successfully complete a local call. The extended dialing is a necessary move by the North Carolina Utilities commission to accommodate the growing need for telephone numbers in this geographic area. The new 984 area code will apply to the same geographical area as the 919 Area Code, which generally covers the north central portion of North Carolina and serves communities such as Apex, Carrboro, Cary, Chapel Hill, Durham, Garner, Goldsboro, Raleigh, Sanford, Smithfield, and Wake Forest.
Staff also notified council that four new traffic signals are being installed and should be completed and operational in the next 30-60 days. The intersections are:
W. Chatham/Dixon
Ederlee/Penny
Regency/ Regency Forest
Kildaire Farm/ Loch Highlands
Additionally there is a contract to replace the existing signal with a decorative signal at Academy/Dry in front of the Arts Center, but that will be a few months before completion because of the time to manufacture the poles.
Regarding the intersection at Cary Parkway and West Chatham (the site of the fatal accident) staff reported that they met with NCDOT staff at a regular monthly traffic engineering coordination meeting.  The meeting agenda included a discussion of the intersection of SW Cary Parkway and West Chatham Street (a state maintained intersection). NCDOT presented initial findings from this intersection and Cary staff will review them in more detail.  NCDOT's preliminary indications are that a signal might not be the appropriate solution and will be working to identify other options which will be discussed with Town of Cary staff in the future.
Emails from Citizens
Emails this week included a complaint that we are wasting taxes, a complaint that we are not doing enough to develop in Chatham County, a complaint that we should not develop in Chatham County, a complaint about paving a cul-de-sac, a complaint about potholes on High House Road, a complaint about the proposed Trap Neuter Return program for cats, a request to oppose fracking, a complaint about the mess at Ten Ten and Kildaire Farm Road, a request that the town not consider any law proposals from the American Legislative Exchange Council, a concern that we might be using a particular weed killing product, and a complaint about our decision to deny the Fryar Tract proposal.
Lasik Next Week
Next week will lighten up a bit with a couple of inter-governmental meetings, a ribbon cutting, and a taping of Cary Matters. But the week is marked by a significant personal event for me. I will be having LASIK surgery on Friday. If all goes well I will be without glasses (except for reading) for the first time in 40 years. Wish me luck!
Well that is all for this week. My next post will be on Sunday, April 1st. Please feel free to email me with a comment. Email all Town of Cary questions or comments to Harold.Weinbrecht@townofcary.org. Email personal comments to augustanat@mindspring.com.
https://carycitizenarchive.com/wp-content/uploads/2012/03/harold-weinbrecht-mar25.jpg
350
600
Harold Weinbrecht
https://carycitizenarchive.com/wp-content/uploads/2020/03/cc-archive-logo-450-v3.png
Harold Weinbrecht
2012-03-26 16:30:42
2016-01-09 11:58:30
Harold's Blog: Area Codes, Trains and Traffic