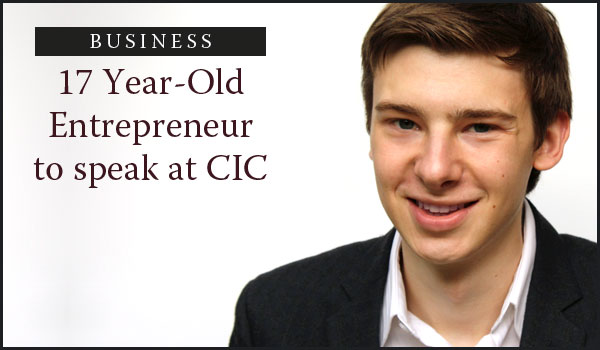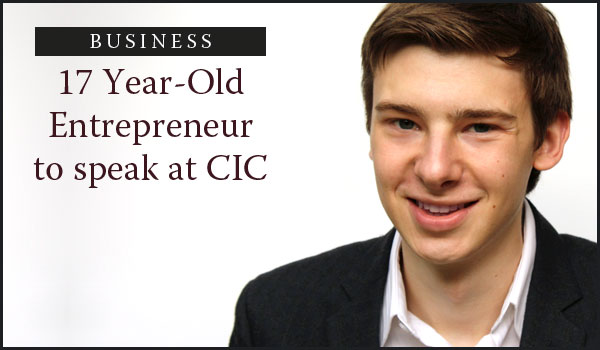 Cary, NC – Nine year-old Connor Bernstein had always liked science. After years of buying frustrating or incomplete science kits with his allowance, he decided to create his own. The seeds for Kits For Kids were planted. Meet Connor and hear his impressive story at Cary Innovation Center on Wednesday, May 16.
Sold Out in 1 Day
While Connor was a Chapel Hill 4th grader, he started creating experiments from science fair books in his kitchen. He would share them as kits with his buddies. His Mom thought he could sell them.  In 2004 they signed up for a booth at one Chapel Hill street festival and they began assembling kits in their living room. Priced at $6, they sold out  in one day.
At the fair, teachers and parents were very interested in his product and asked him for tips. He realized there was a great need for his product. He continued making kits at home and selling them at events. In 2006 he created his own website teaching himself html in the process.
Grad School at 13
A friend's father from the Business School at UNC-CH suggested he enroll in a class titled "Launch The Venture" in 2008. A graduate school course, mind you, which he began as a 13 year old. In the course he was matched up with a team of students working on their MBAs and accounting degrees.
Connor says during the first quarter they worked on the feasibility of his idea conducting research and surveys. At the end of that quarter he presented to a panel of investors and business executives. Half the class washed out at this point, but Kits For Kids was given the thumbs up to proceed to the 2nd quarter. During that semester the team worked on marketing and implementing their idea. And by the 3rd and final quarter the team worked up a  financial plan to see if make numbers worked for the actual business.
Within the year he had hired a marketing firm (later fired and hired a new one) and a manufacturer in Durham. No more packaging in the living room! The marketing firm helped him polish his image and get the word out. They rebranded the logo and redesigned the packaging. They also developed the e-commerce site.
Even A Child Can Do It
His product is sold all over the world to classrooms, camps and individuals. They are affordable and all-inclusive. That was his main beef with kits he bought when he was younger. He was always frustrated that he would buy an "experiment in a box" but not all the components were included and it would frustrate his mom and himself that they didn't have everything they needed, or that the directions were too complicated to be completed by a child.
His newest products are Activity packs that accommodate 25 packs in one kit – and everything is included these are great for classrooms, scout troops or camps.
Connor's latest challenge is finding the time to create new experiments to include in new kits. His most popular kits are Crystal Explosion and Polymer Power. They are priced affordably no breaking the piggy bank or teacher budget. He wants to bring science outreach to rural areas and under served inner city areas too.
Meet Connor at IdeaSlam
Do you think you have the germ of an idea? Connor is the guest speaker at the next IdeaSlam at the Cary Innovation Center on Wednesday May 16 at 6:30pm. Connor will start off the evening speaking about how he got his start. Then its your turn to talk about your ideas and hear others vet theirs. Maybe a new business will be born? That's what entrepreneurship and the Cary Innovation Center are all about.
Have Your Own Business Idea?
At IdeaSlam, folks with ideas for business ventures will have the chance to vet their dreams in a room with other business venture seekers and mentors. It is the first step on the journey toward creating your business. Your idea will be critiqued in a friendly environment.
From there you may wish to pursue your quest and develop a business plan, or receive further mentoring. These options are be available through the Cary Innovation Center.
More Info about the Event
IdeaSlam
Connor Bernstein, guest speaker
Wed May 16, 2012
6:30-7:30 PM
Cary Innovation Center
201 W Chatham Street
2nd Floor conference room
Downtown Cary, NC
https://carycitizenarchive.com/wp-content/uploads/2012/05/connor-bernstein1.jpg
350
600
Lindsey Chester
https://carycitizenarchive.com/wp-content/uploads/2020/03/cc-archive-logo-450-v3.png
Lindsey Chester
2012-05-13 20:04:34
2015-12-30 17:39:03
Business: Meet 17 Year-Old Entrepreneur Connor Bernstein at CIC