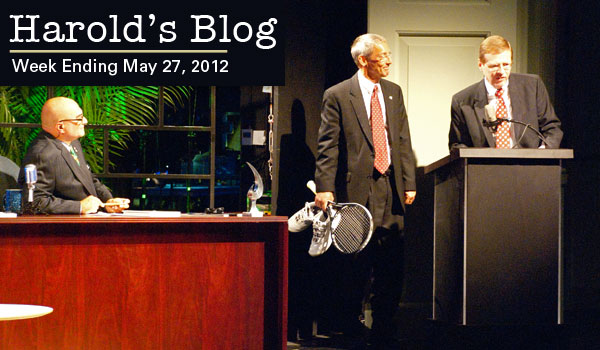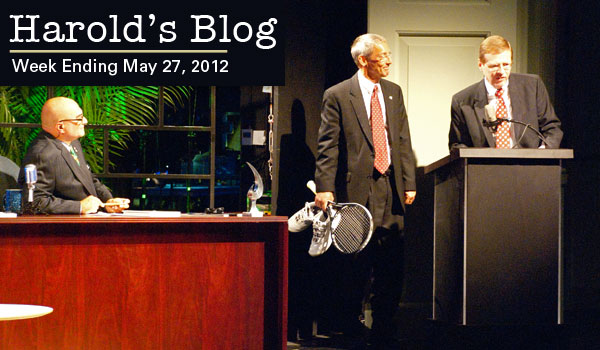 From the blog of Cary Mayor Harold Weinbrecht. Photo by Hal Goodtree.
Cary, NC – This week was another active week that included events, work sessions, and a council meeting.
Monday May 21, 2012
Monday I called council members to hear about any questions or concerns they may have had regarding the agenda for Thursday's council meeting. These calls are an important step in preparing for our regularly scheduled council meetings. Staff needs to be prepared with all information to be able to answer questions. In addition, it is important that the facilitator, whether it be me or the Mayor Pro-Tem, be prepared on all issues.
Monday afternoon I met with a 9th grade student interested in writing. He had spent the day shadowing our Public Information Officer and talking with staff members. In our talk I explained the interaction between the Public Information office and the Mayor's office.
Next I met with managers, directors, legal, and administrative staff to discuss the agenda. The issues that seemed to generate most of the questions were on Land Development Ordinance Amendments, a rezoning, and the technology task force proposal. Our agenda meeting lasted about 45 minutes. It was my prediction that the Thursday council meeting would last until 10 PM.
Mayors Association and Area Taxes
Monday night I attended the monthly Mayors Association meeting. The meeting started with a presentation from the Wake County EMS on their AED (Defibrillator) campaign. They would like to see AED machines in public places (churches, schools, clubs, civic organizations, etc.). In addition, the AED machines would be registered with 911 centers. The machines that cost between $1000 and $2000 will only send a charge if needed so training isn't required. The mayors then discussed current issues in the legislature including allowing ETJ residents the right to have a protest petition. They also discussed the legislation that is currently going through on annexation which will de-annex several areas in the state. The general consensus of the mayors is that this is problematic.
Next the mayors gave their current tax rate and the potential for raising taxes in this upcoming fiscal year. Here is a summary of that information:
Apex 34 cents; up to 5 cents tax increase
Cary 33 cents; no tax increase; fall bond referendum that could raise taxes in FY2014
Fuquay 38 cents; no tax increase
Garner 49 cents; no tax increase; fall bond referendum that could raise taxes in FY2014
Holly Springs 41.5 cents; up to 2 cents tax increase
Knightdale 41 cents; no tax increase
Morrisville 36 cents; up to 2 cents tax increase
Raleigh 37.35 cents
Wake Forest 51 cents; no tax increase
Wendell 49 cents
Zebulon 50 cents; up to 2.5 cents increase
It is important to note that some of these tax rates include solid waste collection and Raleigh and Wendell were not represented. The meeting lasted a little over two hours.
Tuesday May 22, 2012
Tuesday the town council did the first of three performance reviews for our direct reports. The first was the town clerk. While I can't divulge the content of this meeting I can say that I believe we have the best town clerk in the state (by far).
Next I had a private dinner before heading over to the Cary Art Center for the Cary Chamber of Commerce's 50th anniversary show. What a great show and hosts Steve Zaytoun and Howard Johnson did a fantastic job. The show was a talk show format with a who's who of Cary that included Colonel Shook, John Sall, Dick Ladd, Jerry Miller, Paul, Gary, and Ralph Ashworth, and others. Videos were funny and one even included yours truly. A good time was had by all and the show ended around 8:30.
Wednesday May 23, 2012
Wednesday was a short day for me. I had the pleasure of reading to the kids a Knowledge Beginnings of Cary in their story time. Their ages ranged from 2 to 4 years old and they were absolutely adorable. I am glad to do my part in encouraging reading at an early age.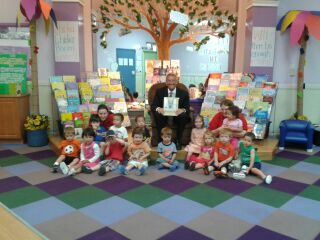 Photo courtesy of Harold Weinbrecht.
Thursday May 24, 2012
Thursday started with a work session on the Land Use Plan Update. The council gave staff recommendations for the process, community outreach, and engagement. Council also decided to combine the various plans for the town that include the Land Use, Parks and Rec, Public Art, Affordable Housing, Transportation, Open Space, Historic Preservation, etc.
Thursday night the council had a regularly scheduled council meeting. Discussion items included one plus hours of public input on the benefit of having chickens, zoning property on Kildaire Farm Road next to the church at US1 to Office and Institutional, rejecting a proposal from the school system to have a modular 9th grade center for Panther Creek High School, passing a resolution for a bond referendum Public Hearing in August, and passing parameters for a technology task force that will accept applications in the month of June. The meeting ended around 10 PM.
Email: How About Those Medians?
Email from staff this week included an answer to a question about the bad looking medians on Cary Parkway from Kildaire to Tryon. Here is the staff response:
Several years ago there was a decision to transition Cary Parkway from Fescue to a warm season Bermuda grass.  The section of Cary Parkway from Kildaire to Tryon is the worst of all the sections to make this transition as it had the most cool season grass still left in it.  The goal and expectations was 100% Bermuda,  however, it has certainly been a challenge.  This winter we sprayed out all of the remaining cool season weeds and turf that was in the Bermuda medians. Recently we have re-seeded and fertilized all the bare spots from the spraying this winter.  This spring we will add an additional reseeding if necessary on the areas that did not take.  Once we start getting some humid nights we do expect a jump in the growth from the recent reseeding.  We are hoping by July that we will all see a vast improvement of those sections that you are referring to.
Having read your e-mail, we are going to place some small "Turf Renovation" signs in the medians to let our citizens know this is not an acceptable look and that it is only temporary."
Email: Backyard Chickens
Emails this week included several requests for backyard chickens. This proposal is moving forward and the council should vote on it soon. It is important to emphasize that it will not supersede covenants. So those that live in homeowner association neighborhoods will not be able to have backyard chickens.
Emails: Various
Other emails included several against the Wake County School proposal for a 9th grade center made up of trailers, a query about when the Tryon trail will be completed (end of the year was the answer), support for the Wake County transit plan, and a complaint about the bio solids at the new wastewater facility.
Get in Touch
Next week is a family vacation. It is nice since we haven't been together since the Christmas break. My next post will be on Sunday June 3rd. Please feel free to email me with a comment. Email all Town of Cary questions or comments to Harold.Weinbrecht@townofcary.org. Email personal comments to augustanat@mindspring.com.
https://carycitizenarchive.com/wp-content/uploads/2012/05/harold-weinbrecht-0527.jpg
350
600
Harold Weinbrecht
https://carycitizenarchive.com/wp-content/uploads/2020/03/cc-archive-logo-450-v3.png
Harold Weinbrecht
2012-05-28 15:56:37
2016-01-09 11:58:31
Harold's Blog: May 27, 2012