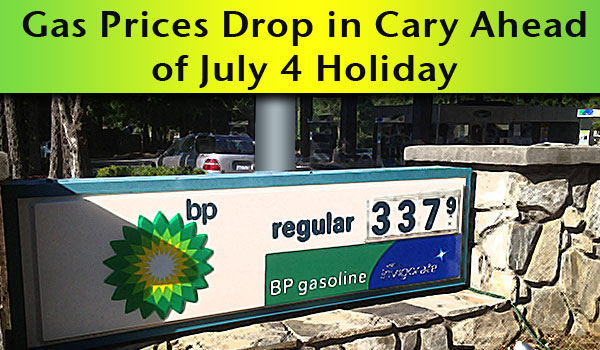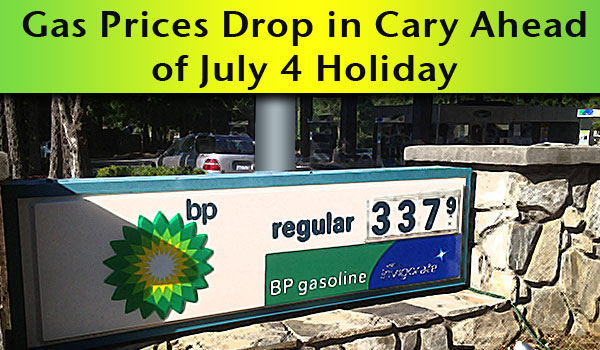 Story by Lindsey Chester. Photo by Hal Goodtree.
Cary, NC – Good news ahead of the Fourth of July holiday – gas prices continue on their way downward, hitting a low of $3.29 inside the Cary town limits this week.
Filling the Tank for Less
I drive a small car, so fluctuations of a few cents make very little difference to me, but when I can fill my tank for $30 its something to crow about.
Monday I filled the tank for $3.42/ gallon at our favorite station on West Chatham and Old Apex, only to drive a few blocks into downtown, and see the Cary Mart station list a gallon of regular for only $3.35! In 3 days, prices dropped again. That revelation led to this story.
Finding Cheap Gas
I love my iPhone, frequently called "My Magic Phone" by one of my friends. One of my favorite apps is GasBuddy, available for Android, iPhone and Blackberry.
GasBuddy lists current prices for gas in and around any zip code. Here are some representative prices for Cary.
Very Cheapest (members only) $3.27
BJ's 2370 Walnut St near Dillard Drive and Crossroads
Cheap: $3.29
Citco at 8015 Chapel Hill Rd at Reedy Creek
Shell 1390 NW Maynard and Maynard Crossing St
Not Too Bad- $3.33
You can still feel good about yourself as 15 gallons will be right under $50 and for my little Honda FIT's small 9 gallon tank that would be less than $30.
Exxon: 1205 NE Maynard at Chapel Hill Rd
BP 421 E Chatham St and E Durham Rd
Circle K  1001 N Harrison Ave and NW Maynard
Average $3.40
Most of the stations in the area are falling somewhere around here. If you paid more than that, you paid too much.
Tell us what you are seeing, and what tips you have for conserving.
Law of Supply and Demand
In the summer, mileage typically goes up as people drive for vacations, take kids on multiple trips for camps and activities. The fact that gas prices are going lower in late June, goes counter to typical pricing patterns. Gas pricing of course is a function of supply and demand and Gas Futures. Supply is up, the Middle East is pumping and the US actually has a surplus.
Cary has seen about a 50¢ per gallon drop in prices since the Spring.
Triangle Guzzles Most Gas
Forbes Magazine recently ranked our Metro area as the biggest Gas Guzzling metro in the nation, #2 was Charlotte. Price fluctuations effect the Triangle a lot! We could drive less, and pay less for gas, and our wallets would suffer less.
https://carycitizenarchive.com/wp-content/uploads/2012/06/gas-prices-cary.jpg
350
600
Lindsey Chester
https://carycitizenarchive.com/wp-content/uploads/2020/03/cc-archive-logo-450-v3.png
Lindsey Chester
2012-06-21 16:05:16
2012-06-21 14:20:38
Gas Prices Drop in Cary Ahead of July 4 Holiday