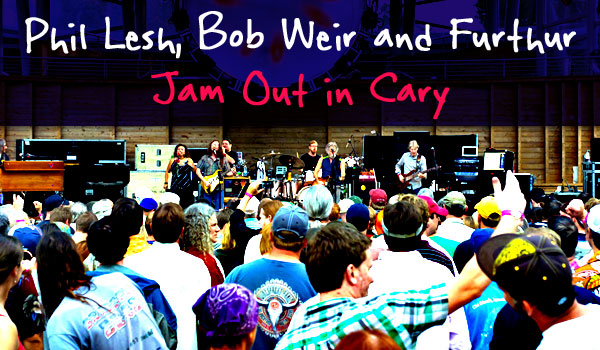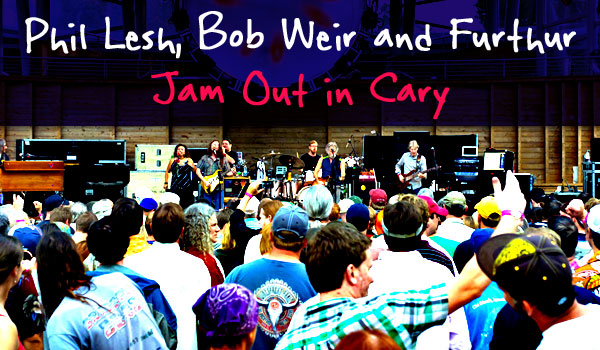 Story by Matt Young. Photos by Brooke Meyer.
Cary, NC – It was pouring as we entered the gates of Booth Amphitheatre in Cary before last nights' show given by Grateful Dead legends Phil Lesh and Bob Weir. People gladly lined up for 5 dollar cellophane ponchos.  The demographics of the crowd – decidedly old. But quite alive.
Jerry Lives
As Lesh and Weir took the stage, the skies cleared. The temperature was 70 degrees.  Oldsters around us with ratty vintage or tie-dyed t-shirts declared it was a gift from  "Jerry".
"A box of rain will ease the pain, and love will see you through." – Grateful Dead, Box Of Rain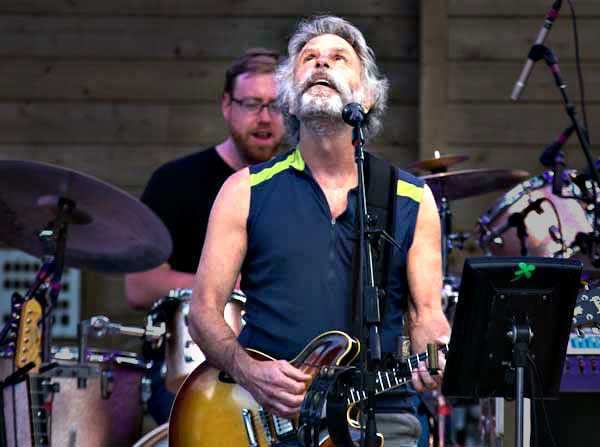 Dead Heads
I started a conversation with a long-locked red-haired guy who, while probably older than me, was dressed like it was 1965.  He'd been to 400 Grateful Dead/Furthur shows. He had a foot-long psychedelic bus tattooed on his arm. Drawn by "some  chick he met in the 70's".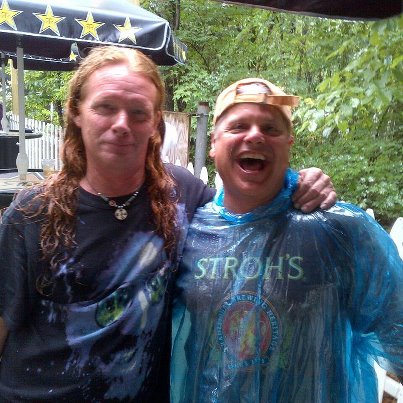 His 30+ish son, a bass player in a band, was with him. He was dressed like his dad. He was born in a van. In Iowa. At a Dead concert.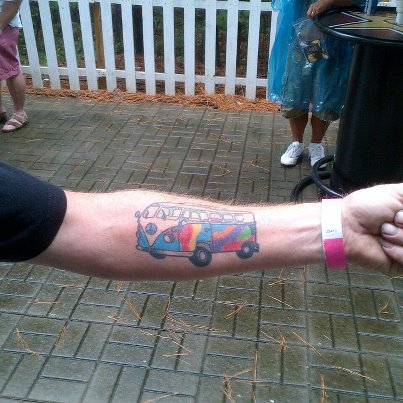 I heard, believe it or not, half a dozen similar stories.
Furthur
Bassist Phil Lesh is a founding member of the Grateful Dead. In 2005 he published his memoir titled: Searching For The Sound – My Life with the Grateful Dead. In 2006, he released his first live concert DVD – Live at The Warfield – a historic San Francisco landmark. In 2009, he teamed up Bob Weir of the Dead and formed Furthur – promoted as "a band that continues the Grateful Dead tradition of stellar playing and free-flowing improvisation that moves the mind and shakes the body."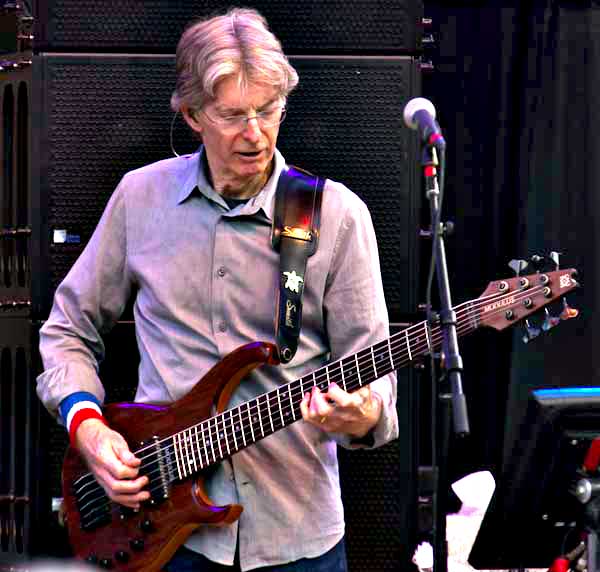 Bob Weir has been on the road for 50 years. Weir started life in 1947 by being adopted by a wealthy California engineer. By 1964 he spent his time at a Palo Alto music store where Garcia taught guitar lessons. It wasn't long before Weir and Garcia, along with Ron "Pigpen" McKernan, formed a band. Originally called Mother McCree's Uptown Jug Champions, the band was later renamed The Warlocks—adding Phil Lesh and Bill Kreutzman to the lineup—and eventually came to be known as the Grateful Dead. A tireless touring musician, Weir travelled with several other bands as well in the 1970s. Throughout the late 1980s and early 1990s the Dead remained Weir's primary gig.
Weir spends a great deal of time as a social activist. He has done work as an environmental activist with several organizations, such as Greenpeace, and currently serves on the Board of Advisors for the Rainforest Action Network and for Seva Foundation.
The Show
Furthur was pure magic.  Jamming magic. They started with the familiar "After Midnight".
After two songs, one of the uninitiated near me commented that "that song was like 15 minutes long"! A man in a t-shirt that said "Garcia is God" turned around and said "get used to it!"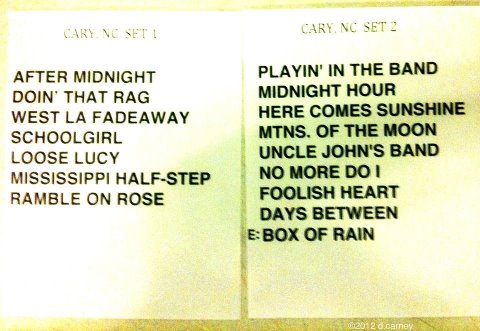 And jam on they did – while everyone in the crowd slipped into a trance with the band as they played signature Dead impromptu bridges to virtually every song.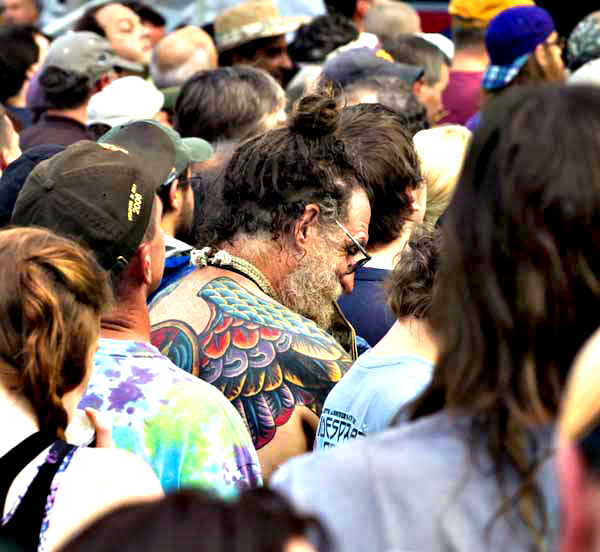 The song that got the most crowd participation was "Uncle John's Band".
They played "Here Comes Sunshine". They closed with "Box of Rain". We all got the joke.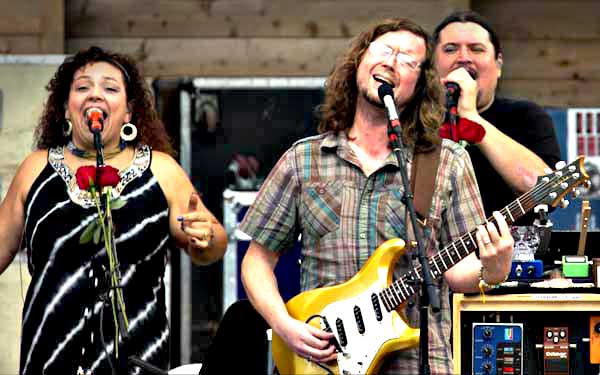 Sunshine
As the crowd left Booth Amphitheatre, we passed by the traditional bootleg t-shirt and CD sellers, and some people selling Dead buttons and bottled water in the parking lot. Amazingly, it began to rain again as we left.
Look out cause here comes some free advice.

Walk in the sunshine, watch for the bright sun,
Be all those things you're able to be.

You got to listen to the heavens, you got to try to understand,
The grateness of their movement is just as small as it is grand.

Try not to hurry, it's just not your worry.
Leave it to those all caught up in time.

You got to deep-six your wristwatch, you got to try and understand,
The time it seems to capture is just the movement of its hands.

I ain't preachin', 'cause I don't know
How to make fast things move along slow
I can't stop it, can't make it go.

Just 'cause I say it, that don't mean that it's so, no, no,
Watch what you hear now, make sure it's clear now,
Just 'cause it's said that don't mean that it's true. So all we say:

You got to make a revolution, you got to help me with my cause.
You got to burn down all the buildings, you got to throw out all the laws.

I ain't burning, Lord, I'm still only learning
How to become a man of my own.

Just want to find out what's right and what's wrong.

I ain't crazy, all the world keeps on turning,
I'm still trying to find out what's right and what's wrong.

I ain't crazy!

– Grateful Dead, Walk in the Sunshine
https://carycitizenarchive.com/wp-content/uploads/2012/07/furthur-1b.jpg
350
600
Matt Young
https://carycitizenarchive.com/wp-content/uploads/2020/03/cc-archive-logo-450-v3.png
Matt Young
2012-07-12 18:45:06
2012-07-12 16:03:16
Phil Lesh, Bob Weir and Furthur Jam Out in Cary