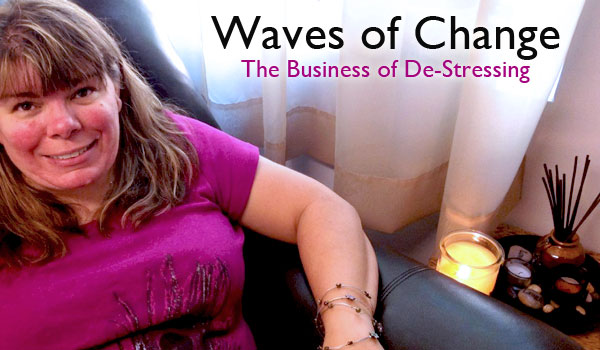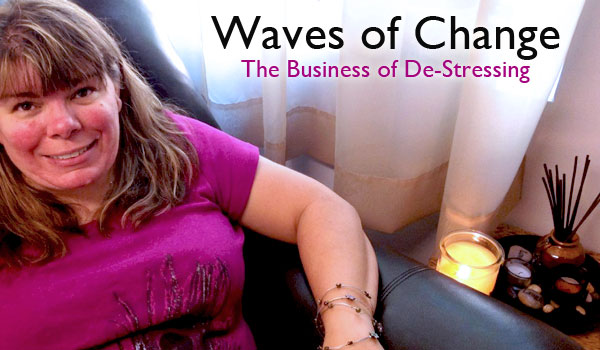 Story and photo by Lindsey Chester.
Morrisville, NC – A few weeks ago, we got a new advertiser. It was a business that specializes in hypnosis. I had to find out what this was all about. Turns out, it's a serious form of relaxation therapy, with just a little bit of magic rolled in.
The Business of De-Stressing
Ann Marie Sochia and her partner Shawn Moffitt connected immediately when they met at a Masters in Mental Health Counseling conference about a year ago. It was the first in a series of events where things just seemed to align that would allow their business, Waves of Change, to open this year.
Waves of Change helps their clients de-stress through hypnotherapy and meditation. When Ann Marie and Shawn met they realized they had the same philosphy: holistic health including meditation and breathing techniques to help clients become more relaxed.
They are currently renting space in a communal office space off Morrisville Parkway, another in the list of alignments where their needs were met almost by accident.
Finding a Space
Ann Marie told me the story of her long office search. She and Shawn had met and vowed that "when we graduate we should look together for an office" as they were both from North Carolina.
Like any fledgling business, money was tight and renting a space was beginning to seem an impossible task. They live over an hour apart: Ann Marie is in Wake Forest and Shawn lives in Hillsborough, which made the Morrisville/Cary area a good fit coupled with its very attractive demographics. But space was expensive.
Until one day when Ann Marie got a call from an owner who said if she could "come right now, I'll show it (the space) to you." This crazy call coincided with an appointment that had cancelled and a free day for her partner- "Kismet" as they say- they decided to check it out. Or maybe it was magic.
Of course after getting lost on the way to find the space, they found the office park and met the owner. The space wasn't much to look at, but it had potential. After some sweat equity and new hardwood floors, they have a room in which to conduct the business of relaxing.
The Chair
Not much is needed for hypnosis besides the trained professional and a calm quiet space with a good comfortable reclining chair.
Another funny story involved how they found their hypnosis chair – another moment of magic.
After again looking high and low and finding good recliners to be pricey, the partners found a store that was going out of business. But they had no recliners they could afford. As Ann Marie was leaving however, the owner of the store told her "This is going to sound bizarre" but  he had a client who bought a chair for his son in college. The client no longer wanted the chair. The owner said the chair was at his house, and on the spot asked if Ann Marie would buy the chair. Thinking this was going to be crazy, she asked where he lived and how much he wanted. The man lived around the corner, the chair was only 3 months old, and he wanted only $300. Sold!
And so it has gone these last few months as Shawn and Ann Marie have set up shop. They are seeing many regular customers who recommend them to others and their business is steadily growing. A woman recently emailed stating that Waves of Change had helped her daughter so much, she couldn't believe the changes in her – "now can you help me?"
Welcome Waves of Change
Waves of Change offers individual sessions so that clients can "Grow into their ideal selves" by reducing anxiety, eliminating habits and addictions, helping folks improve their relationships and experience lasting change. They also conduct classes for groups one of which is Monday night to help with Weight management. More classes will be added soon as demands arise.
Through mental health counseling, hypnosis and meditation guided by Ann Marie or Shawn you too can have less stress in your daily life and learn to just "be".
BTW – The ad campaign for Waves of Change has been super-popular with lots of click-throughs and reader interest. Maybe we're more stressed-out in the high-achieving Triangle than we like to say!
https://carycitizenarchive.com/wp-content/uploads/2012/09/waves-of-change-morrisville.jpg
350
600
Lindsey Chester
https://carycitizenarchive.com/wp-content/uploads/2020/03/cc-archive-logo-450-v3.png
Lindsey Chester
2012-09-12 12:59:44
2016-01-01 18:47:09
Waves of Change: The Business of De-Stressing