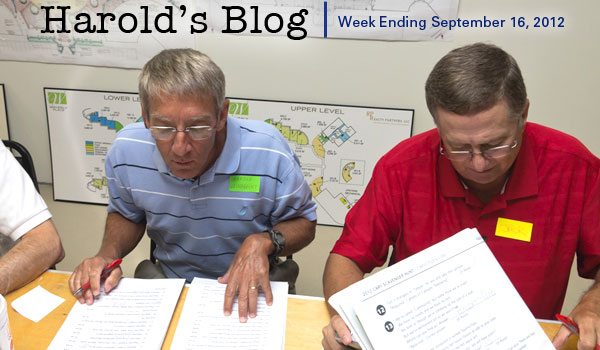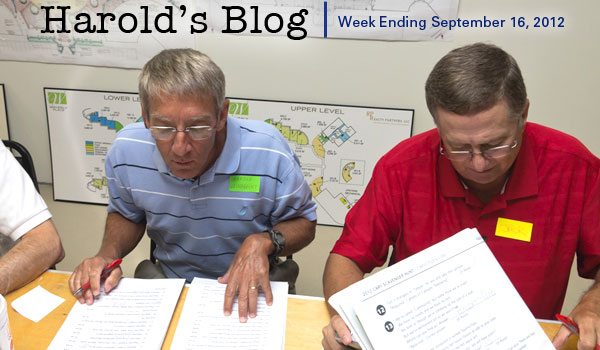 From the blog of Cary Mayor Harold Weinbrecht. L –> R: Harold Weinbrecht and Jack Smith. Photo by Brooke Meyer for CaryCitizen.
Cary, NC – This week was a typical non-council-meeting week and consisted of meetings and events.
Monday & Tuesday
Monday I was supposed to meet with staff but a staff member was not able to make it so we rescheduled.
In my weekly meeting with the town manager on Tuesday we talked about several things mostly focusing on plans for the January's council/staff retreat. We also talked about transportation issues and intersection improvements around town. Additionally, I found out that bids to renovate our downtown theater are coming in significantly over budget. This will present a choice for council: use money designated for other downtown issues or use money from the general fund.
Tuesday night I attended the Wags 4 Tags Grand Unveiling. This organization pairs psychologically and emotionally injured and impaired veterans in North Carolina with trained emotional support and psychiatric service dogs. These dogs are all rescued from kill shelters and go through a period of training. The event featured a woman whose sister was murdered by a veteran suffering PTSD who then killed himself. This was followed by a slideshow, Q&A, and a few comments from me. The event was well attended and included psychiatrists, social workers, veterans, volunteers, politicians, and of course dogs. I believe this organization can and will play an important role in serving our community and the state. Please visit http://wags4tags.org for more information and get involved.
Wednesday – Economic Development
Wednesday was a busy day for me. My first meeting was with the Economic Development Committee. The highlights of the meeting include:
We said goodbye to Committee member Doc Thorne who is rotating off.
We said hello to new Committee member Tolga Erkmen.
Technology task force reported they are halfway through the meetings. Their goal is "concrete, usable, re-usable, municipal apps that engage citizens, improve civic life, and save tax dollars. Provide access local government to more people, more easily, at less cost, wherever, and whenever." They believe that 50% or more economic development prospects might not find us if we are absent from open government/social media. They further state that this media will development an environment conductive to the highly collaborative communities of innovation and the idea/business generation.
Cary's unemployment rate dropped to 6% this past quarter. This is the lowest of the 7 largest municipalities in the State. The US unemployment rate is 8.6%, North Carolina's is 9.8%, Wake County's is 7.7%, and Raleigh's is 7.2%.
Bankers state that activity in small business is up and there is a positive attitude.
It was stated that there is positive job creation and there is pent up demand. Most employers are waiting for the election before deciding how to proceed.
HCL Technologies will expand and hire up to 272 additional employees by the end of 2012.
SchoolDude.com is expanding their space by 13,000 square feet and will likely hire in the near future.
In recruitment, we are working with the North Carolina Department of Commerce on a very large project considering the area. No other information is available.
Cary's Lazy Daze festival had approximately 70,000 in attendance. This was the largest festival of this type in the nation.
The Cary retail market experienced absorption of 46,389 square feet. The vacancy rate is below 8% in the triangle.
The committee decided to receive information on branding the town and other ideas before determining how to proceed with actions. The group will meet at the chamber and will include a PR expert who will work pro bono.
The committee meeting adjourned after about an hour and a half.
Wednesday – Training for the Hunt
Later Wednesday I attended the training session with several other "celebrity" judges for Saturday's Cary Scavenger Hunt. We went over answers to make sure everyone knew what answers were expected including photo answers. It was very interesting to see all the questions related to all the things in Cary. If you want to have a lot of fun and learn all about Cary then make sure to sign up for next year's hunt.
Saturday – Cary Scavenger Hunt
Saturday I had the honor to judge at Cary's 3rd annual Cary Scavenger Hunt. There were 62 teams this year which is more than double the number of last year. This year's hunt was designed so that no one could get all the clues in the 3 ½ hours. To my understanding there were a possible 2800 points. The winners this year were just over 2000 points.
This is a fantastic event which helps people get involved and know Cary better. I was happy to be a judge for the second straight year. I am looking forward to bigger and better things next year.
Info from Staff
Information from staff this week included an update on the White Oak Greenway. Work began on the Panther Creek Greenway in early August.  However, the pre-cast concrete being used for the supports and the top surface exhibited excessive cracking and work was stopped to determine the issue.  The NCTA (North Carolina Turnpike Authority) has been working closely with the contractor, the designer and the pre-cast facility to correct this issue and met with the Town this week to discuss a plan for moving forward.  To correct the issue, the original concrete will be discarded and the pre-cast portions will be re-cast before work continues. The NCTA has directed the contractor to complete the White Oak Greenway prior to moving to Panther Creek.  Based upon the schedules of the pre-cast facility and the contractor, work should resume at White Oak in mid-October and should take approximately 3-4 weeks to complete the greenway boardwalk/trail.
St. Paul's Food Bank
I was also contacted this week by representatives from St. Paul's Episcopal Church. They wanted everyone to know that on October 6th they will be raising money for the Food Bank by holding a Lobster Fest. To find out more about Lobster Fest visit http://www.lobsterfestcary.com.
Muslim Community Reacts to Violent Events
This week in the news we were saddened by the death and destruction by Muslim activists around the world in reaction to an inflammatory film about Mohammad. I was contacted by representatives from the Muslim Americans Public Affairs Council (MAPAC) and Turkish Americans. Here is an excerpt from their comments:
"I am an American Muslim and am deeply saddened and hurt by true martyrdom of our patriot Ambassador. I really wish I could do something but I would like with help of other Muslim groups to organize a vigil along with other faiths to show how we are infuriated by such an illiterate event. … When we become Americans, we take an oath and a pledge. How can we serve our country now?"
The MAPAC also released a statement on their website at http://www.mapacnc.com. Here is my response to these contacts:
"Thank you all so very much for what you do to our community. We are all children of God and are made in his image no matter what religion. We should celebrate our diversity instead of using it to propagate hate. Bless you for what you do in the name of peace. To answer the question "How can we serve our country now?" I would recommend contacting newspapers, other outlets, and all who will listen that the violence around the world is not representative of the Muslim faith.  The violence is a result of people who don't understand that this nasty film is allowed in a country that has freedom of speech. The film is representative of a tiny group of insensitive, sick individuals and NOT the people of the United States. And also that the retaliatory violence is a response of extremists."
If you are a religious person I would ask that you pray for the world to try to better understand each other and strive for peace.
Emails
Emails from citizens include a complaint about cancelling the red-light camera program, a complaint about the postponed White Oak Greenway opening, a complaint about our new chicken ordinance, a thank you for our new electric car charging stations at the art center, and a concern about fracking.
Next Week
Next week's activities include a Mayors Association meeting, ethics training, a Cary Matters taping, a brainstorming session about town advisory boards, and a charity event.
Get in Touch
Well that is all for this week. My next post will be on Sunday September 23rd. Please feel free to email me with a comment. Email all Town of Cary questions or comments to Harold.Weinbrecht@townofcary.org. Email personal comments to augustanat@mindspring.com.
https://carycitizenarchive.com/wp-content/uploads/2012/09/cary-mayor-weinbrecht-0916.jpg
350
600
Harold Weinbrecht
https://carycitizenarchive.com/wp-content/uploads/2020/03/cc-archive-logo-450-v3.png
Harold Weinbrecht
2012-09-17 16:07:58
2019-12-28 11:33:28
Harold's Blog: September 16, 2012