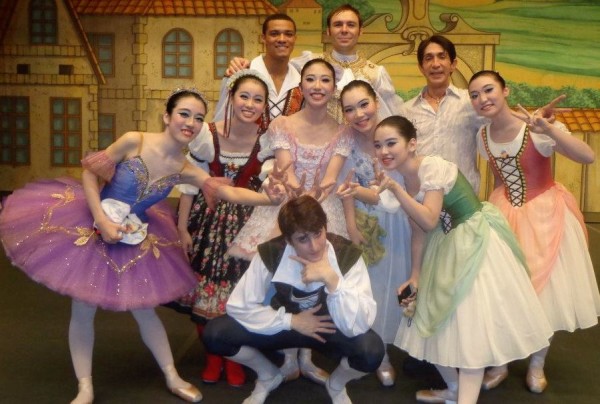 Story by Lindsey Chester. Photo courtesy of IBA.
Cary, NC- Preston Chamblee and Chandler Proctor have been dancing in Cary at International Ballet Academy since the studio opened two years ago. They recently returned from a whirlwind trip to Japan where they experienced their futures in the world of professional dance.The young men are both 17 and on the brink of  their professional careers. The trip was a major milestone on that journey.
The Competition That Set The Stage
Preston and Chandler had both competed last year in the Youth America Grand Prix which was held last Spring. As medalists, they were given invitations to perform at the Miami International Ballet Festival held Sept 7-8.  I caught up with them after their return from this performance.
Every 2 years for the last 20 years, IBA Director Miguel Campaneira has traveled to Japan to prepare for these performances. He is allowed to invite 3 male dancers and usually takes professionals. One of the dancers who travels there every year, Anthony Krutzkamp dances professionally for the Cincinnatti Ballet. Miguel said this year he had seen such growth and poise in Preston and Chandler that he sent a video to the schools in Japan requesting that they be included. After seeing the video and then meeting Preston and Chandler at the competition finals last spring, the Japanese schools agreed to include them. As part of the commitment, the Japanese Dance Companies paid all the trip expenses, per diems, airfare and a salary. For the first time, the two were actually being paid to dance.
Miguel went to Japan 10 days in advance to prepare the choreography. He can speak fairly fluent "Ballet-Japanese" and speaks directly to the dancers.  The trip encompassed three weeks beginning August 5th at Taira Ballet School in Fukuoka and then Izucka Ballet School in Izucka, Japan.
One of the biggest challenges, said Preston, was learning all the dances so quickly. The shows in each city were completely different. At the first school,  two full weeks of classes and rehearsals allowed them to prepare for the performance in which each young man had about 7-8 dances including solos. In the second city, there was only one week to learn a completely distinct performance.
Preston mentioned that that was a great experience to prepare them for how professional life will be. Unlike in the school here where students may prepare for their Holiday show during a 3 or 4 month time frame, in professional companies the dancers are continually learning new pieces quickly and tightening their performances to that peak performance readiness in a short amount of time, then learning a new show.
Miguel added "That's real life, and they were ready for the challenge" He was very proud of their composure under this pressure added that they conducted themselves like much older, professionals. They have both been invited back for the next such Japanese experience two years hence.
Challenges Outside the Studio
For Preston, the trip was his first time traveling outside the US. Besides the grueling 11 hour flight, I asked what other challenges he experienced. One cultural challenge was the food. They ate a huge amount of rice and fish, and they said a common breakfast was rice over which a raw egg is cracked and mixed in. They said they saw a lot of fish heads too.
One surprise of the trip was how quiet and peaceful Japan was. Chandler added that the people were very happy and friendly and always had a ready smile.
Standing 6'2′ Preston said the scale of everything in Japan was also a challenge as he continually hit his head on door frames. Chandler remarked about the scale of their hotel rooms, where easily their outstretched arms spanned the width.
As the two didn't speak Japanese, it was fortunate that many of their fellow dancers spoke some English. Miguel could speak Japanese, and frequently Chandler says, they had to remind him to explain things in English!
Most days were filled with classes and rehearsals, many nights not finishing until 7. After dinner it was off to bed. One of the days, they were granted a half day ot themselves, during which they headed out to a local mall, like many teens all over the world. When they traveled around they garnered a lot of stares.
What's Next?
The two are both home-schooled. Each day they practice for several hours midday preparing for their next big challenge- this year's Youth American Grad Prix competition in Miami will take place in January. If they perform as well as last year, next up will be the finals in April. This competition attracts ballet companies from around the US and the world. They will have tremendous exposure and hope to hear job offers and other opportunities that will lead to the next step in their professional careers.
Chandler has already completed his high school work and Preston has only a few courses left. Unlike typical high school students, they are not preparing college essays, they are preparing for their most important performances of their lives.
Judging from their experiences so far, they are up to the challenge.
———————————————————————————————————–
Coverage on CaryCitizen is sponsored in part by Thai Spices and Sushi of Cary.
https://carycitizenarchive.com/wp-content/uploads/2012/09/Boys-in-Japan-e1347850646789.jpg
404
600
Lindsey Chester
https://carycitizenarchive.com/wp-content/uploads/2020/03/cc-archive-logo-450-v3.png
Lindsey Chester
2012-09-18 16:41:31
2012-09-18 16:41:31
IBA sends 2 Dancers To Japan