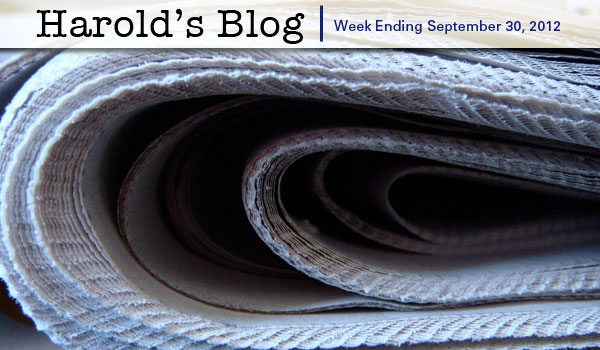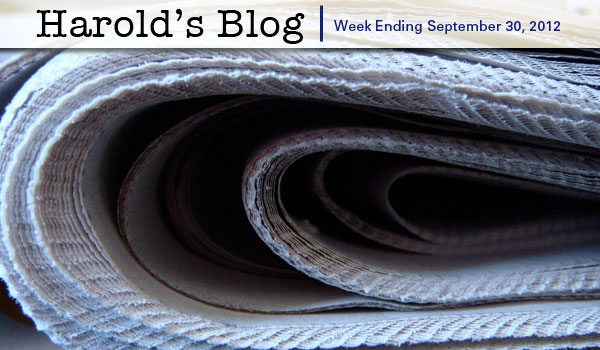 From the blog of Cary Mayor Harold Weinbrecht. Photos by Karen Mardahl.
Cary, NC – This week was slow even with the council work session and regular meeting.
Monday – Prepping for Town Council
Monday I called council members to find out any issues, questions, or concerns they might have had with Thursday's upcoming meeting agenda. I was able to contact all council members but one and there were no questions or concerns.
Later in the day I met with management and directors to go over the agenda. We did go over the entire agenda but it was a short meeting since the agenda only had one discussion item. Some of the interesting items included a public hearing on the annexation and rezoning of the Howell tract near Davis Drive and Farm Pond Road. Another was the requested waiver to install a reclaimed water line in the Cedar Bend subdivision.
Despite these items my prediction was that Thursday's meeting would be very short and we would be done by 7:30.
Wednesday – Town Manager
My weekly meeting with the town manager was moved from Tuesday to Wednesday. Our discussion was brief and we talked about two issues. He wanted to make sure I was aware that the apartments adjacent to the Harrison Pointe shopping center will begin (moving dirt).
We also talked about the downtown theater bids coming in over budget which I mentioned in a previous blog. A proposal to cover this excess cost will likely require a council decision in October.
Wednesday – Fairness and Cary News
Later Wednesday I, along with the entire Public Information Office staff, met with the Cary News editor and the reporter covering Cary.
There was a lot of information exchanged and expectations expressed. Some interesting points: When the editor was asked about fair, accurate, and balanced reporting she responded that reporting should always be accurate. She went on to say that reporters are people too and have opinions. She did state that she was old school and would just give the facts in her writings. However, she stopped short of saying that reporters have to do the same thing.
This fits with the writing style of some reporting in Cary. That is, formulate an opinion and then write the story. Another interesting question asked was how the local news staff will measure their success. We were told their success would probably be measured on how well they covered the growth in Western Wake and economic development. The meeting was very positive and lasted a little over an hour.
Thursday – Planning the Retreat
Thursday started with a council work session to make decisions for the council retreat scheduled for January 18th and 19th. The retreat will be held in New Bern at the Doubletree by Hilton. The budget for the retreat will be about the same as in previous years (including in-town retreats). It is important to understand that the retreat is a time where council has in depth discussions with staff resulting in the direction for the remainder of the year. The main topics for this year's retreat include:
Spotlight on Success: Commitment and Resources Yield Positive Results

Examples include project PHOENIX and Aquastar

Economic Development: Operating in "The New Normal"
Using Incentives (Business Improvement districts and Tax incremental financing)

Fees, Rules and Regulations
Eliminating Disincentives and Impediments
Reusing old buildings
Infill development
New development
Redevelopment
Removing Hurdles to Starting and expanding a business
Customer Service considerations

Planning, Zoning, and Development: Making Sense of it All

Council's top 10
The ins and outs of development including legal considerations
The process of rezonings, mixed use development, planned development districts, zoning conditions, development plans, traffic studies, etc.
Results on the Ground – are we getting what we want and expect?

An aging Population: What are we doing? What should we be doing?

Existing programs, facilities, and services for older residents
Planning for changes (PRCR Master plan, Community Plan)
What else is needed?
Our work session ended after about an hour of discussion.
Thursday – Council Meeting
Thursday's council meeting was dominated by comments at the Public Hearing for an annexation and rezoning of the Howell track near the corner of Farm Pond Road and Davis Drive. Nearby county residents were complaining of promises made to them decades ago not to connect Farm Pond Road and to not allow dense development.
In other discussion items the council voted to require the Cedar Bend subdivision developer to install reclaimed water pipe in the sub division even though the reclaimed water line won't reach the subdivision for a few more years. The good news is that PVC last for over a hundred years. So once the line is there they residents will have free irrigation and the town will save on water usage.
The council meeting also had a closed session on an economic development opportunity. The meeting ended at 8 PM.
Letters
Letters received via snail mail this week included one from the Divan Center for Turkish-American Muslims. Here is an excerpt from that letter:
"… We denounce all kinds of acts of violence regardless of its rationale, enforcers, and particularly against innocent fellow human beings. We underline that these attacks are against the teachings of Islam and Prophet Muhammed. Our prayers and thoughts go out to the families of US Ambassador Chris Stevens and the three embassy staff members, and their loved ones. …"
Another letter received this week complained about the Tryon Road Greenway construction. It stated that it destroyed nesting areas of birds and habitats for other animals.
Emails from Staff
Emails from staff this week included notification that the Ash Center for Democratic Governance and Innovation at the John F. Kennedy School of Government, Harvard University recognized 111 innovative government initiatives as Bright Ideas, including the Town of Cary's Virtual Interactive Planner (VIP). The internet-based tool is an online tutorial to the Town of Cary's comprehensive planning and development processes. It is accessible athttp://vip.townofcary.org or by mobile device at http://mvip.townofcary.org.
Emails from citizens this week included congratulations on the town receiving recognition for its VIP tool, a complaint that Cary's water and sewer bill is higher than Raleigh's, a complaint about stopping the red-light camera program, and a complaint (from the gentleman mentioned below) that the town is unethical because we have a video explaining the bonds.
[Begin soapbox]
This week the local newspaper had a very disappointing article about the Cary's bonds video. It suggests that Cary is acting illegally with the video by promoting the bonds (which is absolutely false). To back up their argument they use an individual who has created a web site and claims to be a watchdog group (actually he does meet occasionally with two other gentlemen for coffee). This individual/group has stated that we should not vote for the bonds in addition to saying we should close the Cary Tennis Center, the Baseball Complex, the Wake-Med Soccer Complex, and the Booth Amphitheater. He/they also say the town put in automated water meters to spy on people. I think it is safe to say he/they are extreme.
It is clear to me that the reporter for the local paper has an opinion that the town's video is not legal and wrote his story from that point of view. This type of reporting is accepted by the editor (as was stated in our meeting earlier in the week). Whatever happened to accurate, fair, and balanced? Once again, it appears the local newspaper is doing what it can to create controversy and ultimately harm Cary. Shame on them!
I have watched the video several times and it explains why we are having the bonds, what questions will be asked of the voters, what types of things will be accomplished if the bonds are approved, and what will happen if the bonds are not approved. It also clearly states how a tax increase will be used to pay for the bonds. To view the video and judge for yourself, go to http://carybonds.org.
[End soapbox]
Next week will be very busy for me and includes a grand opening, the SAS Championship, and hosting a delegation from Ireland.
Get in Touch
Well that is all for this week. My next post will be on Sunday October 7th. Please feel free to email me with a comment. Email all Town of Cary questions or comments to Harold.Weinbrecht@townofcary.org. Email personal comments to augustanat@mindspring.com.
https://carycitizenarchive.com/wp-content/uploads/2012/10/cary-mayor-weinbrecht-0930.jpg
350
600
Harold Weinbrecht
https://carycitizenarchive.com/wp-content/uploads/2020/03/cc-archive-logo-450-v3.png
Harold Weinbrecht
2012-10-01 16:15:23
2019-12-07 17:02:37
Harold's Blog: Week Ending Sept 30