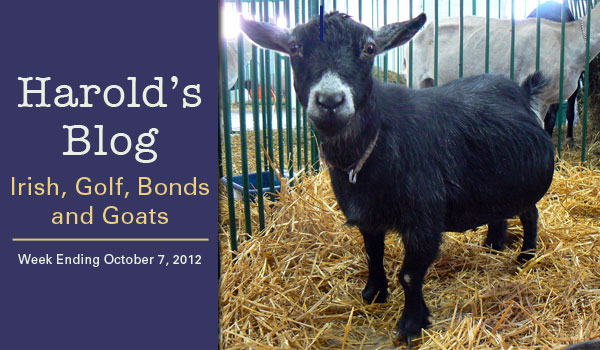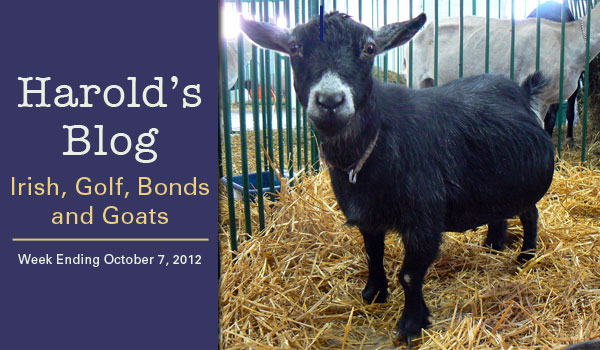 From the blog of Cary Mayor Harold Weinbrecht. Photo by Benny Mazur.
Cary, NC – This week was a week of long nights filled with meetings, events, and the hosting of an Irish Delegation.
Monday
Monday started with meeting developers about a mixed use proposal at the corner of Cary Town Boulevard and Trinity Road. They have submitted a plan to build 379 Single Family homes and townhomes on that location. The housing product is very similar to the Inside Wade project near the RBC center. The proposal did not include the future office/retail portion that is required in a mixed use.
Afterwards I briefly attended the Parks Recreation and Cultural Resources Advisory Board's meeting. The board was going over land dedications at my arrival, stopped, and asked me to say a few words.  I thanked them for all that they do for the town before they resumed their meeting. Their meeting included a brief discussion on the amphitheater's proposals that I participated in before departing for my next event.
Later in the evening I attended the Grand Opening of the first Wal-Mart Neighborhood Market in Cary. I, along with several people, gave remarks before taking a tour around the store. The store is about 70% groceries and 30% other items. Their groceries include ethnic sections of food which I thought was unique. One of the great things about this store, other than the food, is that it reestablished the anchor in a shopping center. This is a big boost for the shopping center and the community. Wal-Mart plans to open their second store in the Northwoods shopping center at the corner of Maynard and Harrison around June of next year. This should also be a boost that struggling shopping center.
Tuesday
Tuesday I joined council member Smith in welcoming a delegation from our sister city in County Meath, Ireland. The delegation included the Director of Services/Transportation/Engineering and four council members. After driving them to their hotel we went over their itinerary for the week. The main purpose of their visit was to understand our collaboration between businesses, the chamber, and the town and its elected officials.  Some of them also visited business parks in Winston Salem, RTP, and Raleigh.
Afterwards we headed over to the SAS Championship pairing event. At this event the amateur participants in the SAS Championship Pro-Am pick their professionals. The selection order is determined by a trivia contest. My team finished 18th out of 25 teams but we were still able to select two excellent professionals: Wayne Levi and Joey Sindelar.
Wednesday
Wednesday morning I joined 250 kids and parents for the Northwoods Elementary walk to school day. Before heading out I gave a few words of encouragement. I talked about Cary being a Fit community, my experiences with exercise and how it not only improved my health but improved my ability to focus. We had a great time with the walk and I was able to get a few hugs, high fives, and pictures with the kids before they headed to class.
At lunchtime on Wednesday I headed over to Prestonwood Country Club and participated in the SAS Championship Pro-Am. I was joined by council member Smith, Chamber President Howard Johnson, and Chamber VP of Economic Development Sandy Jordan. We had a fantastic time with our professional and I feel blessed to have had this opportunity. Although our team started off hot with 6 eagles and 5 birdies we faded in the end and finished with a 21 under par.
Wednesday night I attended a chamber sponsored dinner with the Irish Delegation at a local restaurant. I, along with several in attendance, gave comments on the benefits of our relationship with our sister city in Ireland.
Thursday
Thursday morning it was back to the course for our second round in the Pro-Am. This time we had professional Joey Sindelar. He was a fantastic personality and was a great help to us. Unfortunately, he was injured and had to stop after nine holes. We were then joined by professional Jeff Hart. Like all the professionals in the Pro-Am he was very kind and helpful. While our team played a little better than the previous day, our score was a little worse at 20 under par which was only good enough for seventh.
After the round I quickly headed home to shower and "suit up" for a taping on the golf channel. I arrived back at the course and made it to the golf channel trailer just in time for the taping. My message was essentially a welcome to Cary. In the welcome I acknowledge the sponsors, talked about how great Cary was, and then extended a personal invitation for everyone to visit Cary.
Once the taping was over I headed to my job at SAS for a few meetings before going to town hall and chairing the Council's Operations Committee meeting. The mayor normally doesn't participate in council committee meetings but I was substituting for a council member who could not attend. Joining me for the meeting were council members Bush and Smith. There were seven items on the consent agenda we did not discuss but did read to the public. Our discussion focused on two items. The first was on the Green Level West Road bridge replacement at Batchelor Branch. After a brief discussion we agreed with the staff recommendation to support the NCDOT plans and appropriate $25,000 from the General Capital Reserve fund for the additional sidewalks. The second item for discussion was the Booth Amphitheater plan and budget. The committee agreed on six of seven staff recommendations and sent one to council for discussion. That was a request to increase the sound limit to 98 decibels for three concerts.
After the committee meeting I met with several staff members about three issues. First we discussed a request from the Cary Town Band for additional funding and free rehearsal space. The Cary Town Band is one of thirteen nonprofit entities that represent the town. The second item discussed was options for the Carpenter Park. Staff will bring forward three options for the full council to consider. The option preferred by the neighbors does not meet current town ordinances. Our last item for discussion was $3 million in grant money designated for the intersection improvements at High House and Cary Parkway. Council will hold a work session on Thursday to decide how to proceed on this issue. The grant money will have to be used or returned by this fall.
Later in the evening I headed over to a private gathering of the visiting Irish delegation and the American delegation that visited Ireland last year. It was great to see everyone together again and a pleasure to be around our Irish friends.
Friday
Friday was another hectic day. I spent most of the day playing catch up at work on many critical items before heading to a private birthday gathering in the evening. I left that event to join the Irish delegation and attend a version of Romeo and Juliet playing at the amphitheater. This version of Romeo and Juliet was in the Civil War time period. It was strange for me to hear Old English with a Southern accent. Unfortunately, the artistic side of me never materialized enough for me to get Shakespeare. But I can tell you that the performances were outstanding. It also was a great event to showcase our beautiful amphitheater to our guests from Ireland.
Saturday
Saturday morning I attended the town's Fall Litter Sweep. We had over 200 participating town wide. My group covered parts of Academy, Chatham, Dixon, and Harrison. We had a great time and collected a lot of trash and recyclable materials. The strangest items we found were a car battery and a bucket of tar.
After squeezing in a quick four mile run I headed over to Prestonwood and joined my Irish guests to watch the second round of the SAS Championships.
Later in the evening we had one last private dinner with the Irish delegation. At the dinner we talked about what we both had learned from each other and how our relationship has strengthened. They were very excited about going back and presenting new ideas to their colleagues. It was sad to say goodbye to our friends but I believe we will see each other again soon.
Sunday
Sunday I had the privilege to attend a fundraiser for my good friend Erv Portman (former Cary Council member) who is running for state senate. He did a great job in Cary and I am sure he would be a great senator.  I would encourage everyone to support him.
Cary Bonds
The local newspaper's story on the town's video implying the town was illegally promoting bonds generated a couple of negative emails this week but mostly positive emails in support of the town. If you haven't seen the video you can judge from the script:
One of the "Best Places to Live" in the country.
A "Fit Community" and "Bicycle-Friendly Community."
Among the "Best Places for Business and Careers."
The safest city in North Carolina and the Southeastern United States
The list of accolades for our community is long and constantly growing. But this recognition from national media didn't happen overnight. It's the result of the vision, planning and investments from Cary's past and current leaders, business people, and residents.
As remarkable as Cary is, like so many other communities, we continue to face challenges stemming from the Recession. To be fiscally responsible and maintain a tight budget, the Town cancelled or put on hold tens of millions of dollars in projects critical to Cary's high quality of life.
Our community's challenge is to safeguard what we have by keeping Cary one of the best places to live in the country.
That's why on November 6, Cary voters will be asked to voice their opinion on three separate General Obligation Bond financing initiatives. Collectively known as the Community Investment Bonds and totaling 80 million dollars, these bonds address transportation, parks, and a new fire station.
This spring, your Town Council voted unanimously to offer you the opportunity to vote on these bonds. Your Town of Cary government is in excellent financial health. Even so, there isn't enough cash available to fully fund these important community investments. Voter-approved General Obligation Bonds are the least-costly financing option available, and acting now while interest rates are low will save Cary taxpayers hundreds of thousands of dollars in interest costs.
If approved by you, the Transportation Bonds would consist of $57.68 million for traffic improvements, resurfacing, intersection improvements, road widening, an upgraded traffic signal system, sidewalks, bridge improvements, and bicycle-friendly amenities.
Imagine driving on smoother roads while a sophisticated software algorithm controls traffic lights for maximum efficiency, quicker commutes, and less engine idling. Bicyclists would enjoy more bike lanes and secure bicycle parking. Many neighborhoods would enjoy new sidewalks and streetscape improvements.
If approved by you, the Parks, Recreation and Cultural Resources Bonds would fund $15.87 million for new parks, upgrades to existing parks, and greenway extensions.
You would enjoy new neighborhood parks in southern, central, and western Cary, a support facility for a Farmers Market, a new off-leash dog area, the Town's first children's spray ground, and two sports turf fields that would provide year-round playing surfaces and reduce water usage. Our popular greenway system would be expanded to include new paths and new parks.
If approved by you, the Fire Bond would consist of $6.45 million to construct a new fire station to replace the structurally-compromised Fire Station 2.
Built in 1974, Fire Station 2 is in disrepair and has serious structural issues with its walls, floor, foundation and front ramp. This fire station was built to accommodate one truck and four firefighters, and today is overcrowded and outdated. The station now accommodates two fire trucks and nine firefighters.
Relocating Fire Station 2 to a new building on East Chatham Street would provide better accommodations for our firefighters and help reduce emergency response times in its service area.
If you approve all three Community Investment Bond financing initiatives, your Cary property taxes will increase by two cents per hundred-dollar valuation in 2013, and another two cents in 2015.
At 33 cents per hundred-dollar valuation, Cary has the lowest property tax rate in Wake County. The Town has not raised property tax rates since 1989.
Despite excellent fiscal management, the projects identified in the Community Investment Bonds simply can't be paid for at existing revenue levels. There is no contingency financing plan for these projects, and if you vote not to approve the bonds, they likely will not move forward in the next three to five years.
Now it's up to you to decide whether to invest in our future.
Learn more about the Community Investment Bonds by visiting CaryBonds.org.
And let your voice be heard through your vote on November 6.
Please judge for yourself and don't be influenced one way or another by the tabloid reporting in the local newspaper's continuing effort to diminish this great town. If you want more information about the bonds visit http://www.carybonds.org.
Emails from Staff
Emails from staff this week included the plans under review. You can see the complete list at http://www.townofcary.org/Assets/Planning+Department/Planning+Department+PDFs/planreview/Active+Projects+in+the+Review+Process+(sorted+by+date).pdf. There were eight new submittals in the month of September including Parkside Town Commons that proposes 294 apartments, restaurants, a theater, a 140 room hotel, and retail space.
Pygmy Goats
Emails from citizens this week included one that noted Raleigh now allows pygmy goats and asked what is next for Cary. Good question!
Other emails from citizens included a complaint about lack of services in Cary's Chatham County, several requests in support of a rezoning to allow a fitness center, an inquiry about a property, a complaint saying they were ashamed of me because I "attacked the Cary News", several compliments on my comments about the Cary News, and a complaint about geese on the Northwoods Elementary playground.
Next Week
Next week's activities include a regularly scheduled council meeting, a meeting with a developer, a Walk to School event at Oak Grove Elementary, a groundbreaking for a Kiddie Academy, and an Eagle Scout ceremony.
Get in Touch
Well that is all for this week. My next post will be on Sunday October 14th. Please feel free to email me with a comment. Email all Town of Cary questions or comments to Harold.Weinbrecht@townofcary.org. Email personal comments to augustanat@mindspring.com.
https://carycitizenarchive.com/wp-content/uploads/2012/10/cary-mayor-weinbrecht-1007.jpg
350
600
Harold Weinbrecht
https://carycitizenarchive.com/wp-content/uploads/2020/03/cc-archive-logo-450-v3.png
Harold Weinbrecht
2012-10-08 16:15:49
2019-12-07 17:01:21
Harold's Blog: Irish, Golf, Bonds and Goats