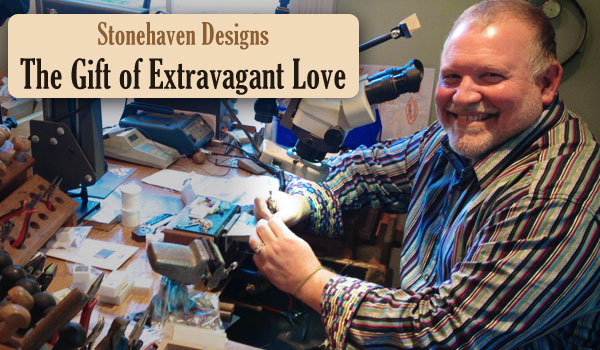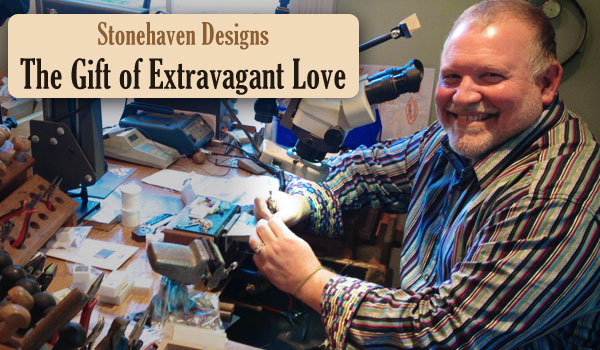 Story and photos by Lindsey Chester.
Cary, NC – Stonehaven Jewelry's owner Ron Lodolz has designed handcrafted jewelry for over 35 years, but it wasn't until recently that he truly found his calling. It's called the Gift of Extravagant Love.
Stonehaven Jewelry – Now Downtown
I started getting interested in this story because Stonehaven just moved to Downtown Cary, right around the corner from the CaryCitizen office.
The historic green house that Stonehaven now calls home was previously renovated and converted from residential to commercial by Stu Miller (who owns Yes! Solar).
The beautiful renovation was awarded a plaque and is listed on the National Historic Registry.
When you walk inside, a central foyer holds a showcase of Ron's most recent work. To the right and left are galleries: one housing platinum and gold handcrafted designs,  the other showcasing silver. Ron also designed the display showcases which allow the work to be seen in 360 degrees, with a different view on all sides.
Design by Accident
Ron fell into jewelry design by accident.
In Tennessee when he was 15, he applied for a job helping at a jewelry store in the local mall. Before long, the owner of the store began to train Ron in jewelery making, which he loved.
After high school Ron attended the Gemological Institute in California. Returning home, he quickly realized the town wasn't "big enough for both of us" and  Ron and his wife decided to move somewhere within a day's drive of their old hometown.
They arrived in Cary without jobs, but soon Ron was booked solid with trade-shop work for area jewelers that couldn't handle all their repair and custom work in-house.
Several Moves to Get Downtown
Five years later, Ron's business had grown, and he opened the first Stonehaven Jewelry store in Preston Walk off Cary Parkway with a partner, whom he later bought out.
Stonehaven stayed there for about 7 years until the Stone Creek Shopping Center opened on Davis Drive. Ron's store was actually the first retail store in that shopping center.
The move Downtown in August is part of a new renaissance in the Heart of Cary, and Ron wanted to be a part of the excitement.
The Gift of Extravagant Love
A few years ago, when Ron was turning 40, he started doing a little soul searching. He realized he had never done anything other than create jewelry.  How could he make the world a better place, by just plying his craft? After all, no one NEEDED his rings, they didn't feed anyone, or shelter anyone. He was filled with self doubt and began an inward journey.
He thought about the story of the Prodigal Son in the Bible, and how he was welcomed home with a pair of shoes and a ring. And Ron thought about the symbolism of that ring in the story. Finally he decided that the shoes were needed by the son, but the ring was actually a gift of extravagant love from the father, and God.
Taking that thought to heart, he thought about his own craft and learned something about why he creates exquisite, timeless handmade jewelry. It is to share in that design gift by allowing others "the gift of extravagant love."
He hopes people who wear these gifts will tell their stories to others, sharing their love in the telling, and connecting on a personal level. Ron's pieces are unique, with a timeless quality that will remain his truest legacy. The do invite conversation.
He related to me the story of a young man who was working with Ron a few years ago on an engagement ring to surprise his fiance. As they looked at stones and settings, the young man looked up and said to Ron "you don't understand, this ring has to be as perfect as she is". That about sums up why Ron Lodholz does what he does. To embody that extravagant love for others to share.
If you are Downtown, Stonehaven is located across the street from the Cary Library. Stop in, say hello to Ron, and see his gift of extravagant love.
https://carycitizenarchive.com/wp-content/uploads/2012/10/stonehaven-jewelry-cary-nc.jpg
350
600
Lindsey Chester
https://carycitizenarchive.com/wp-content/uploads/2020/03/cc-archive-logo-450-v3.png
Lindsey Chester
2012-10-18 16:40:26
2012-10-19 18:36:09
Stonehaven Designs the Gift of Extravagant Love