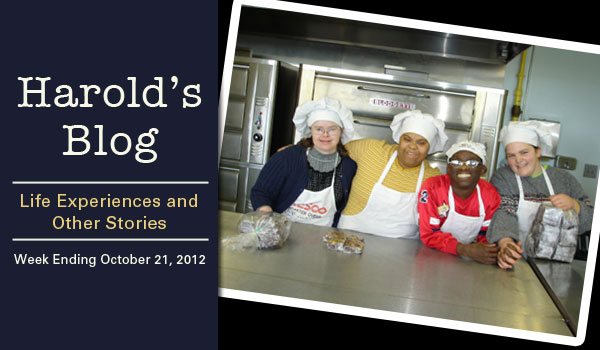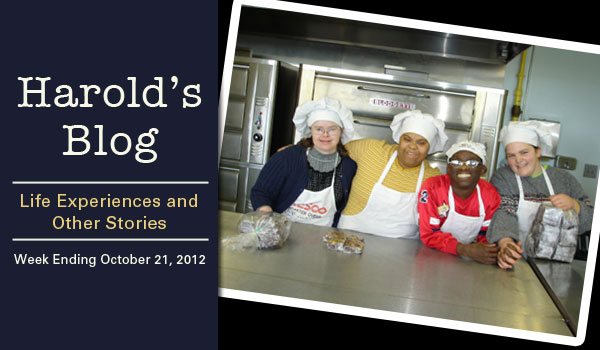 From the blog of Cary Mayor Harold Weinbrecht. Photo from Life Experiences. 
Cary, NC – Events and meetings dominated this week.
Monday – Mayors Association
Monday I attended a Mayors Association dinner meeting in Garner. Eleven of the twelve mayors were in attendance and only the Mayor of Wake Forest was missing.
Our meeting discussion began with a summary of the issues and upcoming issues for each town. Several mayors, including me, mentioned that we were holding bond referendums. Many mayors mentioned that building permits were significantly better than last year at this time especially further out in the county in towns like Rolesville.
The mayors also discussed weighing in on issues and state legislation. We reaffirmed our policy that we will take a position only if all twelve mayors are in agreement. The meeting adjourned after about two hours.
Tuesday – Life Experiences
Tuesday I had the privilege and joy of touring Life Experiences. Life Experiences is a non-profit organization that offers a choice of satisfying work experiences for adults with varying disabilities. They operate five small businesses which offer employment to adults with developmental disabilities while at the same time providing valuable services and products to the community. Here is a sample of their businesses:
Sub-Contracting:

Prepare info packets about water conservation for the Town of Cary
Roll dinnerware for American, Delta, and Continental airlines
Prepare complimentary bags of dog biscuits for the Pet Pantry
Assemble Rib Kits for Williamson House Sauces sold at Harris Teeter

Shredding:

Omega Sports
Preston Flowers
Jayne Jungen, CPA
PC Dataworks

Laundry:

SAS day care, fitness center, and pool
Prestonwood Country Club fitness center and pool
Ronald McDonald House in Durham
Caring House in Durham

Bakery:

Danny's Bar-B-Que
Char-Grill
Catalent Pharmaceuticals
Lord Corporation
WakeMed
Paragon Bank
NCSU

Buckwheat Hulls:

Package and sell over 700 pounds of buckwheat hulls and seed used in pillows, yoga mats, bean bag chairs and craft projects
Life Experiences provides an incredible service to our region. Please consider them for future business opportunities. It would be a win for your organization and for our citizens.
Tuesday – Town Manager
Later Tuesday I talked with the town manager at our weekly meeting. Issues we talked about included the League of Municipalities position on the Jordan Lake watershed rules, the League's request for participation in a utility commission, and Holly Springs involvement with the Western Wake Wastewater Management Facilities.
My last meeting of the day was with the Executive Director of Dorcas Ministries. Our conversation was on the potential of locating Wake County Human Services near the current Dorcas Ministries location.
Wednesday – Transportation
Wednesday I attended the monthly meeting of the Transportation Advisory Committee (TAC) of the Capital Area Metropolitan Planning Organization (CAMPO). The committee took two actions included the approval of a new Capital Area MPO boundary to include more of the urban areas in the region.
The rest of the CAMPO meeting was a staff presentation of the 2040 Metropolitan Transportation Plan. The plan included three components: a roadway element, a transit element, and a bicycle and pedestrian element. Each of these elements included scenarios for revenues of $2 billion, $4 billion, and $8 billion. The typical funding trend would create $2 billion in the life of the plan. Staff introduced several new funding sources for consideration that do not have enabling legislation. For example, a 3 cents county property tax increase would generate over $2.2 billion in the life of the plan. The committee approved a schedule to move the plan information forward that includes a November 28th public hearing.
The committee also discussed requirements that CAMPO elected officials take ethics training (in addition to required municipal ethics training). Committee members are required to turn in disclosure information and forms by April and complete training by June. There will be a presentation on meeting these requirements at the next CAMPO TAC meeting.
In project updates NCDOT said the beltline project was currently on schedule. They added that they would be willing to meet with any group to provide more information about the project. CAMPO TAC adjourned around 5:30.
Busy Saturday
Saturday was a busy day for me. My first event was to give remarks at the inaugural Open House of VFW Post 7383. In my comments I said "Like many of our citizens I did not serve in the armed forces here or abroad. But there isn't a day that goes by that I don't benefit from the sacrifices made by the courageous men and women that serve or have served. On behalf of all those that are not able to be here please accept our heartfelt thanks."
Next I headed over to the Booth amphitheater to give opening remarks to the 12 annual Cary Diwali celebration. My comments included: "In Cary, we strive to create events for our community to come together that help grow our rich diversity, recognizing each unique culture while offering ways for others to learn about the world presented in their own backyard."
Later that evening I returned to Diwali. First I toured the exhibition tent. This year's theme was friendship and harmony which is captured in the Hindi word "Maitri". Next I had a meal of excellent Indian cuisine. Then I gave remarks before the finale act which was a dance team from Toronto. These thirty incredible dancers performed for over two hours. It was a great evening that ended in a fireworks display.
If you have never been to Diwali, which is Cary's largest cultural event, then you should plan to attend next year.
Mailbag
In the mail this week I received a thank-you card and picture from Northwoods Elementary for participating in their Walk-To-School Day. I also received several invitations, a congratulatory letter from a state legislator on the town's award winning planning tool, a thank-you from a Cary Advisory board member, and several hand written letters about the bonds.
Emails
Emails from citizens this week included a complaint about the town's economic development investment in a four diamond hotel, a complaint about holding the bond referendum, a complaint about not supporting the town band, a complaint about not taking a position on UN Agenda 21, a request on the town's position on the Jordan Lake Rules, and several lobbying emails for a fitness center.
Theater Budget
One email from a citizen asked me to respond to the local newspaper article titled "Theater Budget Double to $6 million". He questioned how we can come up with $3 million dollars for a downtown theater that some might consider "non-essential" when we are asking voters to approve an $80 million bond for much need capital projects. That is an excellent question. Here is my response:
First let me address the "non-essential" part of the question. Around the time I became mayor the town's center had reached a point of moving to a state of disrepair. There was little if any new activity or business and certain landmarks such as the old Cary Elementary School were approaching structural failure. At that time the council committed to appropriating money in revitalizing downtown. We realized that if the council did not act then we could start facing issues such as dilapidated buildings, blight, dropping property values resulting in decreased tax revenue, potential increases in crime, etc. So the council spent several million dollars in renovating what is now the Cary Arts Center which has been extremely successful. Since that time we have hired a downtown manager to help us create a strategy that will not only revitalize downtown but would bring economic development into the area. The council appropriated millions of dollars to start implementing this strategy. We are starting to see the fruits of that labor with a recent public-private partnership to create a four diamond boutique hotel on Academy Street. To use an analogy, if the core of an apple rots then the rest of the apple is soon to follow. That is, downtown is important for economic development and for revitalization of Cary's oldest homes and businesses. Why is this important? I believe it is a key element to having a strong, healthy economy creating the highest quality of life with the lowest possible costs. Some of our investments in downtown will have a longer return on investment. Those investments are essential to keeping the momentum moving so that private businesses will continue to invest. Like all key elements (fire, police, water, sewer, parks) one element is not more important than another unless of course you are in an emergency situation and fortunately we are not. The Cary Theater is an essential part of downtown revitalization and economic development.
Now let me address the cost overruns. Our staff does an outstanding job budgeting and getting estimates for capital projects. But there are rare occasions when they underestimate. This is an occasion where the market has started to recover enough to create higher estimates. The council's decision points included: stop the project, delay the project, lessen the quality of the project, or continue with the project as planned. Stopping or delaying the project would have wasted money since other contracts were already approved. In addition, it would stop our downtown momentum and possible impacted economic development. Lessening the quality of the project would have saved some money but not enough to prevent the overrun. It would have been penny wise and pound foolish. So the best solution appeared to be to move forward as planned.
So where will we get the money? Some of the money will come from funds appropriated for downtown. What does that mean? It means that our implementation the downtown strategy will have fewer options in the near term. Some of the money will come from General Fund balance. We are required to have a certain amount of money in reserves. In addition to the required reserve funds we have some funds above the minimum to cover unexpected expenses. This is one of the unexpected expenses.  What does this mean? It means we may have less flexibility to do other mid-year appropriations. But we view this appropriation as important.
So why don't we spend the extra money allocated for the theater on the fire station? There are several reasons. We need to keep downtown economic development moving forward. We don't have enough cash to fund a capital project like the fire station. And capital projects, like the fire station, should be financed with debt much as a home is financed with a mortgage.
I hope this has addressed the questions. I realize that there will be folks that disagree on our priorities and decisions. But please keep in mind that we have to look at the town as a whole. And we are committed to improving or maintaining our quality of life. The downtown theater is a component of that overall commitment.
Next Week
Next week's activities include a regularly scheduled council meeting, a work session, a tour of Inside Wade, and a tour of a school.
Get in Touch
Well that is all for this week. My next post will be on Sunday October 28th. Please feel free to email me with a comment. Email all Town of Cary questions or comments to Harold.Weinbrecht@townofcary.org. Email personal comments to augustanat@mindspring.com.
https://carycitizenarchive.com/wp-content/uploads/2012/10/cary-mayor-weinbrecht-1021.jpg
350
600
Harold Weinbrecht
https://carycitizenarchive.com/wp-content/uploads/2020/03/cc-archive-logo-450-v3.png
Harold Weinbrecht
2012-10-22 16:15:39
2016-01-09 11:58:33
Harold's Blog: Life Experiences & Other Stories