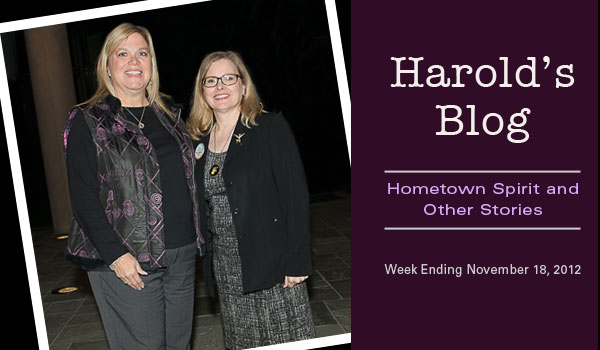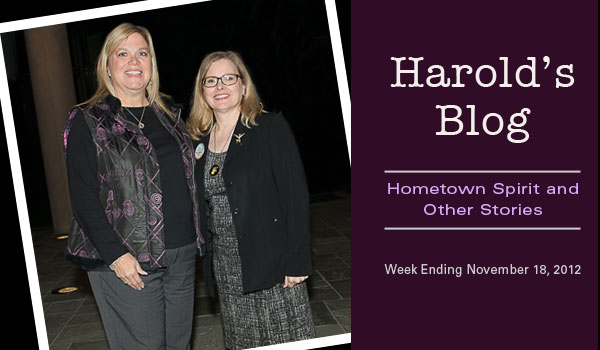 From the blog of Cary Mayor Harold Weinbrecht. Above L–>R Joy Pike and Betsy Dassau. Photo from Town of Cary.
Cary, NC – This week was busy as advertised with a couple of long nights.
Monday – Dinner with Veterans
Monday I had the honor to welcome veterans at the Golden Corral in Cary. They provided dinner to all veterans and who showed up in mass. In my remarks I told them that there is not a day that goes by that people of this country don't benefit from their sacrifices. God bless our veterans.
Tuesday – Prepping for Town Council
Tuesday my duties started with calls to council members to find out questions and concerns they may have about Thursday's regularly scheduled council meeting. I was only able to contact council member Yerha. He had a question about an historic house on a property being considered for rezoning.
Later in the afternoon I met with management, directors, legal, and administration to go over the agenda. We talked about several items and the meeting concluded after about half an hour.
Based on our conversations I estimated the council meeting would last to at least 11 PM.
Parks Update
After my agenda meeting with staff I headed to the first of three work sessions. The first work session was the final update on the Parks, Recreation and Cultural Resources Master Plan. This plan has been in the works since May of last year. The PRCR director made a twenty minute presentation and answered a few questions by council. It was pointed out that Bartley Park, Carpenter Park, the Downtown Park, Mills Park, turf replacement, and extension of greenway segments were moving forward due to the passage of the bonds. The council unanimously adopted the update and final plan.
Downtown Library
Our second work session was a downtown update. The downtown manager and a consultant gave a presentation which mostly focused on the results of a focus group held during the summer.
Most of our conversation centered on the 13 acre "opportunity" site which will contain the downtown park. There was also discussion about the library in downtown. Three options the council liked for the library location included: on the 13 acre site, at the current library site, or a combination building with the post office on that site. This information will now be presented to the public for their feedback and input.
We also discussed the sketch of the park in the "opportunity" site. Some council members expressed that a 3 to 4 acre park was too small. While I would like to hear more input and reasoning I tend to agree.
Legislature
Our last work session Tuesday was on the legislature and our upcoming legislative agenda. We will be inviting our Cary legislative representatives to dinner on January 22nd. Interesting facts from this last election include:
60% of the NC Senate and 57% of the NC House will be in their first or second year.
Campaigns for these seats cost an average of $250,000.
One campaign in Wake County saw expenditures of over $1 million.
In the work session the council discussed potentially new legislative items to add to our legislative agenda from last year. We were all in agreement that anything added to the agenda would be unanimous. The majority of council felt we should keep it short and to the point so nothing was added. Some of the concerns expressed with the newly elected legislature:
Allow local governments to keep all the authority they currently have.
A broadening tax base may mean the state will now take over some local taxing authority which would result in lower revenues for local governments.
Regional water control may be taken away from local governments. This would punish towns like Cary that have worked hard to create existing water supply relationships with our neighbors and have planned carefully to make sure are citizens have adequate water supply for the future.
Our work session ended around 9 PM. Council then went into closed session. While I can't talk about our discussion I can tell you that our conversation was about big decisions which made the session intense.
SAS Ranked #1 Workplace
Wednesday morning as I arrived to work at SAS I was met with big signs announcing our No.1 ranking on the World's Best Multinational Workplaces. The announcement was made at an event sponsored by the Great Place to Work Institute in San Francisco. The World's Best Workplaces List is based on the country lists that were published from December 2011 to August 2012.
Joining SAS in the top five were Google, NetApp, Kimberly-Clark and Microsoft. I have been fortunate to work at SAS for about 19 years. My wife and I met at a SAS picnic in 1985 and our children were raised in SAS daycare. So SAS has meant a lot to our family. Being mayor at SAS can be challenging in many ways. But SAS makes sure that I keep work and my mayoral duties separate while at the same time providing enough flexibility to allow me to serve as a public official.
SAS is also a great corporate citizen of Cary donating land and money for the benefit of all. It is no surprise to me that they were ranked the best company to work for in the world and their presence in Cary is one of the reasons why Cary is recognized as one of the greatest places to live, work, and play.
Wednesday – Around Town Hall
Later Wednesday I joined council member Bush is taping the December episode of Cary Matters. The main topic for December was sustainability. We also summarized downtown activities, talked about Wayfinding signs and leaf collection. Our taping lasted about half an hour.
Later that evening I dropped in on the Technology Task Force for a few minutes. I thanked them for their work and their sacrifice and listened to a presentation about the town's videos. I am very impressed with the Technology Task Force and think these great minds will make a huge difference in the short term and the long term in Cary.
Thursday – Hometown Spirit Award
Thursday started with a reception for our co-winners of the Hometown Spirit award. This year's winners were Joy Pike and Betsy Dassau. Joy's notable contributions in Cary include:
Chair of the Heart of Cary Association and currently in the midst of leading their annual toy drive
USA Baseball Host Parent
Organizer of the Ole Time Winter Festival
Treasurer of the organization proposing a Downtown Cary Children's Museum
Member of Cary Sister Cities Association
Volunteer at Town festivals and the Spruce Program
Election Precinct Judge
Betsy's notable contributions include:
Founding Member of the Cary Portrait Artists
Board Member of the Fine Arts League of Cary
Founder of Cary Creative Center -since March of this year, this organization has diverted 23 tons of materials from our local landfills
Member of the Triangle Re-Use Alliance Steering Committee; in this capacity she helped organize the Town's Re-Use Rodeo
Volunteer at Town festivals and the Spruce Program
School Volunteer
Both of these ladies embody the spirit of volunteering and making their community great. They are part of the reason that Cary is one of the greatest places to live, work, and play in America. God bless them and all they do for Cary.
Thursday – Council Meeting
After the reception we held our only council meeting for November. There were eight public hearings. Some of these public hearings were the second of two public hearings.
Our decisions included: allowing a wellness center on Sheldon Drive in Weston and allowing 150 townhomes east of Cary Glen Boulevard 775 feet south of the intersection of Cary Glen Boulevard and Carpenter Fire Station Road. None of our agenda items were controversial and all votes were unanimous. Therefore, even though the agenda was long and we held a closed session, we were able to finish before 9:30.
Searstone Noise
Each week there are several questions asked by citizens. Some require in-depth responses by staff. This week a citizen complained about construction at the Searstone development on Sunday and asked about prohibiting construction on this day. Staff's response included the following:
"… The Town's noise ordinance, Section 22-106 of the Town Code, makes certain acts and activities unlawful when (1) they occur within any residential zoning district or within 300 feet of an occupied residential structure; and (2) when those acts or activities create sound exceeding 60 dB(A).  The prohibited activities include performing construction work on Sunday.  All construction is not banned within the Town on Sundays; only construction (1) occurring within any residential zoning district or within 300 feet of an occupied residential structure; that (2) creates sound exceeding 60 dB(A).  There is no exemption or exception in the noise ordinance for mixed use projects or any other type of development; construction work on Sundays is prohibited in all zoning districts if it is occurring within 300 feet of an occupied residential structure and it exceeds 60 dB(A).

The Searstone project is located in the Sears Farm Planned Development District.  Because it is not located in a residential zoning district, construction activity on Sunday is prohibited from occurring within 300 feet of an occupied residential structure if it exceeds 60 dB(A).  The Police Department is aware of at least two homes that are within 300 feet of the Searstone project, and has worked with the developer/builder to ensure that no prohibited activities occur within 300 feet of those structures. …"
Downtown Theater
In addition to responding to citizens, staff responds to reporters. This week the local newspaper continued to focus on the Cary Theater cost overruns. Based on their questions it appeared they were attempting to position the Cary staff as inadequate in budgeting. Of course this is ridiculous. All you have to do is look at our performance over the years to know that the town does a great job budgeting projects. Nevertheless, there was a reason that the town under budgeted the Cary Theater. Here is a portion of staff's response from the town manager. As with all great leaders he took the responsibility for the overruns:
"… After reviewing everything, I've concluded that the issues were less budget related and more of a communications issue.  Like many of our projects, the theater crosses many departments including several consultants. Most of the time we do a very good job of keeping everyone informed and engaged in all aspects of a project.  In this case, I should have done a better job of making sure we effectively communicated how the multiple design alternatives impacted the project and the resulting construction estimates.

The project, which evolved quickly and substantially, was initially going to be a very basic renovation of the existing building. But during the initial design phase, the potential benefits of expanding the project were considered and ultimately approved by Council.   In this case, I should have done a better job of making sure everyone involved was clear when working with our design firm to know exactly how each of the various cost estimates were changing along the way as we worked to complete the design.  Even so, with most construction projects, we usually don't know what final costs are going to be until the design is finalized and the construction is competitively bid.

As the staff report indicates, we performed due diligence in terms of evaluating opportunities to reduce various elements once the bid amounts were known, but ultimately decided that the additional funding needed was a sound investment in the theater project and what it means to the overall revitalization of downtown Cary. …"
Council unanimously supports our town manager and his staff. Cary is very fortunate to have so many great public servants. That is one of the reasons why we continued to be ranked as one of the greatest places to live in the country.
Mailbag
Each week I receive requests, questions, and complaints both via letters and in emails. This week I received two letters. One was urging me not to support a rezoning and the other was from a 10 year old girl who wanted a duck crossing on Old Apex Road.
Emails from Staff
Emails from staff this week included an email about accreditation hearing for our Police Department. The assessing Lead Commissioner was extremely impressed with our department and said that we just keep getting better. We were recommended for the Gold Standard and for the Accreditation with Excellence Award.
Emails from citizens this week included complaints about noise at the Searstone development, litter and tall grass at US 1/64, the downtown hotel architecture, changes in airport traffic patterns, and not requiring sprinklers in houses.
This Week
This week is a holiday week. Events include a meeting of the Wake County Mayors Association where we will elect new officers. We rotate officers and I served as President a few years ago.
While enjoying my family next week I will also be responsible for writing the 2013 State of the Town address. This will take me several days just to come up with the first draft. I will tape this address on December 10. I will give it live on the first Saturday in January at Glenaire and then a modified version at a Chamber breakfast.
As I begin to write this I am wondering about the impact of the events in the Middle East and the fiscal cliff will impact the country financially and in other ways.
Get in Touch
Well that is all for this week. My next post will be on Sunday November 25th. Please feel free to email me with a comment. Email all Town of Cary questions or comments to Harold.Weinbrecht@townofcary.org. Email personal comments to augustanat@mindspring.com.
https://carycitizenarchive.com/wp-content/uploads/2012/11/cary-mayor-harold-weinbrecht-1118.jpg
350
600
Harold Weinbrecht
https://carycitizenarchive.com/wp-content/uploads/2020/03/cc-archive-logo-450-v3.png
Harold Weinbrecht
2012-11-19 16:18:37
2016-01-09 11:58:33
Harold's Blog: Hometown Spirit and Other Stories