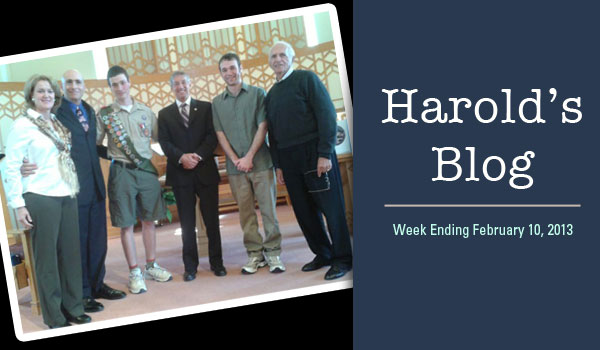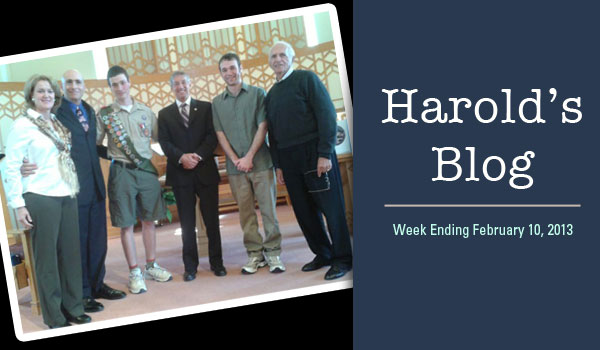 From the blog of Cary Mayor Harold Weinbrecht. Photo courtesy of Harold Weinbrecht.
Cary, N.C. – This week was slower as predicted. I welcome and cherish these weeks as it allows me to recharge.
Monday and Tuesday
Monday, I had no scheduled meetings so I spent that time catching up on various things, especially at my paying job.
Tuesday started with meeting the town manager for our weekly get-together. We talked mostly about issues within the downtown opportunity site. We also discussed issues related to technology.
Tuesday night, I was part of the Lazy Days Grants reception held at the Page-Walker. My role was to greet the recipients, give remarks, and hand out the awards. My remarks included the following:
"… With an average attendance of 50,000 people, Lazy Daze is the largest event that the Town produces each year. It brings artists and visitors from all over the country…our most recent Lazy Daze attracted artists from 17 different states. Not only is this event an end of the summer tradition here in Cary, but over half a million dollars have been returned to the community through the Lazy Daze grants program. That's something to be really proud of! Tonight we'll be adding an additional 37-thousand dollars to that amount!

The Festival is an excellent ambassador for the Town as it showcases the downtown area and provides opportunities for the community to come together to experience the highest quality art. We're excited to add new events in the Downtown area throughout the year – several concert series, a car show, and many other wonderful festivals. The Herb Young Community Center, Page-Walker Arts & History Center and the Cary Arts Center also contribute greatly to the vibrancy of the Downtown Cary area.

And, we are eagerly watching the construction of The Cary – Downtown's oldest, but soon-to-be newest cultural facility! We're currently renovating Cary's first movie theater into a performance and arts space. It should be open by the end of this year and we're excited to see what new opportunities it presents for Lazy Daze vendors and visitors. …"
The ceremony lasted about an hour and the award recipients were very gracious and kind.
Wednesday – WakeUP Wake
On Wednesday I had a brief tele-meeting with a representative of WakeUP Wake County. WakeUP is interested in Cary's presentation to the Wake County Commissioners at their retreat on February 15th. That presentation will be given by our town manager and will cover a variety of issues.
WakeUP Wake County's interests include getting the commissioners to put forth a transit bond referendum and a school bond referendum.
It is important to understand that the town manager can only recommend what has been approved by council. To my knowledge the council has not made any type of recommendation on transit or a potential school bond.
Wednesday – Downtown Development
Wednesday night I attended a reception for the panelists of a session held on Downtown Development. The panelists included a developer, a representative from the School of Government, owners of the approved downtown inn, and our downtown manager. Attending were various people interested in the future of downtown.
The reception ended after about an hour.
Thursday – Bradford Grocery Store
Thursday I met with the Planning Director and representatives of the Bradford development at Davis Drive and High House Road. We talked about an existing rezoning condition requiring a "specialty" grocery store on that site. Our meeting lasted about 45 minutes.
Friday evening was comprised of private meetings.
Saturday – Eagle Scout
Saturday I had the honor and pleasure of attending the Eagle Scout ceremony for Daniel Hertzberg.
For his Eagle project he built a kiosk for Penny Road Elementary. What was just as impressive was a food drive he created that collected over 13,000 pounds of food for the food bank. God bless him! I am looking forward to great things from him in the future.
Saturday – Kids Safety Day
Later Saturday I attended Kids Safety Day at Phillips Swift Creek Apartments.
Encouraged by Project Phoenix, the manager held a day to get kids ID' d and fingerprinted for their parents (parents get all the information).
In addition, there was a balloon ceremony in honor of the 26 kids and adults lost at the Sandy Forks tragedy two months ago. After a few words and a moment of silence we released 26 balloons with the names of each of the victims. It was a very touching moment.
Staff Emails
In emails this week, staff provided an update on the round-a-bout being installed on West Chatham. This coming week the town plans to install temporary multi-way stop signs at the intersection of South Dixon and Willow Street and at the intersection of South Dixon and West Park at Williams Street along the detour routes.  These temporary multi-way stop signs were suggested by citizens to address traffic concerns.
Staff also notified us that they reviewed a proposal for a potential auto dealership in the MacGregor Shopping Center. This may or may not involve a council decision. Auto dealerships are only allowed as a special use in the General Commercial district.  A special use hearing goes before council.  But the applicants could request a rezoning to another district that allows dealerships "by right" which would not require a council decision.
Staff also provided council with information related to financing debt. As a result of 7 refinancing debt transactions in the last 7 years for $118 million of existing debt, the town locked in $8.7 million in interest savings compared to original commitments. This means the general fund will benefit $3.3 million and the utility fund will benefit $5.4 million over a period of 23 years beginning in 2008.  In addition, in fiscal year 2014 we will incur $1.1 million less in debt service as a result of these 7 transactions. That is, $711K would be saved in the general fund and $398K in the utility fund.  The $1.1 million annual savings is more than the savings in most of the 23 years because the town "front loaded" some savings in the earlier years of some of the refinancing transactions purposefully to offset the effects of the recession.  While our $8.7 million of interest savings over 23 years is important, it can't offset our loss of investment income.
The current plans in review were also sent to council this week. The following were submitted in January:
An irrigation pump station at MacGregor Downs
A paved trail for Downing Glen Drive
A paved trail for Indian Creek Greenway
198 apartments on Jones Franklin Road
A parking lot for Hendrick auto
An amenity house with pool for Manors at Green Level Crossing
32 single family lots in the Montvale Subdivision
Three medical buildings at Searstone (Davis Drive and High House)
3390 square foot temple at SRI Venkateswara (near Highway 54 and Cary Parkway)
Mailbag
Emails from citizens this week included a complaint about signage regulations for a business, an endorsement for the LoMo Market (a type of farmers market on wheels), a suggestion about school safety, and a request to reduce gun violence.
Next Week
Next week will be a busy week for me and will include my annual trip to Washington to present Cary's federal legislative agenda to congressional leaders and various agencies. I will also have a work session and a council meeting when I return on Wednesday.
Get in Touch
Well that is all for this week. My next post will be on Sunday February 17th. Please feel free to email me with a comment. Email all Town of Cary questions or comments to Harold.Weinbrecht@townofcary.org. Email personal comments to augustanat@mindspring.com.
https://carycitizenarchive.com/wp-content/uploads/2013/02/cary-mayor-harold-weinbrecht-0211.jpg
350
600
Harold Weinbrecht
https://carycitizenarchive.com/wp-content/uploads/2020/03/cc-archive-logo-450-v3.png
Harold Weinbrecht
2013-02-11 14:05:43
2016-01-09 11:58:35
Harold's Blog: February 10, 2013