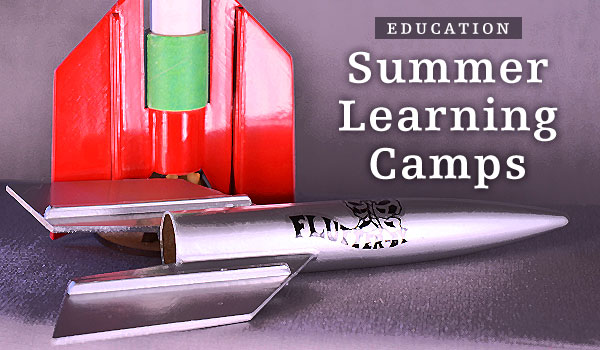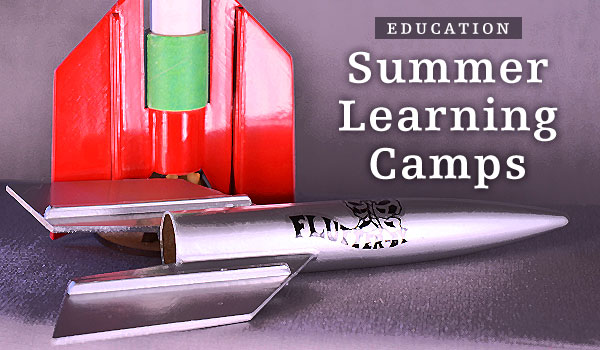 Story by Lindsey Chester. Photo by Sascha Grant.
Cary, NC – This is the second in a 3-part series that highlights camp options for families in Cary. Camps aren't just about games and campfires. Learning camps are a very popular in competitive Cary. Here's a listing of 12 summer learning camps in Cary to give your kids that competitive edge before next Fall.
Summer Learning Camps in Cary
It's amazing, the variety of summer learning camps in and around Cary. There's movie making and web design, culinary arts, Chinese language, robotics, logic puzzles, SAT prep and CSI: Camp Scene Investigators. Without a doubt, something for every curious mind.
Bright Horizons Summer Camps
800 Weston Parkway, Cary, NC 27513
Ph: (919) 678-1010
Bright Horizons provides school-age children with the opportunity to live, learn and socialize in a relaxed setting outside of school. The program offers a wealth of enrichment activities that engage the interests of school-age children. Participants may be found creating a magazine or a video, playing chess or shooting hoops, tutoring each other or forming a club. Teachers are there alongside, facilitating, guiding and understanding that learning does not have to take on the tone and texture of a school day but rather be filled with fun.
Cary Academy Summer Quest Summer Camps
1500 N. Harrison Avenue, Cary, NC 27513
Ph: (919) 677-7839
Full or half day camps offered on the Cary Academy campus for grades from 2-12. Specialty areas that include:  adventure, career, culinary arts, enrichment, world language and culture, performing arts, science, sports and fitness, technology and visual and creative arts.  Camp Fair/Information Session April 12, 2013, 5pm – 8:30pm, Dining Hall.
Chyten Premier Tutoring and Test Preparation
1323 Kildaire Farm Rd, Cary, NC 27511
Contact: John Summers
Ph: (919) 465-1922
Academic Enrichment, Tutoring and Test Preparation. Chyten offers Summer Enrichment and Skill Building programs along with tutoring and test preparation classes and boot camps. Avoid summer learning loss, pre-learn a subject for the next school year, prepare for college or private school admissions tests or use the summer months for academic enrichment with Chyten's Math, Reading, Vocabulary, Study Skills or Writing (featuring our Imagination Authors program for upper elementary ages). Now enrolling for SAT/PSAT, ACT/PLAN, ISEE, SSAT, HSPT Preparation classes and private tutoring sessions. All sessions taught by Chyten's experienced Master's Degree tutors.
Discovery Tech Summer Camps
5103 Grace Park Drive, Cary, NC 27560
Contact: Mike & Ann Marie Dlott
Ph: (919) 608-1930
Currently offering  track-out and summer programs for students in grades 2-6 . Our camps focus on 21st century skills in a fun environment. In the morning, we offer week-long technology classes. Each week consists of a different theme from movie making to web design. Courses are taught by certified public school teachers and students are provided with their own computer to use. We limit classes to 12 students and maintain a student-teacher ratio of 6:1. Our small classes allow us to differentiate instruction to meet student needs. During the week students create several projects and parents can monitor progress through our class wiki.
Goddard School Summer Camps
1177 N.W. Maynard Road, Cary, NC 27513
Contact: Leigh Edwards
Ph: (919) 466-0008
Utilizing the concepts of the F.L.EX.℠ Learning Program, their Summer Program blends fun, adventure and learning. Delight your child with our unique summer activities where play and educational opportunities abound! The Goddard School goes far beyond just summer camp fun. The program combines songs, stories, exploration, physical activities and learning adventures in a safe, nurturing environment.
Science and nature, arts and crafts, manners, computers and technology, literature and language, music and movement, sports and games, cooking and drama are all brought to life. Their goal is to ensure your children have a memorable summer all the while, preparing them for the upcoming school year.
All programs are customized to your child's progress, needs and age.
Hopewell Academy
101 Preston Executive Drive,Cary, North Carolina 27513
Contact: Summer Camp Director
Ph:  T 919.481.2123
You do not have to travel all the way to China to learn Chinese language and culture and interact with new Chinese friends. They are coming from China this summer to RTP to meet us, learn our language and experience the art and food of Cary. This two-week Chinese American Bilingual Program is initiated by RTP International Cultural Exchange Co. LLC , and organized by Hopewell Academy and other local schools. Two sessions offered in July. Hopewell offers multi week, full-day on-site camps for school ages 12-18 (6th to 12th grades).
Campers who wish to train as counselors can sign up for CILT as rising 12th, 11th, or 10th graders at a reduced camp fee, during the same weeks offered for younger campers.  In each camp, cultural exchange students from China join American students.  Every morning features an off site field trip such as swimming, visiting museums, visiting colleges and high tech companies, followed by a catered lunch. Each afternoon features a rotation of academic, artistic, technology, and athletic electives. Local campers may sign up for one or both weeks.
Institute For Mathematics and Science Summer Camps
1500 N. Harrison Avenue, Cary, NC 27513
Ph: (919) 786-0246
Full-day programs (grades 3 – 10) with different focus for each age group:For Grades 3 – 8: Students benefit by participating in all three IMACS academic programs: Logic Puzzles, Computer Programming & Virtual Robotics, and Electronics. Single and multiple week sessions available, after-care available.
For  Grades 8 – 10: Students will have the benefit of studying all three IMACS strands: Logic for Mathematics, Computer Science, and Electronics. This full day program provides an intellectually stimulating summer for outstanding secondary school students. Single and multiple week sessions available.
Kids 'R' Kids of Cary Summer Camps
150 Towne Village Drive, Cary, NC 27513
Contact: Brooks & Julie Moye
Ph: (919) 467-1112
Geared towards children kindergarden- age 12. Get ready for a summer camp experience you'll never forget as we explore, examine,create, share, and have a blast on amazing field trips (bowling, skating, rock climbing,horseback riding, water play…) and a variety of extraordinary clubs! Join us for a wonderful 2013 summer!!! Themes include: Techno Club
Campers learn new concepts about technology. Action Club Campers will have a blast learning about reusing, renewing, and recycling. CSI: Camp Scene Investigators There are many mysteries (unexplained things) in the world. Culture Club- Hop aboard as we take imaginary trips to exotic lands to explore. Studio Club Campers will explore several kinds of studio art!
 Mathnasium Summer Camps
489 James Jackson Avenue, Cary, NC 27513
Ph: (919) 388-9888
Avoid summer brain drain at Mathnasium! Their summer programs give students an extra boost for the school year ahead. For some students, that means a good, solid review of previous material. Others benefit from previewing upcoming concepts. Most students will get some of both. Six weeks of camp theme offered to keep your children engaged and ready when they return to school. Various weeks geared towards different ages.
Oxford Learning Center Summer Camps
1229 NW Maynard Road, Cary, NC 27513
Bob Schmitt
Ph: (919) 462-3330
Oxford Learning's Summer Brain Camp is a fun and educational week designed to keep children's brains active and working during the long summer break. Brain Camp runs weekly from June 24- Aug 9 (not during July 4 week) for rising 1st -5th graders. Camp runs Monday-Friday from 8:15am -11:45 am.  Come for one week, or all 6.  The camp day is divided into two parts. The first part is one full hour devoted to addressing student's individual needs in any subject area (reading, writing, math) based on a brief academic assessment and your parental input. The center uses the Oxford Learning curriculum for this portion. The second part of the daily program is a group of fun activities all revolving around a particular theme for that week. All themes incorporate more reading, writing, geography, history, math, science, and art as the theme allows.
Spanish For Fun Summer Camps
100 Endeavor Way, Cary, NC 27513
Contact: Monica Andrade
Ph: (919) 677-7114
Spanish Immersion Summer Camp 2011, open to children 2 months to 6 years old, gives your child the opportunity to do many different activities such as Arts and Crafts, Computer Lessons, Games and Sports, Gymnastics, Cooking Lessons, Latin Folklore, Splash Days and much more! All this in a full Spanish Immersion Program. This is a unique opportunity for your child to learn Spanish in a fun and natural way, all without traveling to a foreign country!
Whether you are fighting brain drain or think your child would like to learn about technology or a language that's not offered during the school year, academic camps may be the boredom-buster this summer.
WHIZard Academy Summer Camps for Mathematics & English
3647 SW Cary Parkway, Cary, NC 27513
Contact: Rosemary & Tom Wyrick
Ph: (919) 468-1721
One of many offerings includes WHIZARD Robotics Camp, featuring LEGO MINDSTORMS NXT . Experience the fun and exciting world of robots, powered by the amazing but easy to use LEGO, MINDSTORMS NXT 2.0 technology and Apple computers. During this 5-day summer and trackout Camp for ages 8 to 14, certified tutor/teachers guide students as they design, build and program autonomous robots.
————————————————————————————-
The Summer Camps 2013 Series on CaryCitizen is sponsored in part by Hopewell Academy and by Bright Horizons.
https://carycitizenarchive.com/wp-content/uploads/2013/03/summer-learning-camps-cary.jpg
350
600
Lindsey Chester
https://carycitizenarchive.com/wp-content/uploads/2020/03/cc-archive-logo-450-v3.png
Lindsey Chester
2013-03-19 17:15:31
2016-01-01 18:47:17
Education: Summer Learning Camps