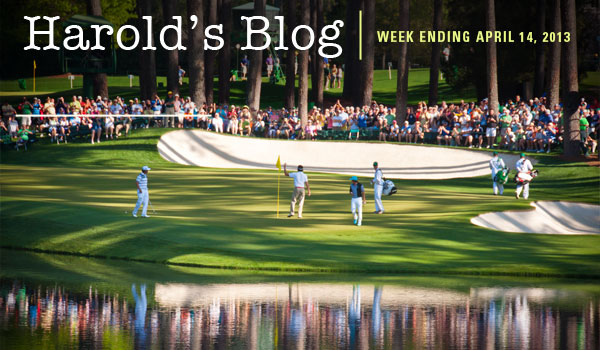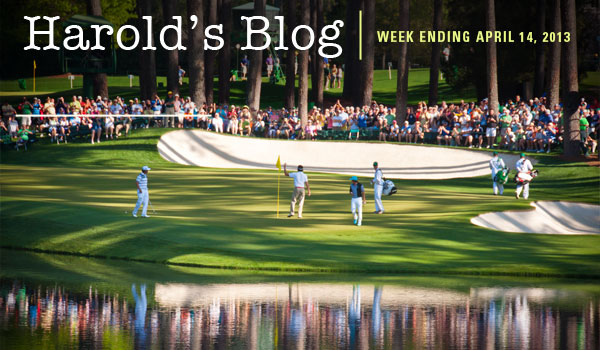 From the blog of Cary Mayor Harold Weinbrecht. Photo of 2013 Masters Tournament by Nate Weigle.
Cary, NC – Last week was a vacation week (sort of). I was working in Augusta, Georgia at the Masters Golf tournament for most of the week.
Monday: Town Budget
Monday before leaving town I had a budget preview meeting with staff. This is the time of year when each council member gets a high level overview of the budget. One, two, or three council members at a time meet with the budget director and town management. We provide our input to preliminary thoughts presented by staff as they shape their final budget recommendation.
In this meeting there were a couple of facts that were very interesting and will require decisions by council. First, our population has increased about 20,000 over the last few years but our staff count has remained the same (except for fire and police). Staff is stretched to the limit and in many cases is doing the work of multiple people. Our levels of service will start suffering as we move forward unless staff count is increase. This will be a decision point for council.
Second, our General Fund reserves may need to be adjusted. Cary is required to have 2 months of reserves or about $18 million. Years ago council established a policy of 4 additional months over what is required which amounts to about $43 million. Since interest rates are very low this money is not making much interest. We might want to consider changing our reserve policy and using some of that money to pay down the debt. This will be another decision point. There will be much discussion once the staff makes its recommendation to council.
This preliminary meeting lasted about two hours.
At the Masters
Tuesday I headed to the Masters Golf tournament and the following are my observations and thoughts:
Wednesday:
I arrived at the course for the first time this year. The course was immaculate as usual however this is probably the best it has ever looked.
I, along with other scorers, met at a pre-tournament meeting and then checked our equipment and working areas.
The Augusta National announced that it is creating a youth contest called Drive, Pitch, and Putt. The youth that make the finals will be invited to the Augusta National next year the week before the Masters.
Wednesday kids were allowed for the first time with a ticket holder. This made for a very large crowd. There was much applause and cheering making it feel like a tournament day.
Thursday:
I started the day with a 6:20 AM live interview on WRAL's morning show. I talked about the tournament and the fact that I have volunteered on hole 17 since 1978.
The tournament started out with a bang. There were a lot of good scorers including seniors Couples, Lyle, and Langer.
Storms were all around but we made it through the round. As we were turning in our equipment the automatic storm warning went off on the course telling us to leave. Whew!
Friday:
Friday started with showers. I stayed in the scoring area until players were about 4 holes away then I headed out. I only had to stand in the rain about 30 minutes and then it stopped. The rest of the day was beautiful.
The 14 year old phenomenon Guan was penalized for slow play. Moments before I radioed and questioned the huge 20 minute gap. The rules official assessed the penalty right in front of where we were on 17. He looked as he was giving the 14 year old a lecture. To Guan's credit he handled it very well.
Tiger Woods hit one of the most unfortunate shots that I can remember. On the par 5 15th he hit the flag stick. Instead of being close and putting for an Eagle and the tournament lead it bounced in the water. Little did anyone know that would only be the beginning of the problems with that shot.
Saturday:
The morning started with an announcement that Tiger Woods would be assessed a two stoke penalty for an improper drop on hole 15 Friday when he hit the flag and went into the water. This was the big news that everyone was talking about for most of the day.
In golf tournaments, Saturday is called "moving day" in golf and there were several golfers that moved themselves within 4 strokes of the lead. At the end of Saturday I was predicting Jason Day would win and hoped Adam Scott would be close.
Sunday:
What an incredible day despite the rain.
On the front side Cabrera took a two stoke lead. He immediately lost it on the back side.
Jason Day took the lead with several others close by. He lost it.
Then it was down to Cabrera and Scott.
Scott sank a long putt on 18 and I thought he had won.
Then Cabrera's approach was about 3 feet away so he birded also and tied Scott.
A playoff ensued and Scott sank a putt of about 12 feet on the second playoff hole, hole 10, to win his first Masters and become the first Australian winner.
My experience was a memorable one and I had a lot of fun. But I was very tired and glad to get back to Cary.
Mailbag
In emails received this week it was announced that Prestonwood had two of the top 100 golf courses in the state. Very cool.
Emails received from citizens included several complaints based on misinformation about a downtown park. I have spoken about this in my previous blog. Other emails included a request about the town's street light policy, concerns about the May 2nd Summit for the Future, a complaint about an incident at the town's convenience center, a concern about a retention pond, a comment that Cary to give Chatham County money for development near Jordan Lake, a question about available land, a question about electronic meetings, a concern about the closing of the ESC office in Cary, and kudos for our animal control officers.
This week promises to keep me busy. It includes a Mayors Association meeting, a CAMPO (Capital Area Metropolitan Planning Organization) meeting, and a council meeting to go along with a few ceremonial events.
Well that is all for this week. My next post will be on Sunday April 21st.
Get in Touch
Please feel free to email me with a comment. Email all Town of Cary questions or comments to Harold.Weinbrecht@townofcary.org. Email personal comments to augustanat@mindspring.com.
https://carycitizenarchive.com/wp-content/uploads/2013/04/cary-mayor-harold-weinbecht-apr14.jpg
350
600
Harold Weinbrecht
https://carycitizenarchive.com/wp-content/uploads/2020/03/cc-archive-logo-450-v3.png
Harold Weinbrecht
2013-04-16 16:15:53
2016-01-12 17:33:00
Harold's Blog: At The Masters