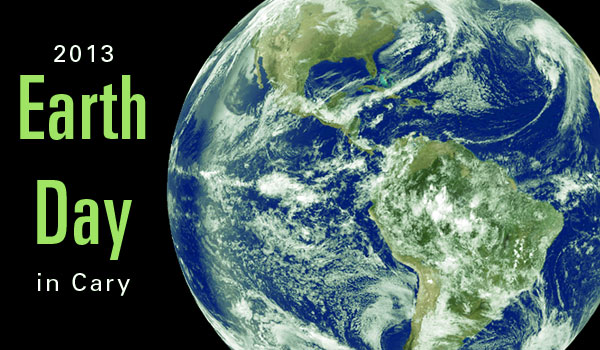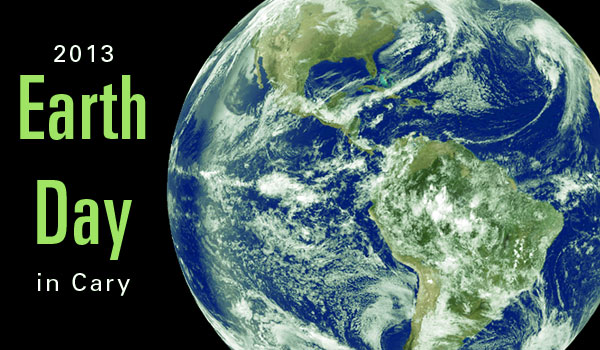 Story by Lindsey Chester. Photo by NASA Goddard Space Flight Center.
Cary, NC-  Earth Day is officially celebrated each year on April 22, but this year that's a weekday. In Cary, our official town-wide celebrations will be observed as part of Spring Daze on Saturday April 28. But what is Earth Day all about?
Origins Of Earth Day
The original idea for Earth Day was conceived by Gaylord Nelson, a U.S. Senator from Wisconsin, in 1969 after an awful oil spill in California. At the time the anti-War movement was strong- and he thought if he could harness some of that protest energy towards protecting the environment.  His belief was that if he could  get the public increasingly aware of air and water pollution, it would force these issues into National politics.
Senator Nelson partnered with Pete McCloskey, a conservation-minded Republican Congressman and then made his announcement  for a "national teach-in on the environment" to the national media. Along with Denis Hayes, (who became the  national coordinator of the event),  they created a national staff of 85 to promote events across the land.
On the 22nd of April, 1970 the first Earth Day took place. Overall 20 million Americans demonstrated in nationwide rallies for a healthy, sustainable environment. Thousands of colleges and universities organized protests against the deterioration of the environment. Groups that had been fighting against (various environmental issues)suddenly realized they shared common values.
The first Earth Day led to the creation of the United States Environmental Protection Agency and the passage of the Clean Air, Clean Water, and Endangered Species Acts. "It was a gamble," Gaylord recalled, "but it worked."
Earth Day In Cary
Here in Cary take part in Spring Daze on Saturday April 27 in Bond Park. The theme this year is "Lead.Inspire." and exhibits and activities will provide information about ways the Town of Cary is preserving our natural resources and the role you can play in protecting the environment.
Visit booths to learn about water conservation, recycling, stormwater, urban trees, greenways and parks, C-Tran, cooking oil recycling, and environmental volunteerism with Spruce. Don't miss the new all electric vehicle that will be on display next to the Sustainability tent. Guests that visit each booth will receive a FREE bag made from 100% recycled materials (while supplies last).
Another great program continued from last year's Lazy Daze festival is solid food waste composting located in special bins located near the food stalls. The Town found the program so successful in diverting tons of waste from the landfill that the program was expanded to include Spring Daze.
Get Fit Too
Check out Cary's Passport to Fitness , Health & Fitness Trail (Yours truly will be volunteering over there- stop and say howdy!) The passport, available at any Fitness Stop throughout the festival, highlights the activities located at each stop. Each Fitness Stop includes activities that are suitable for all ages and are designed to help you balance your health, environmental, physical and cultural well-being. After successfully visiting each stop, you will receive an ink stamp indicating its completion. Finish your passport, return it to any Fitness Stop for a cool prize.
Steps We All Can Take
Recycle More and Buy Less– Think before you buy. Think before you toss. You can recycle chip board boxes, paper, envelopes, cards, plastic bottles, packing materials and more. See if your recycle bin gets full before your regular green Town of Cary bin does!
Drive Smarter– Consolidate your trips,  carpool  to activities and work (with other people not just your own kid!). Every 30 minutes of idling costs you between 2/10 to 7/10  of a gallon of gas (depending on what you drive). Keep in mind that every gallon of gas you use, you also produce about 19 pounds of carbon dioxide. Idling in a school carpool line costs your wallet and the environment.
Use Mass Transit– That big yellow bus that stops at the end of your street can take your kids to school and its going there anyway. Its your children's first encounter with mass transit, so why drive them? Try C- Tran for trips around town and leave the driving to someone else!
Use Less Water– If you are in the market for new appliances, look for Energy Star labelled dishwashers and washing machines. If you must water your lawn, do it when only necessary. Don't plant trees and shrubs in the late spring or summer when they will require more water. Try planting more native and drought tolerant plantings at your house.
Turn Things Off – When not in use, turn off the lights when you leave the room, turn off the TV, and try to unplug any power sources that remain in stand-by mode at all times. They slowly sip power all day.
Think About Solar-For years cost was the main reason folks steered clear of solar energy, but did you know: "Solar has never been more affordable or accessible. " according to Stew Miller of Yes! Solar in Cary. " It is exciting to see not just solar farms for investors, but so many homeowners and small businesses benefiting from clean renewable energy and independence from the utility companies and rising electricity rates." Check out these facts about solar energy:
solar now has  a much shorter payback, often 5 years or less for a homeowner, even shorter for a business
the cost of solar panels has dropped about 60% in the last 2 years
most utilities now approve net metering, which means you can actually use the electricity you produce and sell the excess to the  utility
tax credits in NC total 65% (30 % federal and 35% state)
a homeowner can reduce their energy cost 80% (up 100% if they are really efficient)
7000 kilowatt hours equates to almost 6,000 lbs. of coal not burned, 11 trees planted every year, 9368 car miles not driven
In short, there's lots of ways you and your family can help live more sustainable, earth-friendly lives, ensuring we leave a legacy of a healthy planet for generations to come.
Happy Earth Day Cary! For more info check out the Earth Day Movement website.
————————————————————————–
Environmental coverage on CaryCitizen is sponsored in Part by Yes! Solar Solutions in Cary.
https://carycitizenarchive.com/wp-content/uploads/2013/04/2013-earth-day-cary.jpg
350
600
Lindsey Chester
https://carycitizenarchive.com/wp-content/uploads/2020/03/cc-archive-logo-450-v3.png
Lindsey Chester
2013-04-18 08:46:18
2019-12-28 11:33:29
2013 Earth Day in Cary