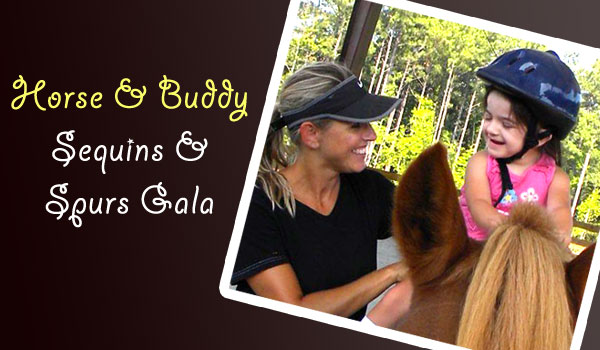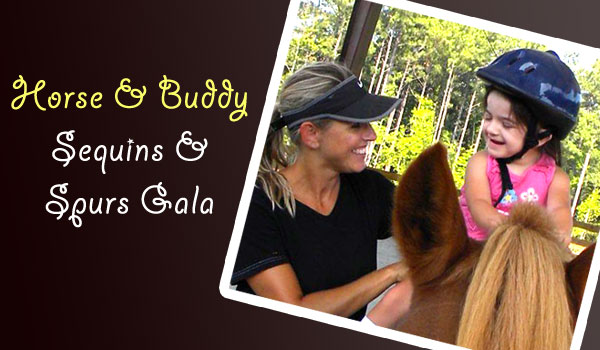 Story by Lindsey Chester, photo courtesy Horse and Buddy.
Cary, NC – Did you know that horseback riding can provide therapy for people with developmental disabilities? Right here in the Triangle, we are fortunate to have a non-profit organization called Horse and Buddy that matches horses and trainers with special needs children and can help improve balance, coordination and communication skills.
Sequins & Spurs Gala
This year on May 3, 2013, the organization is holding their 8th annual Sequins and Spurs Gala to raise funds for operations and expansion of their program. A silent auction, speaker and heavy hors d'euvres are all part of the evening.
5 Star Farm in Apex
Director Janet Mason-Haithcox started with the organization in its infancy in 1991 when they were just a side project of an established able-bodied farm known as 5 Star Farm in Apex. Back then they were helping 3 children work with the horses. Janet's background included riding but never owning her own horses, but she liked what they had started and asked if she could volunteer. When she lost her job she took on more volunteer hours and found her calling.
35 Acres From An Anonymous Donor
Since that time the Horse and Buddy program has moved to several locations, each time growing along the way.  In 2010 an anonymous donor bequethed the non-profit with a 35 acre farm in New Hill where they are today. The new location allowed them to double the number served from 32 to about 75 and add adult riders to the therapy program.
The program now has 75 riders and 10 horses. They purchased a used barn and riding ring and had them moved and reassembled on the farm. They have added a wheelchair ramp.
There is only one full time employee at Horse and Buddy and a lot of volunteers. A volunteer coordinator is part-time , as is a person who maintains the facility. Raising funds and growing are two goals and to eventaully pay for a full time director to build awareness and full-time fund raise. The annual gala fund go towards operating costs and 10% go towards paying down the mortgage which has 7 years left. Horses are mostly donated from farms in the area.
The farm is open seven days a week- and busiest in the evenings and weekends. The cost to families, whose riders mostly come one day per week, is about $100 per month. The equipment they need is long pants and sturdy shoes (preferrably boots). The program can provide helmets, but its better if riders have their own.
For parents of children with disabilities, to find an activity that they can participate can often be a challenge. Horseback riding offers these kids not only a sport, but physical therapy.
One parent had this to say about her son's accomplishments with Horse & Buddy , "The Horse and Buddy program provides Seth with a unique opportunity to strengthen his torso and legs, improve his balance and posture, while providing a wonderful opportunity for confidence building and socialization. His many physical challenges often limit him in these areas."
Another parent remarked " Horse and Buddy does, indeed, improve motor skills, upper and lower body strength, and balance. But the greatest benefit is the pride and sense of accomplishment that each rider feels when in the ring, or on a trail ride astride a beautiful horse. "
All potential riders area invited in for an evaluation on a horse to gauge the best match with assistants and horse. The facility has a 10 stall barn and large covered area for rider in all weather. There are many benefits of horseback riding- improved coordination, increased speech ability, and the empathy they kids gain form the animal.
We See Miracles Every Day
Janet told me that "When you watch someone ride a horse from behind, you see the hip rotation as the rider and horse walk in sync, their walk is the same. This movement helps these kids actually learn what it feels like to walk, and helps with their physical therapy. This is called hippo therapy, where the horse is specifically used as a therapy tool. For some kids with autism, they feel a mental bond with the empathy from the animal.
 "this isn't just a pony ride –  the riding teaches skills, and sensory learning."Some kids can sit up for the first time, speak their first words, and have taken their first steps" after entering the program ."We see miracles every day".
If you have would like to volunteer at the farm, contact the website , no actual horse experience is needed, but you need to be comfortable with horses. Contact  Sharee Liles (sharee@horseandbuddy.org.  If you would like to donate your  horse, they ask that it be calm and not have any pre-existing health issues. Your horse will be well-cared for at Horse and Buddy. Of course the group is always seeking donations to their non-profit organization to help to defray operating expenses. The Gala info is below.
Event Info
Horse and Buddy 8th annual Sequins & Spurs Gala
Friday May 3, 2013
6pm-10pm
Prestonwood Country Club Grand Ballroom
300 Prestonwood Pkwy Cary, NC
$100/ticket; can be purchased online http://www.horseandbuddy.org/.
https://carycitizenarchive.com/wp-content/uploads/2013/04/horse-buddy.jpg
350
600
Lindsey Chester
https://carycitizenarchive.com/wp-content/uploads/2020/03/cc-archive-logo-450-v3.png
Lindsey Chester
2013-04-25 11:01:52
2019-12-08 10:10:04
Horse & Buddy Sequins & Spurs Gala