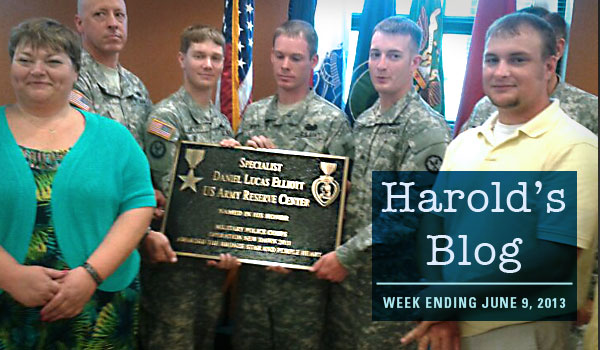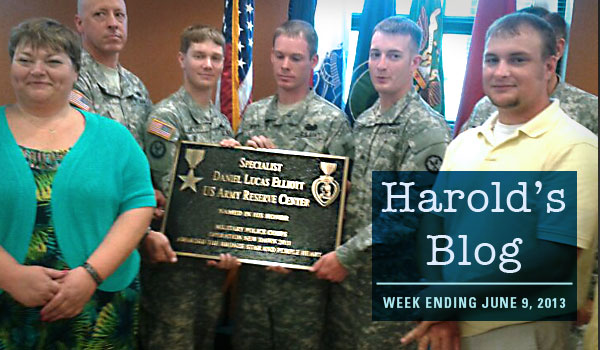 From the blog of Cary Mayor Harold Weinbrecht.
Cary, NC – This week was the first week back from vacation and was a relatively slow week.
Tuesday: Downtown Park Decisions
Tuesday I attended a work session on the downtown park and the Academy Street streetscape project. In the discussion of the 13 acre site the council made the following decisions:
The library will be on this site and will have structured parking. Wake County will fund the construction of the new library starting in 2015. The town will be responsible for construction of the structured parking. Early estimates have the cost of each of the 200 parking spaces to be $20,000 each. This would equate to $4 million dollars. Consultants will try to come up with innovative ideas to get the cost down.
The site will have a 6 to 8 acre signature park. Council wants to draw people from the region to this site. The signature park may have to be built in phases because the cost may be in excess of $5 million and only $2 million was approved by voters in last fall's bond referendum.
Other uses will be allowed on this site and will include a mixture of restaurants, shops, and some residential. Council explicitly stated they did not want exclusively residential on this site. Based on available land it appears the other uses will only be about 1 to 2 acres.
The site will also include a town square or something similar. Consultants will come back with ideas about this.
"Must have" features on the site include a water feature, outdoor performance space, and an open lawn. Other "nice to have" features may include a space for a temporary farmers market, pergolas, public art (non-polarizing), flexible plazas, stormwater amenity, and meeting places. The site will not have active sporting features or a picnic shelter.
Our discussion on the 13 acre site lasted about 1 ½ hours. The work session also included decisions on the streetscape for Academy. Some of the features that may be included in the streetscape were some parallel parking, an archway, a tree lined view, memory markers, a simple design at the intersection of Academy and Chatham, and the town square at curb level. After our discussion of the streetscape the council went into closed session to hear about an economic development issue.
Wednesday: Wind Down Wednesday
Wednesday I attended Wind Down Wednesday at Waverly Place. This is free entertainment that is open to the public and allows businesses to show their wares and sell some of their great food. I spent a couple of hours talking with business owners, potential business owners, and local developers. A great time was had by all in attendance. If you haven't checked it out Waverly Place will be having more of these events every Wednesday through August.
Thursday
Thursday night I met with a council member to talk about several issues most of which were related to the budget.
Friday: Farmington Woods 2nd Graders
Friday I had the joy of speaking with the entire second grade class at Farmington Woods Elementary. I talked about my duties of mayor for about five minutes and then answered questions. It was a great group of kids with a lot of great questions. For the first time that I can remember I answered almost every question (no hands raised in the end). I had a great time and hope they invite me back in the future.
Saturday: Remembering Specialist Daniel Lucas Elliott
Saturday I had the honor of being part of a ceremony that dedicated the Army Reserve Center on Highway 55 to Specialist Daniel Lucas Elliott who was killed in Iraq in 2011. Several hundred people were in attendance including dignitaries Major General Beck and Major General Holman. The following is an excerpt from my comments:
"…Like most of your Town Council and many of our citizens, I have not served in our armed forces, either at home or abroad, and yet, I, along with so many in our community benefit each day from the sacrifices men and women, some of whom maybe your family members or neighbors or friends, have made for us. For that, please accept my heartfelt gratitude on behalf of all those who aren't with us here today. …"
It was a touching ceremony especially being in the midst of so many heroes. God bless the men and women in our armed forces.
Sunday: Brahmothsavam
Sunday I attended the 4th annual Brahmothsavam ceremony at the SV temple in Cary. I was joined by Governor McCrory, Morrisville Mayor Holcombe, and State Representative Murry.
This was the celebration of the birth of the gods at the temple which basically made it a temple. The Governor and the rest of us were given a tour of the temple before the Governor spoke. His comments included current initiatives like releasing energy under the ground and in the ocean, reforming taxes, and lowering income tax. He pledged to attend other Indian-American events in the future. Before leaving they honored us with a shawl and a plaque. It is always a good time for me to visit with my Indian-American friends.
Plans in Review
In emails from staff the list of current plans being reviewed was sent to council. The plans entered in May include:
A sketch plan consisting of three office buildings with a total of 670,000 square feet and three parking decks.
174 townhomes and 10 single family homes on Green Hope School Road.
9400 square foot day care center at Green Level Church Road and O'Kelly Chapel Road.
7 townhomes on North West Street.
11 single family lots on Wilson Road. There are also 54 lots in Morrisville associated with this plan.
Mailbag
Emails from citizens included a request to not raise taxes even though a bond referendum was approved by citizens last fall, a concern about water safety, a concern about the state of the Cary Towne Center, and comments supporting the Summit on the Future held in early May.
This Week
This week includes a charity event, high school graduations, and a council meeting.
Get in Touch
Well that is all for this week. My next post will be on Sunday June 16th. Although I have Facebook and Twitter accounts those are not the best means of communications with me. Please send all Town of Cary questions or comments to Harold.Weinbrecht@townofcary.org and email personal comments to augustanat@mindspring.com.
https://carycitizenarchive.com/wp-content/uploads/2013/06/cary-mayor-blog-0610.jpg
350
600
Harold Weinbrecht
https://carycitizenarchive.com/wp-content/uploads/2020/03/cc-archive-logo-450-v3.png
Harold Weinbrecht
2013-06-10 17:15:45
2016-01-09 11:58:36
Harold's Blog: June 10, 2013