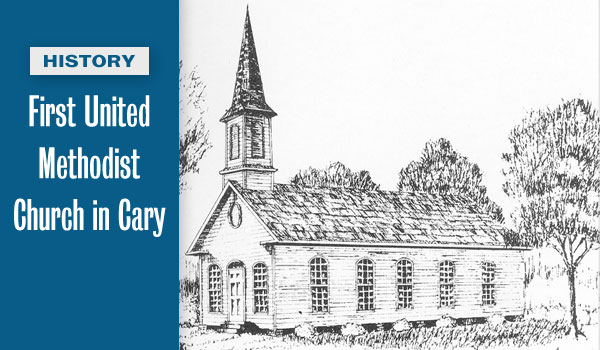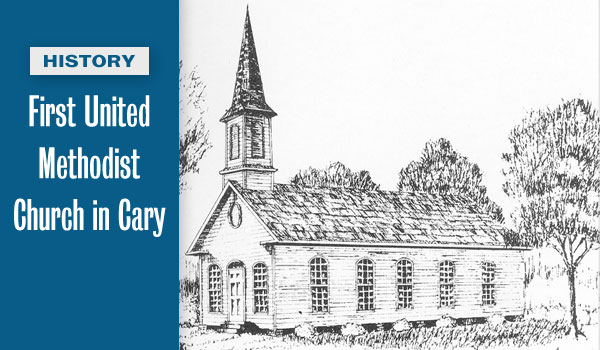 Story and historical picture courtesy of Lori Balmer for First United Methodist Church Cary.
Cary, NC – Early Methodists worshipped east of Cary in an area called Asbury. You can still find it on a map, though there are no signs. There is an ancient cemetery, but with no tombstones. When Frank Page built his sawmill and the academy, the Cary community started to form. The worshippers from Asbury moved to meet in the academy building.
1871
In the early 1870's Cary was added to the circuit of Rev. J. T. Harris, and soon after the church was chartered. Both the Town of Cary and First Methodist claim 1871 as their originating dates. The little group longed for a building of their own, so a small plot of land was purchased from Stebbins Warner and his wife. Soon afterwards a small wooden building was constructed.
That first structure was made of wood from the Page sawmill. It was comprised of three rooms: the sanctuary for worship and education, an office, and a library (probably the first library in Cary). The sanctuary was heated by a pot belly stove in the middle of the room. Of course there was no cooling.
$9,000 Annex
The small church grew slowly as did Cary, but in the early 1920's they had outgrown this space. A building program raised funds to add a $9000 annex to the back of the building. Made of fine North Carolina brick, it made the little wood church look kind of shabby so another $6000 was raised to put a brick veneer and steeple on the building. When the sanctuary was enlarged in 1995, the original wood walls were discovered and rescued.
Log Cabin
In 1933, to provide additional space, it was decided to build a log cabin. It was constructed by WPA labor out of logs from one member's property. The church members hauled them to the site, then stripped the bark and prepared them for use. Because of subsequent expansions, this building has been moved three times and is still in use today.
Post-War
The next growth spurt in Cary and the church was in the late 1940's. Many of our service men were returning from the war and looking to find a home to raise a family. The close proximity of what was then State College gave them an opportunity to take advantage of the GI bill to get an education. In order to provide sufficient space for their many new members, First Methodist built two educational buildings and expanded the sanctuary.
1960's
In the late 1960s an educational building was constructed which not only allowed for expanded Sunday School space, but also allowed the church to open a preschool for the area's children. A few years later it was expanded to provide day care.
Subsequent membership growth caused the church to build a fellowship hall and kitchen which could provide space for larger meetings, dinners, and recreation.
$4 Million Expansion
The population boom in Cary in the 1980s and 1990s also impacted what was now called The First United Methodist Church of Cary. In order to provide sufficient space for worship and Christian education, a four million dollar project significantly expanded the sanctuary and added a large educational building.
Today
The most recent construction was a large parking lot built around the turn of the 21st century. While less glamorous than buildings, it certainly has been convenient.
In the next installment of this series, we'll talk about ministries that have grown out of this vital, active church.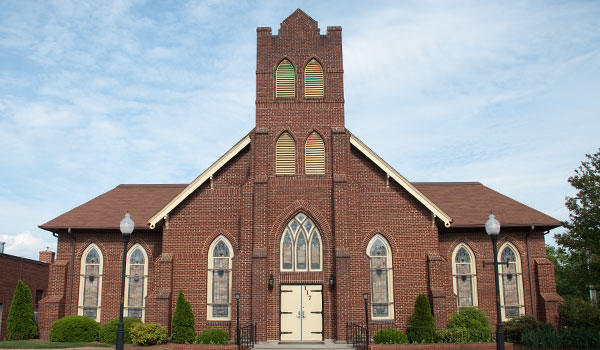 Contemporary picture by Hal Goodtree.
https://carycitizenarchive.com/wp-content/uploads/2013/06/history-fumc-cary.jpg
350
600
Community Contributor
https://carycitizenarchive.com/wp-content/uploads/2020/03/cc-archive-logo-450-v3.png
Community Contributor
2013-06-20 17:50:55
2013-06-20 17:50:55
History: First United Methodist Church in Cary