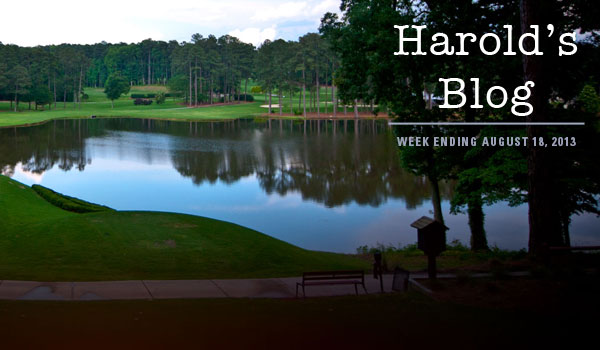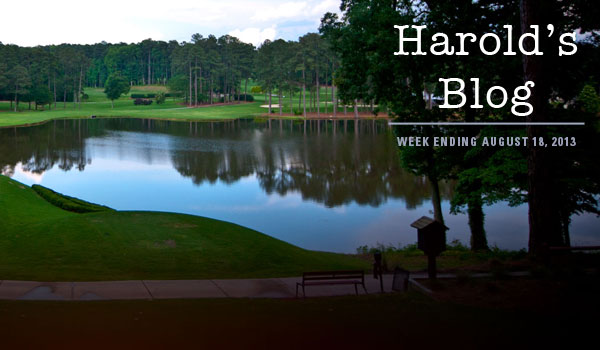 Cary, NC — This week's activities were mostly meetings and events.
Tuesday – Town Manager
Tuesday the town manager and I met for about an hour to discuss a variety of topics. We continue to discuss a major economic development opportunity which we have been working on for several weeks.
In addition, we talked at length about the downtown theater. We are hopeful to have a soft opening late Fall and expect it to be fully functional and programmed at the beginning of the year. The marquee should go up within the next week or two.
We also talked about the Walnut Street improvements. There will probably be a council decision point in the future to include medians or not. Of course there will be much public input before we get to that point.
Our remaining topics of discussion included the water tank across from Cary High School, the moving of the fire sculpture, and the Mayton Inn (which is waiting for HUD approval).
Wednesday – Chamber Leadership Dinner
Wednesday I attended the Cary Chamber's Leadership Dinner. It was well attended by dozens of leaders that represent Cary at all levels of government. These included a congressional member, state senators, state representatives, Wake County commissioners, Wake County School Board members, and most of the Cary council. After dinner I gave a few remarks to thank all the leaders for representing Cary and then introduced the council members in attendance.
Seated at my table during the Leadership Dinner were Congressional member Renee Elmers and Wake County Chairman Joe Bryan. Ms. Elmers talked a great deal about the interactions she has had with the Tea Party folks and how she is at odds with them on several issues. She also talked about several key issues including the federal budget, federal deficit, and the potential government shutdown. She clearly stated that the shutdown would be a huge mistake. It was a joy listening to her talk and hearing her opinions. And I especially enjoyed listening to her and Chairman Bryan talk about the future of the Republican Party.
Friday – CineBistro
Friday I talked with the owner of Waverly Place about the opening of a new dinner theater concept. CineBistro will be opening by summer of next year. It will feature a full service bar with and a theater that will serve dinner. Customers will have a choice of eating dinner at the bar and/or taking the escalator or elevator down to the movie complex. There will be seven theaters showing first run movies and other artsy movies. To find out more about CineBistro go to http://cobbcinebistro.com/. I can't wait for the opening.
Saturday
MacGregor Downs (A Bit of History)
Saturday morning I participated in a member interview at MacGregor Downs Country Club.
Gregory Poole Jr. was being interviewed before me and gave a great history of how the club was built. (He and his father built the club.)
He talked about a dirt path from Kildaire Farm Road down to where the clubhouse is now and how their car would get stuck in the woods. He told stories of his father's vision and the PGA events that used to be held there. Jack Nicholas even told Mr. Poole Senior how great the club was.
He also mentioned that the club's name might have been Swift Creek if it wasn't for his sister who suggested the Scottish theme and name. There is a lot of history in this club that was built in the 1960s. We are blessed to have such a great club in Cary.
Ribbon Cutting
Later Saturday I gave welcoming remarks at the ribbon cutting for Esteem Me Montessori and Creative Play School.  Kareema Martinez is the proprietor and was very excited about opening and educating children. Her passion for kids will definitely make a positive difference in so many lives. God bless her.
Writing
I spent the rest of Saturday writing the September episode of Cary Matters. In that episode we will talk about the upcoming changes to Walnut Street and the Maynard Road Water Tank.
Sunday
Economic Opportunity
Sunday started with a strategy meeting for a huge economic development opportunity. Several of us will be meeting with folks early next week and we wanted to make sure everyone was in sync. The meeting lasted about one and a half hours.
India Independence Day
Then I headed over to Morrisville to participate in the India Independence Day's flag raising ceremony. Joining me on the stage for that ceremony was Attorney General Roy Cooper and Mayor Jackie Holcombe. In the audience were state representatives and almost all Morrisville council members. I was only able to stay about half an hour before heading to a luncheon.
Emails from Staff
Big Announcement
Emails this week included several announcements from staff. One email that I am not allowed to discuss is about a big announcement. However, I am allowed to say that Cary will get a high profile recognition and accolade on Monday. So be sure to pay attention for that.
Greenways
In other email, 500 feet of greenway connections in three separate locations will complete key ties between the greenway systems managed by the towns of Cary and Morrisville. This week, weather permitting, the Town of Cary will begin construction on the Grace Park Greenway Connection, a 99-foot trail segment that will connect the Town of Cary's street-side along Lake Grove Boulevard and the Town of Morrisville's Grace Park Greenway. Also this week, contractors will start construction on the Downing Village Greenway Connection, a 282-foot trail segment that will extend Cary's existing Downing Village Greenway to Downing Glen Drive; this portion of the project also includes adding a 38-foot connection to the Downing Village Greenway from Cary's Twin Lakes residential development and repaving 130-feet of the existing Downing Village Greenway. In September, contractors will start a 125-foot trail segment that will connect a private trail within Cary Town Limits to the Indian Creek Greenway.
Walnut Street Improvements
Staff also announced this week that the Walnut Street Pedestrian and Traffic Improvements Project is entering the design phase. The Town of Cary will host a public information workshop on August 27 to gather citizen input and provide general project information. The workshop will be held at 241 Crossroads Boulevard and citizens are welcome from 5:00-7:30 p.m. The goal of the project is to improve pedestrian and vehicular safety on Walnut Street and Buck Jones Road. Project funding is supported by the Cary Community Investment Transportation Bond, a 2012 bond referendum passed by 70 percent of Cary voters. For more, search "Walnut Street Pedestrian and Traffic Improvements" at www.townofcary.org or call (919) 380-4104.
Emails from Citizens
Emails from citizens included complaints about recycling bins and fees, a complaint that money spent on the downtown theater is a waste, a complaint about closing streets for downtown entertainment, complaints about the proposed fare increases for CTran, and several requests to participate in events.
This Week
This week will start off bright an early Monday morning with mayors from Raleigh, Durham, and me singing karaoke for a good cause; the Backpack Buddies Food Drive which helps the Interfaith Food Shuttle. Since I can't carry a tune in a bucket I apologize for anyone that has to hear me sing.
The rest of the week will include big economic development meetings, a work session, a council meeting, and will end with Lazy Daze.
Get in Touch
Well that is all for this week. My next post will be on Sunday August 25th. Although I have Facebook and Twitter accounts those are not the best means of communications with me. Please send all Town of Cary questions or comments to Harold.Weinbrecht@townofcary.org and email personal comments to augustanat@mindspring.com.
———————————————————————————————
From the blog of Cary Mayor Harold Weinbrecht. Photo from MacGregorDowns.org.
https://carycitizenarchive.com/wp-content/uploads/2013/08/harolds-blog-macgregor-downs.jpg
350
600
Harold Weinbrecht
https://carycitizenarchive.com/wp-content/uploads/2020/03/cc-archive-logo-450-v3.png
Harold Weinbrecht
2013-08-19 16:15:13
2016-01-09 11:58:36
Harold's Blog: MacGregor Downs, Economic Development, Leadership Dinner & More