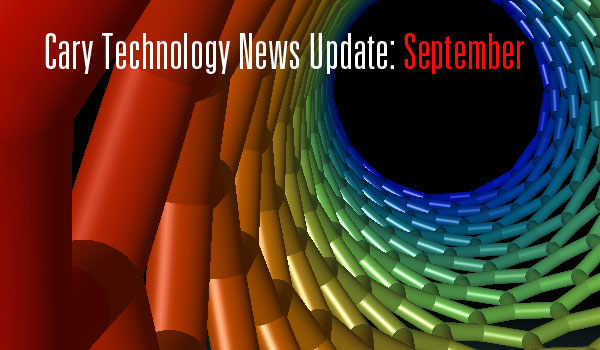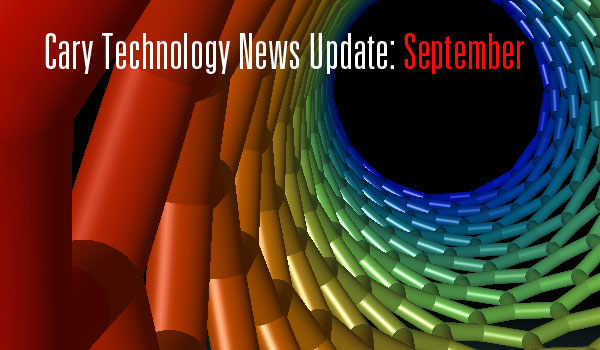 Cary, NC – Our friend Ian Henshaw has been busy updating the technology news for Cary and the Triangle.
Technology News and Events Update
Here is a quick summary of Technology events coming up in the next few months. Let us know if we've have missed anything.
Quick Links
Summit on Transformative Innovation in Health Care – Monday, September 9, 2013 from 7:30 AM to 4:30 PM (EDT) in Durham, NC. Join us for the inaugural Summit on Transformative Innovation in Health Care that will help celebrate the launch of a new, exciting initiative at Duke Univeristy, the Duke Institute for Health Innovation (DIHI).
Triangle Entrepreneurship Week – September 9-13, 2013. We bring together entrepreneurial communities to provide resources, knowledge and connections for businesses to succeed. Throughout one week, local leaders, investors, supporters and entrepreneurs share their knowledge, resources, and connections during our sessions and events.
NEXT – Wednesday, September 11, 2013 at 6:00 PM – Wednesday, October 16, 2013 at 9:00 PM (CEST) in Durham, NC. NEXT is a product of UP Global which helps startup founders become better prepared to build successful startups. It is a five-week "pre-accelerator" program rooted in Steve Blank's Customer Development methodology, driven by mentors and unique video content. The NEXT program helps founders gain a crucial base of entrepreneurial skills and knowledge.
NC Datapalooza Celebration – Thursday, September 12, 2013. The inaugural NC DataPalooza is a two-part event, beginning with the NC DataJam competition at HUB Raleigh on April 22nd and culminating with a celebration in September. DataPalooza is an open-data competition sponsored by the White House that connects local experts, innovators, and entrepreneurs to relevant, clean data drawn from federal, state, and local resources.
RTP 180°: Open Source All The Things – September 17, 2013 5:30 – 7:30 PM (EDT) in RTP, NC. "180°" is an series at RTP HQ that is designed to celebrate the collaboration between the Triangle's universities, companies and communities. No suits, no ties, and definitely no hats, unless they're red fedoras. This is the future of RTP. And it's a loud one.
CED Venture Conference – September 17-18, 2013 in Raleigh, NC. Be inspired at the CED Tech Venture Conference 2013, where ideas that spur creation, iteration and growth will take center stage over the course of two stimulating days, in Raleigh, NC. For 29 years, CED has led the region's biggest conference uniting technology entrepreneurs and the businesses that can help them grow. We've expanded this year, adding to the investors and entrepreneurs more corporate partners looking for innovation.
Innovation Fund North Carolina – Information Session – Thursday, September 19, 2013 from 1:00 PM to 3:00 PM (EDT) in Fayetteville, NC. Innovation Fund North Carolina, a new source of pre‐seed capital and education for technology start-ups in North Carolina, launches its first funding cycle with information sessions in Hickory, Charlotte, and Fayetteville. Start-ups working in Agricultural Technology, Advanced Manufacturing Technology, Healthcare Technology and IT/Communications can apply for $25,000 grants or $100,000 awards. Following the information sessions, Innovation Fund North Carolina will begin accepting applications on September 20. Limited funding is available. Interested entrepreneurs are highly encouraged to attend one of the scheduled information sessions.
TEDxGreensboro TEDxCity2.0 – Friday, September 20, 2013 from 7:30 AM to 5:30 PM (EDT) in Greensboro, NC. Talks will focus on Art, Education, Food, Health, Housing, Play, Public Space, and Safety – all elements whose presence will dictate the success of our future cities. TEDCity2.0 will focus on how bright ideas turn into collective impact – through talks, breakout sessions and satellite events globally – to create sustainable solutions and collaborative action. Note: This event is SOLD OUT.
NCDevCon 2013 – North Carolina's Premier Web Conference – Saturday, September 21, 2013 at 8:00 AM – Sunday, September 22, 2013 at 5:00 PM (EDT) in Raleigh, NC. NCDevCon is a 2 day web and mobile development conference in Raleigh, NC. For $200 you get access to all sessions and hands on classes. Your conference fee also includes lunch, a snazzy conference T-Shirt and admission to our evening networking event. Learn more at the NCDevCon Site.Organized by TACFUG, the Triangle Area ColdFusion User Group.
4th World Congress on Biotechnology – Monday, September 23, 2013 at 9:00 AM – Wednesday, September 25, 2013 in RTP, NC. This multi-disciplinary conference aims to provide a challenging forum and vibrant opportunity for researchers and industry practitioners to share their original research results and practical development experiences on specific new challenges and emerging issues. the 4th World Congress on Biotechnology mainly focuses onUnveiling the Current Frontiers in the Field of Biotechnology.
InfoSeCon 2013 -Thursday, October 17, 2013 from 8:00 AM to 5:00 PM (EDT) in Raleigh, NC. The Raleigh ISSA Chapter fall conference is a great opportunity to learn more about information security, talk with companies who provide security products and services, and network with fellow information security professionals. We submit CPE Credits automatically for attendees who provide their CISSP certification information. The goal is to educate attendees about information security, including executives responsible for regulatory compliance and security, information security professionals, software developers, and anyone who wants to know more about information security.
Google in Education North Carolina Summit – Saturday, October 19, 2013 at 7:30 AM – Sunday, October 20, 2013 at 5:00 PM (EDT) in Cary, NC. We invite you to join us for the first annual Google in Education North Carolina Summit to be held at Cary High School on October 19 & 20, 2013 . This high intensity two day event focuses on deploying, integrating and using Google Apps for Education to promote student learning in K-12 and higher education. The program features Google Certified Teachers, Google Apps for Education Certified Trainers, practicing administrators, solution providers, Google engineers, and representatives from the Google education teams.
All Things Open™ – October 23-24, 2013 in Raleigh, NC. All Things Open is a conference for technologists and decision makers around the topic of open source in the enterprise and will be held at the Raleigh Convention Center in downtown Raleigh, NC, the open source city.
TEDxRaleigh 2013 – Saturday, November 2, 2013 from 9:00 AM to 5:00 PM (EDT) in Raleigh, NC. "Quarry the Marvelous" at the National Historic Landmark Josephus Daniels House Auditorium. Come marvel with NC innovators, thinkers, and doers as we explore the waters off North Carolina, unravel the design process, overcome overwhelming odds, and more.
Cary's GREAT PUNKIN' CHUCK – Sunday, November 3, 2013 at Noon – 5:00 PM (EDT) in Cary, NC. Cary's GREAT PUNKIN' CHUCK is a mash up of science, back-yard technology and good clean fun hurling pumpkins with trebuchets at targets and for distance. Teams compete for prizes (and glory). Registration Site
TRINUG's Code Camp will be held in Raleigh on November 9, 2013. More details to follow.
InternetSummit 2013 – November 12-14, 2013 in Raleigh, NC. Internet Summit is a premier digital strategies forum with a goal of educating and promoting forward thinking and thought leadership on topics related to internet business and marketing.
indieconf 2013 – Saturday, November 23, 2013 from 7:00 AM to 7:00 PM (EST) in Raleigh, NC. Whether your aim is to provide freelance web services or start a lifestyle business, indieconf provides speakers and attendees who've been there, done that who can help you grow your independence.
WordCamp Raleigh – November 23-24, 2013 in Raleigh. WordCamp Raleigh is a day and a half long event with over 20 sessions spread across three tracks – Users, Power Users and Developers.
Triangle Open Data Day – February 22-23, 2014 in RTP, NC. It's a gathering of citizens to write applications, liberate data, create visualizations and publish analyses using open public data to show support for and encourage the adoption of open data policies by the world's local, regional and national governments.
More from Tech Tank
———————————————————————————————–
Technology news, events and updates by Ian Henshaw, Managing Partner at TechnologyTank in Cary. Carbon nanotube illustration by Geoff Hutchison.
https://carycitizenarchive.com/wp-content/uploads/2013/08/tech-news-september.jpg
350
600
Ian Henshaw
https://carycitizenarchive.com/wp-content/uploads/2020/03/cc-archive-logo-450-v3.png
Ian Henshaw
2013-08-29 14:40:33
2020-01-27 17:06:03
Cary Technology News Update: September