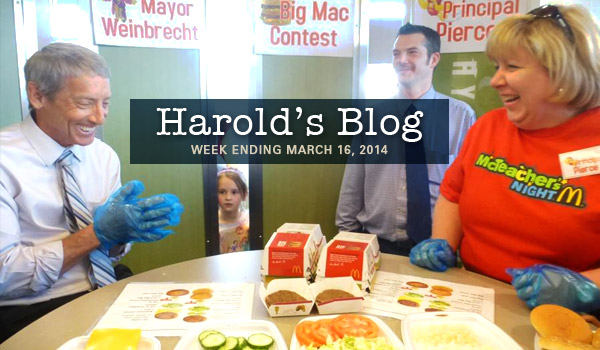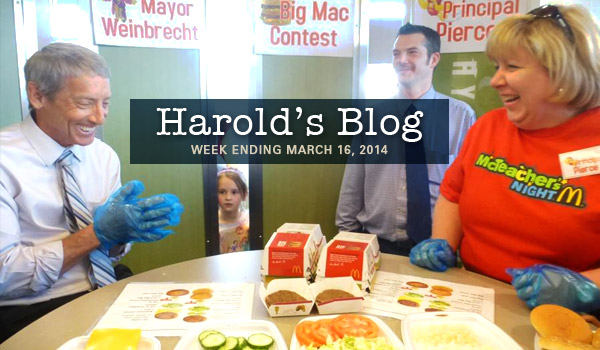 Cary, NC — As is typical at this time of year this was another long week with long nights and events on all seven days.
Monday
Prepping for Town Council
On Monday of weeks with regularly scheduled council meetings I start with calls to council members to hear their concerns or questions about Thursday's agenda. I make these calls so that I can discuss their issues to help staff better prepare for Thursday's meeting. I was able to contact council members Bush, Yerha, and Frantz this week.
Since there was no scheduled public hearings and only three items for discussion, there were very few concerns expressed by council members. Later in the day I met with Mayor Pro-Tem Adcock, management, directors, administration, and legal to go over the agenda items. There were very few items of discussion but I did ask how many properties were impacted by the proposed change to allow painting on old brick structures in downtown.
At the end of this meeting I estimated that Thursday's meeting would last about an hour.
Candidates for Economic Development Post
Monday night I met with the committee to review the final two candidates interviewing for the Vice President of Economic Development formerly held by Sandy Jordan. The interviews went well and afterwards the committee narrowed down our choices to the final two candidates. Our interviewing and deliberation lasted about three hours.
Tuesday – McTeacher Night
Tuesday I participated in McTeacher's night at McDonalds in Crossroads. This is a program designed to help schools raise money and to allow McDonalds to give back to the community. From my understanding a percentage over the normal sales on the day of the event is given to the schools. This usually amounts to several hundred dollars. This particular event was for Farmington Woods elementary. They packed the place and everyone had a lot of fun.
One of the main events was my competition against Principal Pierce in a Big Mac building contest. It was close contest but she edged me out by the time it took to place two pickles. The event was a blast and I hope a lot of money was raised for Farmington Woods.
Wednesday
Candidate Accepts Position
Wednesday started with a meeting of the selection committee to find the next Vice President of Economic Development. We spent about 15 minutes getting updates on reference checks on the final two candidates.
We ended up making a selection later in the week and an offer was extended and accepted Friday. An  official announcement will be made during this week.
Economic Development Update
Wednesday evening the Economic Development Committee held their quarterly meeting. Here are some of the highlights. Under existing businesses:
DB Global plans to add 400 employees taking their staff to over 700
A local company is looking to expand its business by hiring a 1000 additional employees
Dude Solutions plans to add over 400 jobs in the next 5 years and invest $100 million
Bass Pro Shops has opened but will reschedule their Grand Opening for April
Biologics is having a 75,000 square foot building built for them by Highwoods
Under business recruitment there is a sports related business looking for 35,000 to 100,000 square feet and hire between 250 and 750 employees. This is a federal government entity. We are also working with the Department of Commerce on a project that could bring 100 new jobs to Cary with a $36 million investment. Other miscellaneous notes include:
Our class A office vacancy rate is about 8%
As of December Cary's unemployment rate was 3.9% with 2.5% to 2.8% considered full employment
The Chamber and a few council members will travel to Nashville for an intercity visit from May 14th through May 16th. The focus will be on regionalism, economic development including downtown and redevelopment, planning, transportation, and the arts.
The meeting ended after about an hour.
Thursday
Legal Department
Thursday's first meeting was my quarterly meeting with the town attorney. We went over current and recently resolved legal cases. Our attorney's office handles not only external legal matters but internal legal matters. Some of the current external issues are related to council actions taken over a decade ago. It is impressive how much our legal department handles for the town.
Council Meeting
Thursday night was a regularly scheduled council meeting. There were no public hearings which was very unusual and three discussion items.
The first item was the Reduce Congestion through Intersection Improvements project. This included improvements to intersections at Kildaire Farm and Cary Parkway, Cary Parkway and Evans, NW Maynard and Chapel Hill Road, NW Maynard and High House Road, and Cary Parkway at US 1 ramp. Council decided to approve all but the Kildaire Farm and Cary Parkway intersection. They were not comfortable with the massive changes to the intersection which included removal of medians and trees. Staff will come back in the future with additional information on itemized changes to the intersection.
Council also decided to amend architectural standards to allow painting on masonry material on structures constructed and occupied before 1970 which are not deemed historic. There are over 200 non-residential structures that fit this time category but it is not known how many of them have masonry.
Our last discussion item was our NC Legislative Agenda. Council approved staff's recommendation with one change. The item related to fracking now reads "Support for the preservation of local land use interest and decision-making in the creation and adoption of a strong regulatory framework for shale gas development that protects the health, safety and welfare of the citizens and environment and water quality."
The council meeting lasted about one and a half hours.
Saturday
Saturday morning I gave remarks at Cary's Arbor Day event. There were about a hundred people in attendance. Here are excerpts from my comments:
… I want to welcome you to Town Hall campus to commemorate Arbor Day. Thank you for celebrating the importance of trees today. I speak for the rest of the Council when I say just how appreciative we all are to see you doing your part to keep our community "clean and forever green."
I am deeply honored to accept on behalf of our citizens the Tree City USA designation. This marked our 31th year receiving the award-something only about a dozen other municipalities in our state have earned.
The National Arbor Day Foundation awards this certification to communities of all sizes that meet strict criteria. One of these is the observation of Arbor Day like we're doing today. Another is the investment in trees based on your community's population, which I'm proud to report we went well above and beyond.  Another reason is because of the countless hours donated by our Spruce volunteers. Over 7,000 people have volunteered at one or more Spruce events since its inception just a few years ago. Together, they've removed over 83,000 pounds of litter from our parks, streams and streets. They've also planted over 13,000 plants and trees in our community. …
Many of you will leave here today holding a tree of your own with the goal of improving the look of your yard. I want to challenge you find a few hours in your schedule to help improve our community by joining friends and family and volunteering with Spruce. Twice a year, we offer litter sweeps that can be held in any neighborhood in Cary. Or, consider helping us spruce up a park this season. From what I understand, a green thumb is not required!
Tree-lined streets define our community, and we know our citizens care deeply about tree preservation. I am proud to live in a community where planting and nurturing trees is a priority. We made great strides this year in protecting our community forests, and I'm so grateful that so many of you got involved when it came time to review our champion tree ordinance. …
Two trees were planted during different ceremonies. One ceremony was to honor Kay Struffolino who has been a huge volunteer for the town for years. My time at the event was about an hour.
Sunday
Sunday I had the pleasure of making remarks at the 5th running of the Tobacco Road Marathon. This has become a big race with over 4000 participants and 10% of those qualifying for the Boston marathon. This year there were 400 runners and 200 volunteers from Fr. Bragg.
Witnessing the runners cross the starting line is always a treat for me. It took almost 7 minutes for all the runners to cross the starting line.
Emails from Staff
Emails from staff this week included the current plans under review. These plans entered since the first of February include:
16 townhomes on Edinburgh Drive.
6,162 square foot field house for Cary Academy
195 foot monopole cell tower on Quade Drive
68 single family homes in the Montvale Subdivision on Wrong Way
64 townhomes in Townes at Mills Park on Green Level Church Road
1900 square foot clubhouse in Green Hope Crossing on Green Hope School Road
44 single family homes in the Montvale Subdivision on E. Ferrell Road
14,760 square foot retail in Park Corner on Carpenter Fire Station Road
90,000 square foot assisted living facility in Spring Arbor on Kildaire Farm Road
6793 square foot bank for State Employee's Credit Union on Walnut Street
75,000 square foot office building in Weston on Weston Parkway
20 single family homes in Bailey Park on Bailey Park Lane
5500 square foot expansion at Cornerstone Presbyterian on High House
Emails from Citizens
Emails from citizens this week included a complaint about road conditions on Forest Green Drive, requests not to do improvements at Kildaire Farm and Cary Parkway, a question about the dedication of the Veterans Freedom Park, and a concern about a property owner not maintaining his yard which is creating a hazard.
Get in Touch
This week includes a Mayors Association meeting, a meeting of the Capital Area Metropolitan Planning Organization, and a meeting of the Western Wake Policy Advisory Committee.
Well that is all for this week. My next post will be on Sunday, March 23rd. Although I have Facebook and Twitter accounts those are not the best means of communications with me. Please send all Town of Cary questions or comments to Harold.Weinbrecht@townofcary.org and email personal comments to augustanat@mindspring.com.
———————————————————————————————
From the blog of Cary Mayor Harold Weinbrecht. Photo courtesy of Mayor Weinbrecht.
https://carycitizenarchive.com/wp-content/uploads/2014/03/harolds-blog-031614.jpg
350
600
Harold Weinbrecht
https://carycitizenarchive.com/wp-content/uploads/2020/03/cc-archive-logo-450-v3.png
Harold Weinbrecht
2014-03-17 16:15:47
2016-01-12 17:33:02
Harold's Blog: March 16, 2014