Cary, NC- After writing this article, I may not be ready for bathing suit season, but I can tell you where to go for your next meal. I sacrificed calories to visit Cary's best comfort food restaurants, trying several types of burgers and barbecue, the perfect summer foods.
Burgers
To stay consistent, I ordered beef burgers each time cooked to medium temperature. All restaurants can cook burgers to any specification and many have chicken or vegetarian options as well.
Abbey Road Tavern and Grill
1195 W Chatham St, Cary, NC 27513
(919) 481-4434
Abbey Road has been a Cary staple for years, having earned the Best Burger in the Triangle award 14 times. The grill is owned by Mike and Erin Montgomery who took over two years ago. The burger menu and recipes have remained the same, and all ingredients are now delivered and made fresh daily.
There are 12 styles of burgers most of which have names related to the Beatles. Each burger is made with 10 ounces of Certified Angus beef, hand pattied and dry seasoned on a brioche roll.  I asked Mike which menu item he thought was most underestimated, and he said "the Sgt. Pepper. This burger is topped with grilled peppers, jalapeño, and pepperjack cheese." I ordered it, and thought the ratio of burger to bun was just right. The bread did not get soggy and the jalapeños were a nice touch rather than making my eyes water from the spice.
Burgers pair well with beer, and Abbey Road is not lacking in the beverage department. There are 16 taps,  half of which are dedicated to North Carolina breweries. Drink specials are available, be sure to check the website.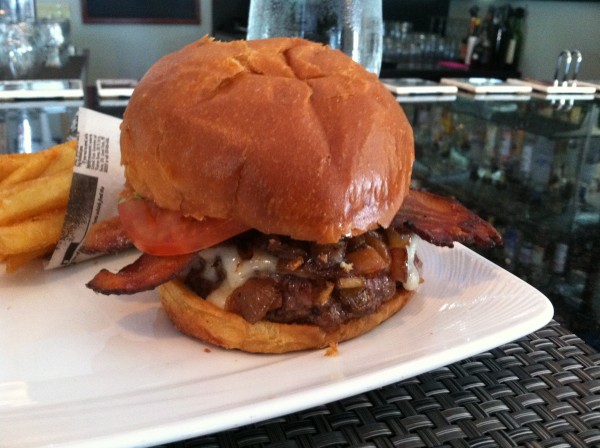 Academy Street Bistro
200 S Academy St, Cary, NC 27511
(919) 377-0509
Although I have tried other items on the menu, I had not yet tasted Academy Street's Black Angus Bistro Burger. Chef Brian Fitzgerald orders the special short rib and chuck blend from New York City, and uses brioche rolls from La Farm Bakery. The Bistro Burger comes with caramelized onions, pickle slices, and lettuce and tomato. You can pay extra to add Vermont white cheddar cheese or apple wood smoked bacon, which I did.
Fitzgerald believes in a simple burger seasoned with salt and fresh white pepper. He stresses the importance of a good pickle, and did intensive research to find just the right one. Fitzgerald orders the pickles whole and slices them in house.
The burger was cooked exactly how I wanted it, and had a fantastic medley of flavors. Like any good burger, it is messy so don't order it on a first date.
Academy Street has four taps and a handful of bottled beer to drink with your burger. It's summer so I suggest a blonde or hefeweizen.
Corbett's Burger and Soda Bar
126 Kilmayne Dr, Cary, NC 27511
(919) 466-0055
Corbett's is a fast food style restaurant where you can go for a burger and rare bottled soda. There are 12 burgers on the menu plus a featured specialty burger. The chuck is ground daily by a local butcher in Apex, and then hand pattied in the restaurant. Burgers can be ordered as singles or doubles with a long list of free toppings and house-made sauces.
I tried the Sodalicious Burger, which is essentially a bacon cheeseburger with additional sauces. The burger was ready in minutes, and came out nice and juicy. The price for a single is only $5.14 making for an affordable lunch.
Although there is no beer on the menu, the soda options are endless. All sodas are on the website with a checklist available for enthusiasts.
Bad Daddy's Burger Bar
Village Market Place, Morrisville, NC 27560
(919) 297-0953
Last December, Bad Daddy's opened in the Park West shopping center in Morrisville, following close behind the Raleigh store. The chain began in Charlotte and has become famous for its burgers and shakes.
Burgers are made with a blend of premium chuck and brisket, and are ground fresh daily. You can choose your bread from traditional, wheat, lettuce wrap, rye, or Texas Toast, and substitutions can be made on any burger. The menu has 15 burgers but not all of them are made with beef; there is turkey, black bean, and chicken as well.
I'm fairly certain I picked the messiest burger, the Sam I Am, topped with cheese, an over easy fried egg, rosemary ham, and pesto. What a great combination, especially the fresh pesto. Next time, I may try it on Texas Toast as the bun gets a bit soggy because of the egg.
Currently, Bad Daddy's has 16 beer taps, with 10 devoted to North Carolina breweries. There are drink specials every day except Saturda. On Wednesdays all NC drafts are $3.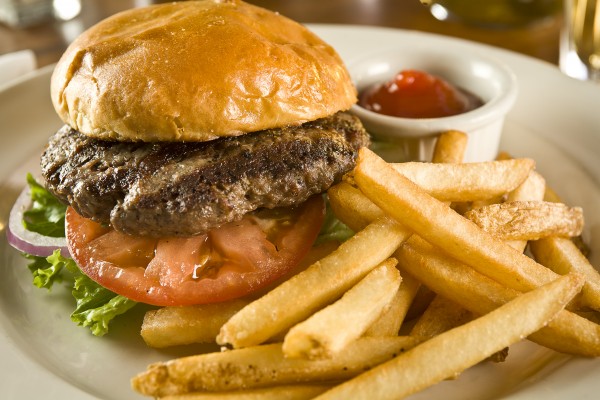 Rally Point Sport Grill
1837 N Harrison Ave, Cary, NC 27513
(919) 678-1088
In a mere five years, Rally Point has made a name for itself in the burger and barbecue world, winning local awards for both items. The base for all burgers is half a pound of 100% chuck meat on a freshly baked bun from Neomonde Bakery. One of the more bizarre burgers on the menu is the Mac N' Cheese Burger, which I have witnessed a friend scarf down in minutes.
Rally Point's barbecue is smoked all day over real wood and pulled on site. You can choose a vinegar-based, smoky western, or St. Louis sauce to give your sandwich an extra zing. This was my favorite barbecue sandwich in the area because the pork was moist with a touch of crispiness on the edges and a wonderful smoky flavor.
Owner, Drew Schenk, is most excited about doubling his beer taps from 10 to 20. The new draft list will have an emphasis on rare and hard-to find beers such as barrel-aged and limited release brews as well as local offerings. On June 14 Rally Point will tap a keg of New Belgian's La Folie, a sour brown ale, and Widmer and Cigar City's Collaboration beer- the Gentleman's Club Ale. Be sure to get there early!
Barbecue Restaurants
City Barbeque
1305 Kildaire Farm Road, Cary, NC 27511
(919) 439-5191
One of the newest barbecue joints in town is City Barbeque, which is so close to my house, I can smell the meat smoking every day. Though tempted by the scent, I had never gone to the restaurant because the parking lot is always packed- a testament to the food.
City Barbeque is a company focused on bringing the community together to enjoy great barbecue. All meat is fully cooked and has a pink color referred to as the smoke ring, a sign of true slow smoked barbecue.
The menu includes pulled pork, brisket, ribs, pulled chicken, turkey breast, and Texas smoked sausage. The pork is hickory-smoked for 16 to 18 hours and seasoned by hand with a dry rub of 18 spices. Of the meats I tried, Lo Lo's Pulled Pork sandwich with coleslaw was my favorite. There are four kinds of sauce to choose from: Original, Brush Fire, yellow, and vinegar.  I preferred the Brush Fire, a red sauce with added spices to make it a little hotter.
I was sitting next to first-time customers, Paul and Betty Lovett who both agreed that the pulled pork was tender and flavorful, and they would definitely be back.
City Barbeque is open for lunch and dinner with $7 weekday lunch specials consisting of a ¼ pound sandwich and two sides. Catering and take-out are also available for family dinners and large group gatherings.
Smokey's BBQ Shack
10800 Chapel Hill Rd, Morrisville, NC 27560
(919) 469-1724
This little barbecue shack is the epitome of a Southern community eatery. There is a casual, welcome feeling as soon as you walk in the door. Smokey's is owned by Kevin and Angela Mote, and named after the mascot for the Tennessee Volunteers.
Smokey's seats 49 inside and there is a beautiful outdoor space with a small pond and several picnic tables, which Kevin says is a popular place for customers to take a lunch break.
The menu is simple and affordable- a pulled pork sandwich with hush puppies and a side dish is only $6.99. Other meats include sliced brisket, ribs, smoked wings, and pulled chicken. Boston butts are smoked for 15 hours on a hybrid propane and hickory smoker then dry rubbed. The typical vinegar sauce and another sauce that is a blend of Eastern and Western barbecue are both on hand.
I liked the smoked wings most of all, they had the texture I hoped for and were moist inside. The dry rub, whatever it may be (it's a secret) gives the wings a killer flavor with a bit of spice.
A small selection of bottled local beers is in the cooler if you want something stronger than sweet tea.
Other Notable Spots
Tribeca Tavern
500 Ledgestone Way, Cary, NC 27519
(919) 465-3055
Tribeca Tavern has an extensive burger menu with 15 burgers that incorporate local ingredients from North Carolina farmers. Burgers are made with all-natural Angus beef and ground in house.
Tribeca owns Mash House brewery in Fayetteville, therefore the restaurant offers all its varieties of beer. The majority of Tribeca's draft beers are from local breweries, and there are specials every day.
Doherty's
1979 High House Rd.
Cary, NC 27519
(919) 388-9930
Doherty's has put a lot of effort into their kitchen and it shows. Everything is good. Burgers are big and juicy, fries are hand cut. The Brisket Melt is outstanding.
Five Guys Burgers and Fries
1856 Boulderstone Way
Cary, NC
(919) 465-1936
At Five Guys you can get a basic hamburger or add cheese and/or bacon. There is also a list of 15 additional toppings that you may use to create your perfect burger. All burgers are cooked well done in order to stay consistent from one restaurant to another.
Dickey's Barbeque Pit
200 Crossroads Blvd #100, Cary, NC 27518
(919) 233-5801
This chain has a variety of pit smoked meats from pulled pork to chicken to ribs. Meats are seasoned and slow smoked over hickory wood and sold whole, by the pound, on meat plates or on sandwiches.
Kids eat free every Sunday, and there is free ice cream every day.
Danny's Barbeque
311 Ashville Ave, Cary, NC 27518
(919) 851-5541
Danny's BBQ consists of chicken, ribs, pork, beef, and turkey, all slow cooked on an open pit with hickory wood. Original sauces including traditional North Carolina vinegar sauce are provided to all customers.
If you have a favorite spot, or if we missed one, please feel free to add a comment at the bottom of this article. We always like to hear what our readers have discovered here in Cary!
———————————————————————————–
Seasonal coverage on CaryCitizen is sponsored by Rally Point Sport Grill, Academy Street Bistro, Great Harvest Bread and by Whisk.
beer BBQ Guide ad codes
———————————————————————————–
Seasonal coverage on CaryCitizen is sponsored by Rally Point Sport Grill, Academy Street Bistro, Great Harvest Bread and by Whisk.
https://carycitizenarchive.com/wp-content/uploads/2014/06/burgers-beer-guide-2014.jpg
350
600
Community Contributor
https://carycitizenarchive.com/wp-content/uploads/2020/03/cc-archive-logo-450-v3.png
Community Contributor
2014-06-12 15:19:29
2019-12-18 13:25:50
Guide to Cary Burgers, Beer and Barbecue