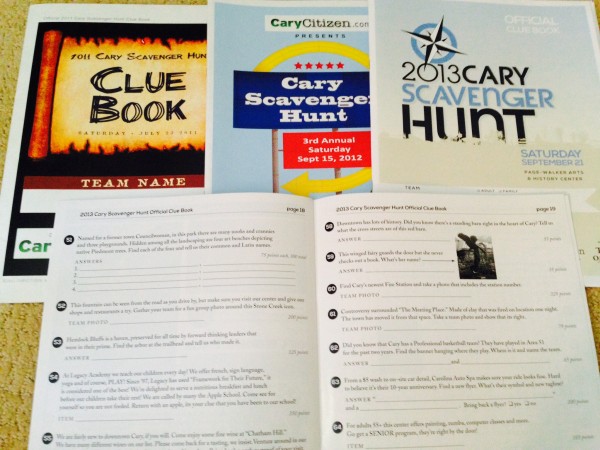 Cary, NC- By now you may have seen posters around town, or flyers promoting our Cary Scavenger Hunt at your favorite local businesses. You may be wondering "what is the Cary Scavenger Hunt?" Or "What sorts of clues are people hunting for during the event?"
Glad you asked. There are three main types of clues that teams will be tasked with finding.
What Makes a Clue?
In order to get credit for visiting various sites around town, our judges will need proof that you and your teammates actually visited the locations that the clues hint about. Some clue answers will be local businesses, some will encompass Cary's public art placements, others will involve trivia about historical places or facts, and still others will test our teams' knowledge of the greenway and park system.
You get the idea. No one is an expert at EVERYTHING. Well, almost no one. We at CaryCitizen pride ourselves on knowing a lot about Cary, and what we don't know, we have experts to help us. People like Lyman Collins, the Cultural Arts Manager for the Town of Cary, and Brent Miller president of The Friends of Page-Walker, and Kris Carmicheal, Page-Walker Supervisor and lots of others town celebrities willing to lend a hand. They also help us judge the teams answers at the finish line.
The Three Types of Clues
Most answers fall into three categories: team photos, bringing back an item, or filling an answer in the book. That's right, everyone gets an official Clue Book  (one per team) on the morning of the event. It serves as the official guide to all things Cary Scavenger Hunt.
1. Take A Team Photo
A question that requires a team photo, means just that. The whole team must be in the photo, at the correct location, wearing their 2014 Cary Scavenger Hunt t-shirts. You may have to ask a friendly stranger to snap that photo, or if you are great at taking "selfies" that will suffice. The judges will score based on whether you got the location correct and if everyone is in the photo. teams are strictly NOT allowed to "divide and conquer" the cluebook to beat the time. Teams MUST stay together. Heck, its more fun that way!
2. Bring Back an Item
Some clues will require teams to visit a location and collect something there. Maybe a bottle of sauce, or a rock,who knows? The judges will ask the teams to produce that item in order to be awarded points.
3. Fill In an Answer
Other clues will test your knowledge by requiring teams to visit a location and learn something, then fill in an answer in the space provided in the book. It may be a person's name,  a date, a number or an interesting fact they find.
"Miscellaneous Clues"
Still other clues may require teams to have some paper and pencils to make a rubbing of a plaque or to make something and bring it back.
The whole point of the Cary Scavenger Hunt is to get a little outside of your comfort zone, and go discover what Cary has to offer. All clues require that teams physically visit the locations, not simply answer from memory. We want you to see and learn about town during this one day adventure.
Teams have from 9:30am until 1:30pm to trek to as many of the 60+ clues as they can. It CAN be done- we have had teams that have answered nearly every question in our book in one day. You can do it too!
What are you waiting for?  Sign up today and start watching our Facebook page for helpful hints to "get you in the game."
Event Info
The 5th Annual Cary Scavenger Hunt
Saturday September 13, from 9am check in til 3:00pm winners announced
Page-Walker Arts and History center (and beyond!)
Teams of four $49.00
https://carycitizenarchive.com/wp-content/uploads/2014/07/cluebooks-photo-e1404244819377.jpg
450
600
Lindsey Chester
https://carycitizenarchive.com/wp-content/uploads/2020/03/cc-archive-logo-450-v3.png
Lindsey Chester
2014-07-17 10:49:39
2014-07-17 10:53:49
Cary Scavenger Hunt - What's A Clue?