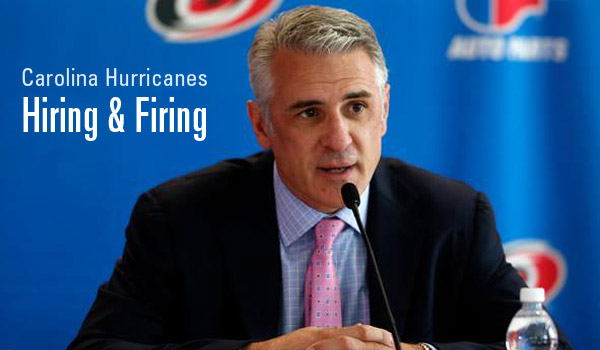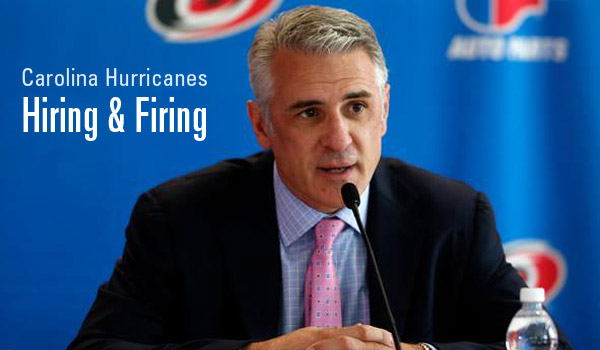 Cary, NC — The Carolina Hurricanes made major changes in the front office and behind the bench but not as many as expected with players.
Under New Management
To no surprise, Jim Rutherford stepped aside as General Manager and Ron Francis was named the new GM.
Personally, I'm glad Francis got the job. During his introduction he said he 'was his own man' which left no doubt that a new head coach would be named. Francis wasted no time with firing Kirk Mueller and then hiring Bill Peters. Peters was one of the hottest commodities as an assistant coach, so landing Peters was an impressive indication of Francis' hiring and selling prowess.
The selling process comes in play as the Canes have missed the playoffs for 5 straight years and have some players whose performance on the ice doesn't come close to their salaries. The Canes organization has an excellent reputation throughout the league and the location sells itself. Several former players still call the Triangle area home. Peters and his family have settled in and have said they are happy to be in Raleigh.
Going, Going, Not Gone
No question, the Canes were trying to make some major changes, but in the end, none of the big names were traded.
Cam Ward led the list of a possible trade. Last year, Ward was the 4th highest paid goalie, and, due to injuries and some poor play, lost the starting job to Anton Khudobin.
Justin Peters has gone and signed with the Washington Capitals. The Canes did not resign Manny Maholtra, Drayson Bowman, Nicolas Blanchard, Radek Dvorak, Mike Komisarek, Andrei Loktionov or Joni Pitkanen.
Pitkanen was not a surprise as he was out all last season due to a broken heel injury late the previous season and fell into that category some would say was a high salary-low on ice performer. Pitkanen also hasn't skated in 16 months as he's still having issues.
The Canes brought back Tim Gleason also signing Brad Malone and Jay McClement as forwards. They drafted Haydn Fleury as 7th overall and the book on him is very impressive but doubtful to make the team this season.
Hold On To Your #59 Jerseys
The Canes signed Chad LaRose to a contract with the Checkers.
After the 2013 season, LaRose's exit from the Canes was bizarre. He left Raleigh right after the last game, refusing to have the required exit interview. It was reported that the Canes tried to contact LaRose but he was always unavailable. I'm not sure what the relationship was with coach Mueller and LaRose, but other players made it known Mueller had issues with several players.
2012-13 was one of LaRose's poorest years all over: playing time, goals on ice performance and was often a healthy scratch. He's great in the locker room and was the last Cane to challenge Boston's 6'9" Chara to mix it up. No doubt, LaRose can get under any opposing player's skin.
He would have to sign a NHL contract to get called up during the year and if he plays well for the Checkers, I expect that to happen. I honestly can't see the Canes offer much more than the NHL minimum knowing his past salary and absence from the game for nearly a year and a half.
Produce or Perish
With the Metro Division the Canes are in, every game is critical. Eric Staal and Alex Semin head the list of players that started the season with injuries that did not completely heal over the summer. Then there was the goalie injury epidemic and a beefed up defense that didn't perform as expected.
Some bright spots were Nathan Gerber, especially with his highlight of the year goal, Maholtra, with his face off success and leadership quality, Skinner, finding his scoring touch and showing maturity on the ice and Khudobhin, finding his groove.
Everyone will have to do better this season. The power play was among the weakest in the NHL but the talent on paper is in the top 5; power play defense was also a disappointment as were overtime outcomes whether it be the extra 5 minutes or a shootout.
If the Canes score just 10 more PP goals and win 4 OT games/shootouts, they would easily make the playoffs. If they double those 2 categories, they'd be classified as an elite team this season. It's real simple, they need to score more and allow fewer goals.
Not making the playoffs for 5 straight years gets old for fans, older for players. As hard as it is to believe as most people think with the money pro athletes make, they hate it more than we do. They all have the burn in their bellies to improve this season. They also know several players NHL careers ended last season that should have had many years of playing left and don't want that to happen them.
Fan support is always key. Cary citizens can take in any game and be home for the 10 o'clock news. Watching on TV is fine but nothing is better than experiencing a NHL game in person.
———————————————————————————————-
Story by Bob Fennel, starting his fourth year of Canes coverage for CaryCitizen. Photo from Carolina Hurricanes on Facebook.
https://carycitizenarchive.com/wp-content/uploads/2014/08/canes-hiring-firing.jpg
350
600
Bob Fennel
https://carycitizenarchive.com/wp-content/uploads/2020/03/cc-archive-logo-450-v3.png
Bob Fennel
2014-08-19 11:22:37
2014-08-19 15:58:37
Canes: Hiring & Firing