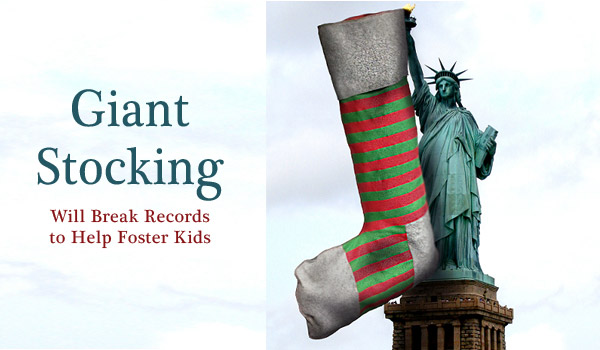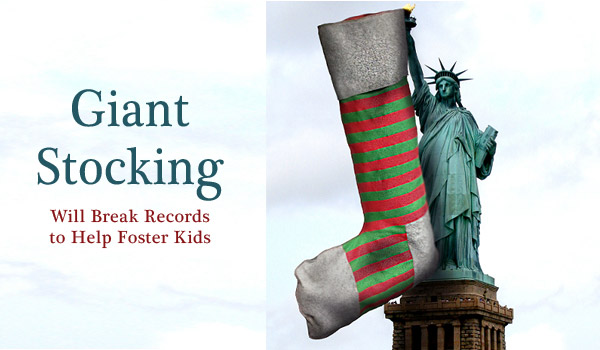 Cary, NC — This December, the Guinness Book of World Records will visit the NC State Fairgrounds to determine if a Christmas stocking being planned right now will become a record-holder. Even more important than setting a record are the people the stocking's contents will help–over 1,000 foster children living right here in Wake County. 
Helping Neglected Children Since 1991
The Friends of Wake Guardian Ad Litem have been providing Christmas for foster children in Wake County through their Guardian Angel project since 1991. Babs Wagner began the project because she wanted the foster children that she oversaw as a court-appointed guardian ad litem to experience Christmas.
Guardian Angel Project
Each year, after identifying children in need (those falling within 200% of the national poverty level), she and other volunteers meet with caregivers or foster parents to determine what their child's Christmas wish list will be. The Guardian Angel project then matches up donors to "adopt" that child's list and fill a package with those gifts. Through this project, the children are able to receive the gifts they truly wish that Santa, or a loving parent, could provide for them.
The project has steadily grown over the years, as 1114 children were served in 2013. Liza Weidle, President of the Friends of Wake Guardian ad Litem (and a court appointed guardian to 4 children herself), told CaryCitizen that more than 600 children were turned away last year because there were simply not enough donors.
It may be August, but the work that goes into helping these neglected and foster children begins early. An army of volunteers is required to collect donations, shop, store, and distribute the gift packages.
Epic Proportions
This year, the project has taken on epic proportions with the addition of the team's own guardian angel, a Cary-based company called Imaginigami. The company came up with the idea to hold an event that would raise so much awareness and be so large that it would raise more money and attract more gift givers to the cause than ever before.
Their idea was to create the largest gift-filled stocking ever made to showcase as the central piece for a huge Christmas event. The stocking will be 180 feet long from top to toe and will be 110 feet wide at the opening. That's a lot of fabric! Travis Krumbaker of Imaginigami, a former scene designer for Disney, will be overseeing the production of the stocking and the setting for the fair. An entire crew will be put to work constructing the actual stocking.
Company Was Looking for a Group to Help
Imaginigami found the Friends of Wake Guardian Ad Litem when they were actively searching for a non-profit that was doing great work but that needed more funding and public awareness. They previously held an event called Halloween Town to help children in Boston, and now they want to try something here in Wake County. The Imaginigami company produces large- scale events all over the country. In fact, their owner has a Disney background. They found the Guardian group and quickly bonded with the idea of creating a unique Christmas event that would focus on helping children.
Christmas County Fair
The Christmas County Fair  will be held in the Exhibition Center at the fairgrounds from December 12-14, 2014. Ticketed visitors may make a monetary donation or bring a gift to come inside  the largest stocking  ever built to see the mountains of gifts on display and visit with Santa. The fair itself will include a giant indoor snowball fight arena, live musical and dance performances, a model train display, food and exhibition booths, a gingerbread display, and crafts for sale.
To produce an event of this scale costs a lot of money, and the organizers are actively seeking monetary donations as well as gifts for the children. The event will cost over $110,000 including the $40,000 needed to create the stocking itself, the fairground's rental space for the days leading up to and including the fair, and associated expenses.
Sneak Peek at Lazy Daze
Before the Big Christmas event, you can visit the Christmas booth at this year's Lazy Daze celebration in Downtown Cary on Saturday, August 23. The group will be making it snow in August with help from Snow My Yard, a local company that makes it snow whenever they can. They have donated 8 tons of snow so that it will be snowing every 20 minutes near the Children's Zone in the Cary Post Office parking lot. The Friends will also have their own fun booth where Santa will be available for summer-time Christmas photos. They hope to raise money and awareness at Lazy Daze and to create excitement for the upcoming Christmas County Fair.
For years, the Guardian Project has been run by just two people, Babs and Liza. Hopefully through this large-scale project being executed by Imaginigami, the Friends of Wake Guardian Ad Litem won't have to turn away any children this year.
Gifts will be distributed after the fair, when caregivers can come in a "shop" for their children made possible by the donated gifts. Others who have previously been matched up with donors can come to this central location to pick up their child's packages. Gifts won't have to be stored in people's attic and garages all year; rather, there will be a one-stop location, the fairgrounds.
Event Info
Christmas County Fair
Dec 12-14
Exhibition Center
NC State Fairgrounds, Blue Ridge Road, Raleigh
Tickets go on sale October 15, prices have not been posted as of this writing
Preview
Cary's Lazy Daze Arts & Crafts Festival
Saturday, August 23, 9am-5pm
Downtown Cary (Academy and Chatham Streets)
Look for the Children's Zone near the post office
——————————————————————————————————————-
Story by Lindsey Chester.
——————————————————————————————————————-
Community coverage on CaryCitizen is sponsored in part by Hopewell Academy.
https://carycitizenarchive.com/wp-content/uploads/2014/08/giant-stocking.jpg
350
600
Lindsey Chester
https://carycitizenarchive.com/wp-content/uploads/2020/03/cc-archive-logo-450-v3.png
Lindsey Chester
2014-08-20 13:23:39
2016-01-01 19:09:32
Stocking Will Break Records to Help Foster Kids