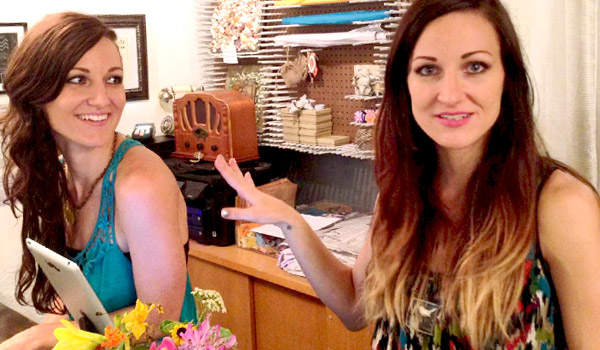 Cary, NC — Twin sisters Amanda Almazon and Ashley Faries started Lucky Pie Gallery two years ago on a Lazy Daze festival weekend. They have boot-strapped the business as it has grown and are now ready to take the next step by launching a Kickstarter campaign for crowd-sourced funding.
The sisters, originally from Durham, have a passion for creating art made from recycled materials. They started selling their art pieces out at the NC State fairgrounds but soon tired of hauling their wares back and forth each weekend. After looking at location options for a store in Cary, the town in which their brother lived, they decided that downtown had the right feel. They fell in love with the chosen space–especially its quirky archways, large display windows, and front yard.
From Fairground to Retail Shop
Ashley and Amanda spent about nine months engaging in business meetings trying to figure out what they wanted to do. In the meantime, they had a sizable inventory and a small community of artists who would be willing to join them. They came upon their current location and found that the price was right; then, everything just clicked.
The space formerly belonged to a hairdresser, and 50 years ago, it was Cary's original library. The sisters completed all the renovations themselves, painting at night until they were open in a few short weeks–just in time for Lazy Daze 2012 and for the birth of Amanda's son.
When the shop opened, most of the items for sale were made or refurbished by the twins and a small community of  about 10 other artists they knew. They shared a penchant for re-used or up-cycled materials and vintage decor, especially mid-century modern. Quickly, they filled the yard with large metal sculptures and the windows with a quirky mannequin and various yard art to draw in passers by. Customers began to take notice.
Community of Artists
Today, Lucky Pie represents a community of about 60 artists who each get a small display area in the shop. You can find original art that won't break the bank. Amanda and Ashley encourage their artists to price items reasonably, and each artist receives 60% of their sale with the remainder going to the gallery. When you visit, you may see small sculptures made from used hardware, paintings that incorporate collage paper, jewelry made from bottle caps and metal findings, and furniture that has been painted and newly upholstered.
Amanda says that the focus of the store/gallery hasn't changed since they opened. They grew up in a close community and a large family. "We'd rather have a small piece of a large pie than a large piece of a small pie" she says. Their grandfather having been a small business owner always taught them that "it's like a sin to go to WalMart".
In establishing Lucky Pie, the sisters aim to "cultivate a community of creators."
Ashley describes the store, stating that:
When you come in, you are going to see something you've never seen before–raw talent and many different mediums. All kinds of art, with a good value, and some gift items.
Many works are great conversation pieces. When talking about her own art, Ashley adds that she and Amanda are always "keeping our eyes open for stuff we can re-purpose and give new life."
The twins know their space cannot be permanent, and there are upcoming plans to turn their corner into mixed-use retail. However, those plans have taken longer than expected to come to fruition for landlord George Jordan. Lucky Pie signed the lease with the full knowledge that the space would be theirs for about 1-1/2 years. It's been two years and nothing has moved forward with the redevelopment plans, and they praise the landlord for keeping in touch with them.
Kick Starter Campaign
As they celebrate year two in what is known to be a temporary space, the twin sisters have their eyes on expanding their concept. They would like to launch Lucky Pie Cafe, where they plan to add live music, coffee, and food to the mix. Ashley and Amanda want to stay with their customers in Downtown Cary.
The sisters have not borrowed any money for the two years that they have been in business. Lucky Pie has become sustainable and profitable, and it has grown. To expand their business, Ashley and Amanda need additional funds–that's where the idea for a Kickstarter fundraiser began. Look for them under "Be a Part of the Pie" or search "Lucky Pie".
Their goal is to raise about $24,000 in sixty days beginning Lazy Daze weekend and wrapping up in November. If they achieve their goal, Ashley and Amanda will start a serious look at spaces for their move in January. Individuals who donate to their funds will become "A Piece of The Pie" and will receive original art gifts depending on the size of their pledge. As with all Kick Starter campaigns, pledges are only cashed when the recipient reaches their goal. If they don't hit the goal, no money is drafted.
Check out the Lucky Pie Kickstarter page.
We wish them luck. If you find yourself downtown,  pay Ashley and Amanda a visit and tell them that CaryCitizen sent you!
—————————————————————————————–
Story and photos by Lindsey Chester.
—————————————————————————————–
https://carycitizenarchive.com/wp-content/uploads/2014/08/lucky-pie-2.jpg
350
600
Lindsey Chester
https://carycitizenarchive.com/wp-content/uploads/2020/03/cc-archive-logo-450-v3.png
Lindsey Chester
2014-08-26 15:40:58
2019-12-08 10:14:29
Go Local: Kickstarter for Lucky Pie