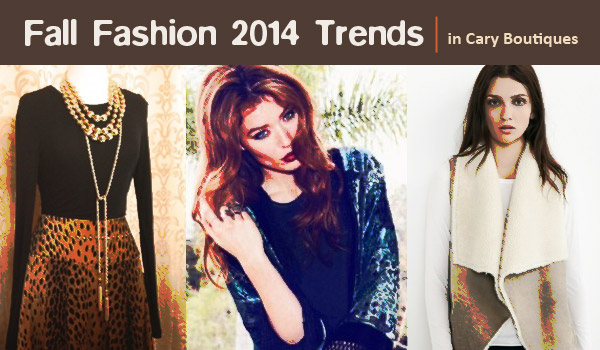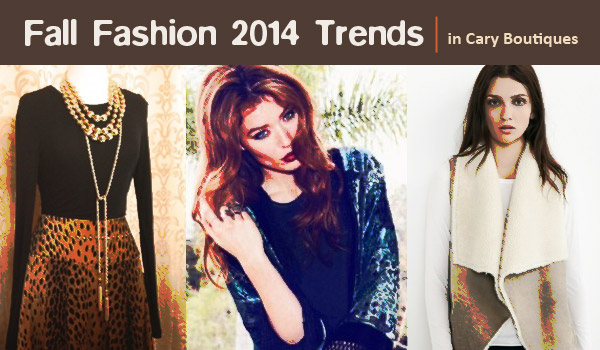 Cary, NC — Although for many it seems that summer never fully materialized, the quest for Fall Fashion Trends traditionally begins right after Labor Day in Cary.
Fall Fashion 2014 Refresh
As the days get shorter and the nights get cooler, we look to add more layers to our look and to refresh our wardrobes with richer colors and structured shoes and bags. Cary now has many independent women's clothing boutiques where customers can work directly with store owners to individualize their looks.
CaryCitizen visited several boutiques this month. Down below, you'll find some of the trendy items we found.
Violets in Waverly Place
Hannah Ellis opened Violets a few months ago and is now starting to get in her fall merchandise.
Her key Fall Fashion 2014 trend is all about comfort and layering. By adding one funky piece that you will want to wear every day, you will make your own new fall fashion statement.
What she loves this season: vests, camis, tanks and tees with sweatshirts, hoodies, capes, and kimono styles all worn over jeans and leggings in various weights and textures. Some of the lines found in Violets include Free People, Citizen Jeans, and Raleigh Denim.
Plaid is back this fall, and Violets has some shirts that mix a couple of different plaids together in one piece. Flannel is another texture that is not too heavy but that has a cozy feeling for fall.
One of the lines Hahn carries, Wild Fox, updates basics like hoodies and sweatshirt silhouettes with organza and rayon faille combined with cozy knits. The resulting look can be dressy if you pair it with tuxedo pants or relaxed if paired with knit leggings. Hahn feels strongly about under pieces and will be bringing in slip dresses that can be worn both on their own to look dressy for a party or over leggings with a cardigan to run errands around town.
Paisley in Downtown Cary
Lauren King opened Paisley before Lazy Daze, and her store is already attracting college-aged customers, along with Cary Moms.
For Fall Fashion 2014, the store is seeing some lightweight layering pieces–like the kimono style pictured above. Fabrications remain lightweight for layering, and over-sized sweater knits are going to be very popular. Color will be bright with shots of jewel toned fuchsias and purples. Her customers still like maxi lengths, but those are paired back for fall in favor of bright tops and lightweight, oversized sweaters that are paired with tight-fitting jeans and leggings.
The Fall 2014 trend here will be bright clean, decidedly upbeat, and unfussy.
My Girlfriend's Closet in Downtown Cary
Lois Cozart owns three My Girlfriend's Closet stores–the original in downtown Apex, one in Wilmington, and one in Downtown Cary. She actually buys her consigned clothing outright, which allows her to be more selective in what she puts out on the floor.
Lois feels strongly about cape-styled tops and trench shapes. The key Fall Fashion 2014 trend in the store will be "Jewel Tones" will be big for her Cary customers–particularly sangria and royal colors. Sparkle continues to play an important role, especially as we move more towards the holidays and as lace continues to pop up on everything, from dark-colored jackets (like the trench-style pictured above) to inserts on pants and skirts.
Lois dresses clients of all shapes and sizes with flair and added a plus-size area this summer.
Purple Polka Dot
The Purple Polka Dot on Academy Street in Downtown Cary is celebrating 4 years in business. The store became one of the early boutique trail blazers when owner Kristen Gurganis opened and began offering trendy clothes, hand-painted furniture, and unique gift items. Kristen says the women who shop here love her accessories and cute, affordable tops.
Big, oversized t-shirts worn over leggings with boots in the fall are extremely popular in the college crowd. For Fall Fashion 2014, fringe is going to be a big trend, on tops, jackets, and dresses (like the top pictured above).
Accessories continue to be a staple part of the business for the Purple Polka Dot, especially the bracelets Kristen sources from Bourbon and Bowties out of Florida–she can't keep them in stock. The most popular are made with three large crystal rocks wired together on a gold band. Clients even special order them. She continues to get in adorable dresses, both above the knee and maxi, in tribal and geometric prints which are great "game Day" staples with many of her NC State clients.
Adore in Preston Corners
Nancy Alinovi, the owner of Adore, says midi-length skirts and dresses will be big this fall. A short length is not going away completely; rather, Midi and A-line shapes simply look new again. She feels plaids and buffalo checks will return as popular patterns of the season. Skin prints, including leopard, cheetah, and zebra, have become year-long basics and are almost a neutral and reliable standby in any woman's wardrobe.
Tribal prints, which really took off for fall 2 years ago, have remained popular throughout the spring and summer and aren't going away either. What makes them look new is the mixing of lighter colors into spice tones for an updated look.
Florals never go away, but they do have dark backgrounds for fall. Nancy is a believer in the skinny jean basic and was wearing a pair with an oversized plaid shirt the day of our visit. In a lightweight fabric, the shirt was a great way to get the fall look, despite the fact that the outside temps were still hovering in the 80's.
Peachy Keen off North Harrison
Karly Hankin, co-owner of Peachy Keen boutique, says, "Over the next few months, as the weather cools, it's fun to mix summer trends with new emerging fall styles. We are seeing vests all over! Faux fur, real fur, sherpa, and everything in between." She believes that wearing a vest with a tank top and shorts or a dress is a great way to move into fall without getting overheated.
Dresses are being covered with many prints and patterns, some mixed together. She adds, "This fall when I was buying, I tried to shy away from dark plain colors–I didn't want the shop to turn dark!"
She is also loving fringe trim. This bohemian chic trend is just getting started here, but we did see it earlier in our Belk Fashion preview (CaryCitizen story).
The last trend we are loving for Fall Fashion 2014: kimonos & fringe. It's very boho-chic and dresses up any lackluster outfit.
Fall and Winter in the Triangle are not very cold, so by combining several lightweight layers, women can take off items as mid-day heats up and put that sweater and scarf back on when the evening chill arrives. Leggings will be a key ingredient, and skinny jeans are not going away anytime soon.
Make sure you have some pretty scarves to add some texture, pattern, or sparkle to your look and a few well-selected cardigans or kimono outer layers to top off your outfit. Mixing pieces will extend the life of what you do decide to purchase this fall.
Happy Shopping!
—————————————————————————————-
The Fall Fashion 2014 Update has been sponsored in part by Violets in Waverly Place and Adore Upscale Resale Boutique in Preston Corners.
https://carycitizenarchive.com/wp-content/uploads/2014/09/fall-fashion-2014.jpg
350
600
Lindsey Chester
https://carycitizenarchive.com/wp-content/uploads/2020/03/cc-archive-logo-450-v3.png
Lindsey Chester
2014-09-16 17:08:49
2014-09-19 09:56:14
Fall Fashion 2014 Trends In Cary Boutiques