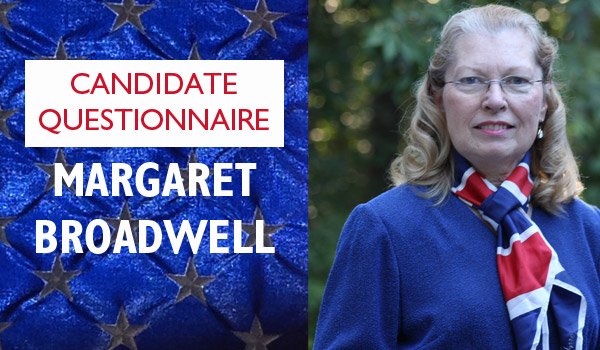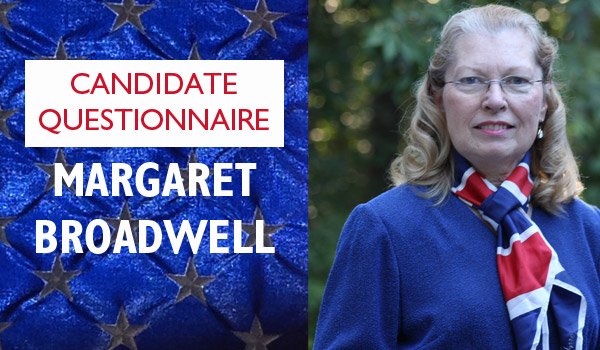 Cary, NC — This is the second installment of our Candidate 2014 series, in which candidates get to respond in their own words to the same three questions.
This is our fourth year doing the Candidate series. As usual, we publish the responses in the order we receive them. Next up is Margaret Broadwell, challenger to the incumbent holding the District 40 seat in the NC House.
Q: Why are you running?
I have taken up the challenge to win the NC House, District 40 seat currently held by Rep. Marilyn Avila because someone has to stand up for our North Carolina families. In order to reduce the negative impact currently being felt by so many due to policies that have been implemented by the Republican leadership, we must have new leadership. I believe I can contribute in a positive way to the quality of life of our citizens.
I have served Morrisville citizens for 30 years, 14 years on our Town Council (two as Mayor), and have played a vital role in much of the success that Morrisville families have enjoyed and see today. Rep. Avila has served almost eight years. While I thank her for her service, I do not agree with many of her votes. She votes along straight party lines, having come from the John Locke Foundation as an employee. In some cases she has even led the way in enacting laws that have set our State back decades.
We used to be known as the "education" state. Not any more. We used to be known as "the good road state". Not any more.   Women's rights and equal pay under the law has suffered under her leadership. Our environment and natural resources are under attack from fracking and lack of quick enforcement and controls on polluters. These are only some of the issues.
We all deserve better. The only way to change the current behavior and outcome is to change some of our elected officials. Our families need good paying jobs, affordable world class healthcare, quality educational opportunities and a reason to be optimistic about our future. I know we can do better and I am willing and ready to help make that happen.
Q: What are your top 3 priorities and how will you get it done?
Our top priority must be education. Our State Constitution states that it is the responsibility of the State to provide good, public education for every child. While we used to be ranked near the top in education, we have continued to drop and are now considered to be 47th or maybe lower in the ranking of our 50 states. We now spend less per child from the state treasury than we did fifteen years ago. This is both unthinkable and unacceptable. Education is the basis of personal opportunity and prosperity. Education is the key factor in economic development. All companies need a well trained work force. A good education will stimulate the brightest minds to produce new inventions and technologies that will lead us into the future. I will bring our focus back to education by voting to increase funding for teacher pay, textbooks and other educational needs at all levels.
While veterans needs are thought by some to be a Federal government issue, I believe there should be direct involvement also at the State level to ensure that our service personnel and their families have the very best in healthcare, housing opportunities and employment when they return to civilian life. We can improve upon our veteran's knowledge of and accessibility to current programs. There are many private organizations who currently focus on separate issues affecting veterans, however, a coordinated approach would perhaps be more effective towards the delivery of services. The State could help in this regard. I am very interested in bringing all parties together in order to find new ways to improve the quality of life for our veterans. There has to be a commitment to this need and urgent call for action. I look forward to be the catalyst.
All of my top priorities are "people" issues. After all, as elected officials, we are public servants. We are fortunate to live in Wake County near the Research Triangle Park. This visionary business environment has spurred innovation and technology developments worldwide. My mission would be to increase funding for biotechnology and medical research. Over the last few years especially, our state has cut back on this type of funding. I believe this is short sighted. Advancement in scientific research for cures of our most devastating diseases would not only benefit the patients, but also their families and their employers. Billions of economic dollars are lost each year due to the loss of individuals  from the work place due to illness. This loss of productivity is a huge expense for companies and also drains public dollars from our State and Federal treasuries. We need healthy individuals who will be productive members of society while paying into our State and Federal revenue streams. Healthy individuals are happy individuals. I will work hard to increase funding for our biotechnology research  companies.
Q: Give us a brief bio and tell us about your relevant experience.
Born in Richmond, Virginia, 1948
Wake County resident for 60 years
Married. Husband, Jerry; son, Jarrett; daughter, Shannan
Church affiliation:  Episcopal
Local elected official 14 yrs., former Mayor, Morrisville Town Council
Small business owner:  Variety Venues, LLC; Leather-Wraps; Jewels By Margaret, LLC
Helped to start the Morrisville Chamber of Commerce
Co-founded the Morrisville Rotary Club
Member of Lillian's List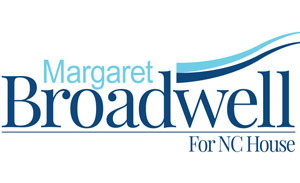 Website: http://www.broadwellfornchouse.com/
https://carycitizenarchive.com/wp-content/uploads/2014/10/margaret-broadwell.jpg
350
600
Community Contributor
https://carycitizenarchive.com/wp-content/uploads/2020/03/cc-archive-logo-450-v3.png
Community Contributor
2014-10-15 14:09:51
2016-01-01 19:09:34
Candidate Questionnaire: Margaret Broadwell