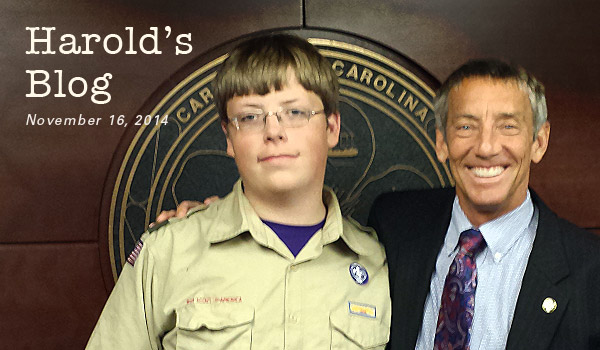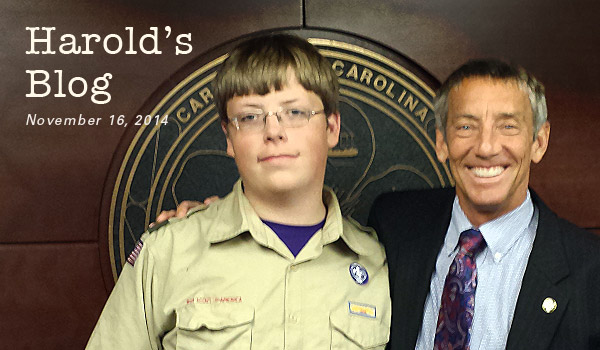 Cary, NC — This week was busy despite having a day off for a town holiday.
Monday
Important Issues
Monday I met with the town manager to discuss several issues.
First, we discussed January's retreat in Charlotte and how to keep costs low. Transportation will be provided by NCDOT Rail without cost to the town.
Next, we discussed my thoughts on whether council would appoint a replacement for Mayor Pro-Tem Adcock's vacant seat or wait until the election next November. At this time I believe council is leaning towards waiting.
We also discussed next fall's Lazy Daze location which might be on town hall campus and on a small portion of Academy Street. This new temporary location will be necessary since the usual location on Academy Street will be undergoing new water, sewer, and streetscape changes.
Our last topic was about Google fiber. Both of us anticipate that Google will select Cary in December since all talks are continuing and everything looks positive. If this happens, Google will hire several contractors to install the fiber throughout town with an aggressive 12 to 18 month timeframe.
This will mean a lot of dug up yards and a lot of complaints (I have actually complained in the past about my yard being dug up multiple times by communications contractors). In addition, we will need to consider hiring extra inspectors to handle the volume of permits that will be required to complete this installation. Staff is investigating all these possibilities and we will know more soon.
Boy Scout Interview
Later Monday I met with Boy Scout Addison Young who interviewed me for his Citizenship in Community Badge. He asked questions about my vision, biggest accomplishments, biggest problems, etc. We had a good talk and it lasted about 45 minutes.
Tuesday
Tuesday was Veteran's Day which is a recognized holiday for the Town of Cary. So I was fortunate to have the night off. A big salute to all veterans who served and are serving our country. Thank God for you and all you do!
Wednesday
Time at Davis Drive Elementary
Wednesday I had the pleasure of speaking to the entire 3rd grade class at Davis Drive Elementary. Each classroom had elected mayors, and I met with them privately before meeting with the entire 3rd grade class. The toughest question I got from the mayors was, "Who is your favorite political person?"
Since I am not really a big fan of any particular political figure, that caught me by surprise. Then I remembered my good friend Gale Adcock who was just elected to the NC House. She is, by far, my favorite political figure. I spent about 15 minutes with the mayors, and then we headed to the assembly of all 3rd graders. I talked about my roles and duties and then answered a few dozen questions. It was a lot of fun, and I hope I get invited back to do this again.
Morrisville-Cary Joint Issues Committee Meeting
Wednesday night I traveled to Morrisville to participate in the Morrisville-Cary Joint Issues Committee meeting. There were several updates that included:
The Cary Parkway sidewalk project from the CVS to Sheldon Drive. This is in Morrisville and NCDOT approved this month. It should be under construction in March.
The McCrimmon Extension Project is 14.3 miles from Highway 54 to Aviation. Construction should begin in May and last until 2018. It will open up 400 acres of undeveloped land for Morrisville.
Morrisville's Sports Complex will have 2 hockey rinks and will be the practice space for the Carolina Hurricanes. It will seat about 1250 people and will have volleyball and gymnastics space. It will be on 20 to 25 acres on the Morrisville Parkway Extension.
The Greenways from Crabtree Creek to the American Tobacco Trail is about 10 miles long and goes through sections of Morrisville and Cary. All but two Cary sections, totaling less than 3 miles, will be completed by 2017.
Louis Stephens Road goes through Cary, Morrisville, and Wake County jurisdictions. The incomplete part is all Morrisville or Morrisville's ETJ. They are trying to get state funding for the remaining sections.
The meeting concluded in about an hour. The next meeting will be in Cary and held at a date to be determined in February.
Thursday
Dorcas Ministries Thanksgiving Breakfast
Thursday morning I attended the annual Thanksgiving breakfast fundraiser by Dorcas Ministries. There were over 350 people in attendance. Dorcas ministries provided assistance to over 13,000 people last year. Some of the ways they provide assistance is through their food pantry, crisis ministry, education scholarships, childcare, job training center, and park fee assistance.
Most of us are blessed in Cary, and I believe many would be shocked to find out how many are in need. So if you can find it in your hearts please help Dorcas with clothing, donations, and volunteer hours. Cary is blessed to have this organization serving people of our town and surrounding areas.
Three Quasi-judicial Hearings 
Thursday the council held three quasi-judicial hearings. Quasi-judicial hearings are for special use permits, certain subdivision and site plan applications and for certain other applications. During a quasi-judicial hearing, the Hearing Body must hold an evidentiary hearing and make its decision based on the written and oral evidence presented.
Unlike legislative decisions (like rezonings), a quasi-judicial decision must be based solely on the evidence presented and cannot be based on opinions of members of the Hearing Body. Put differently, a quasi-judicial decision is one that requires the Hearing Body to find facts and exercise discretion when applying the standards of an ordinance to a specific situation.
Green Level High School
The first quasi-judicial public hearing was whether to allow Wake County to develop a 321,000-square-foot high school, called Green Level High, with modifications to location of parking, connectivity to adjacent parcels, removal and replacement of champion trees, and architectural standards. In presentation and deliberation the council agreed on distributed parking, separate entrances for buses, staff, and students, and no connectivity to the future town park since the town hasn't designed how to cross a stream.
The council also agreed on permitting more metal siding than brick on the back side of the school which would require less steel support structure allowing for a higher, 4 story building, with larger windows. And the council allowed the removal and replacement of 7 trees since the trees or their root systems were in the footprint of the school or in the footprint of the road. The hearing took almost an hour.
304 Townhomes
The second quasi-judicial public hearing was to approve a sketch site and subdivision plan to develop approximately 304 townhomes, 126 detached dwellings, and a private neighborhood amenity center on an approximately 100-acre assemblage of land at I-540 and Highway 55.
This was the project that was approved a couple of months ago in an area that is designated to be high intensity by the land use plan. Our discussion focused mostly on roads, and ability of these roads to allow emergency equipment. Council approved the site plan after about an hour.
Parkside Commons Railroad Crossing
The last quasi-judicial public hearing was a request by Parkside Commons to allow a modification to the traffic mitigation timing for Phase 2, specifically, the CSX Railroad crossing at O'Kelly Chapel Road. Basically, they wanted to build parcels without the at-grade crossing that is delayed because of CSX Railroad.
In deliberation staff pointed out that the current road mitigations were performing much better than expected and that these additional parcels would not create an issue. Council approved this request after about 30 minutes.
Saturday
Saturday morning was spent visiting a former first lady of Cary who is recovering from surgery.
Saturday evening I was the chief guest at the Heritage India Association of NC's children's day. I gave remarks and was privileged to see a few performances. Our children are the leaders of tomorrow and it is very important that they are involved in events like this so that they can build leadership skills, confidence, and the ability to socialize. I hope that more events like this will be held in the future.
Safest Cities in America
In accolades this week Cary was named the 3rd safest city in the nation by Wall Street dot com. In their comments they noted Cary had 69 violent crimes per 100,000 people, 9th lowest number of murders, 4th lowest poverty rate, and the 10th highest number of citizens with a high school diploma. Read the entire report.
Emails from Citizens
Emails from citizens this week included a concern about Cary's homeless population, a concern from the Fryars Gate neighborhood about their builder Lennar, a concern about an HVAC inspection, and comments about AT&T's position regarding net neutrality.
Get in Touch
Well, that is all for this week. My next post will be on Sunday, November 23rd. Although I have Facebook and Twitter accounts those are not the best means of communications with me. Please send all Town of Cary questions or comments to Harold.Weinbrecht@townofcary.org and email personal comments to augustanat@mindspring.com.
—————————————————————————————————————
From the blog of Cary Mayor Harold Weinbrecht. Photo with Addison Young courtesy of Mayor Weinbrecht.
https://carycitizenarchive.com/wp-content/uploads/2014/11/harold-weinbrecht-1116.jpg
350
600
Harold Weinbrecht
https://carycitizenarchive.com/wp-content/uploads/2020/03/cc-archive-logo-450-v3.png
Harold Weinbrecht
2014-11-17 16:15:58
2016-01-01 19:09:36
Harold's Blog: Hearings and Discussions